Because the natural gas infrastructure is so vast, it is not possible to measure every leak from every faulty valve or fitting. Indeed, we don't even have accurate estimates of the total number of valves and fittings. The best way to estimate the total amount of methane emissions from the natural gas infrastructure is to perform as many measurements as possible from as many different types of components as possible. The reason that one has to perform hundreds or even thousands of measurements from each type of equipment is so that you can capture the high-emitting sources (the so-called super-emitters), which are low in number but their emissions are so high that they can account for 50% to 80% of the total emissions.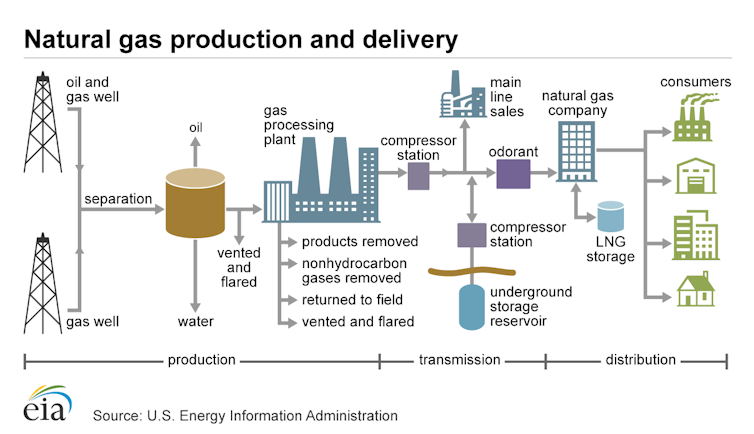 Natural gas from wells could travel thousands of miles through many types of infrastructure before reaching consumers. Energy Information Administration, CC BY
By making thousands of measurements, along with compiling our best estimates of the inventory of all of the types of equipment in the U.S. natural gas infrastructure, it is possible to estimate the total emissions from all U.S. natural gas operations with a reasonable degree of certainty, which we currently estimate to be 2.3%. That is, 2.3% of the natural gas that travels through pipelines is released into the air. We estimate that quantity of natural gas emissions represents a loss in revenue of over US$1 billion per year for the industry, and it has the equivalent greenhouse gas impact as the annual tailpipe emissions from 70 million passenger cars.