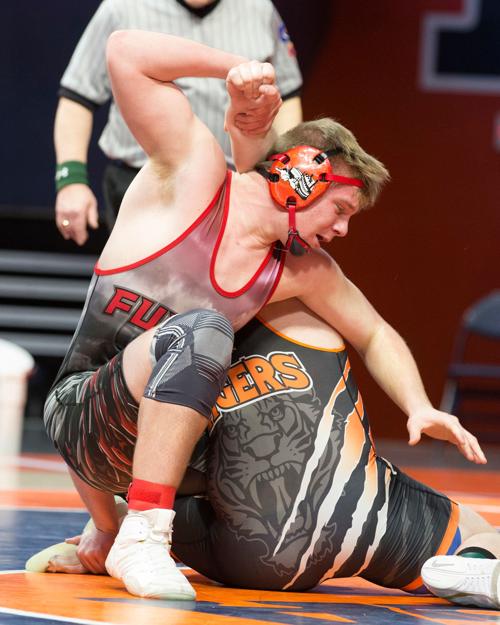 FULTON — Coming into his senior wrestling season, Fulton's Eli Pannell felt a state championship was a goal well within his reach.
Achieving that goal without taking a loss was something on the Steamers' 220-pound standout's checklist as well.
Last Saturday at the State Farm Center in Champaign, this week's Dispatch-Argus-QCOnline Area Pacesetter crowned his prep career with what was literally a perfect ending.
By pinning Class 1A's top-ranked 220-pounder, Beardstown's Chad Grimm, at the 5:04 mark of their state-title bout, Pannell became just the fourth Fulton wrestler to claim an individual state crown to put a final, golden touch on a 39-0 senior season.
"Coming into the season, I was ranked fifth at 220 pounds, so I knew I had a shot at a title, but I didn't want to look too far ahead," said Pannell, who used four regular-season tournament titles to rise as high as No. 2 in the Illinois Matmen state rankings.
After winning a second straight regional title and then his first sectional championship, Pannell ended up winning all four of his state matches by pin.
"Being undefeated, that was a huge goal of mine," he said. "I wanted to be unbeaten and set the school record for wins."
Although Pannell fell just short of the 41-0 record posted by Fulton's 1998 215-pound Class A state champion, Matt Kuebel, returning home as a state champion is reward enough.
You have free articles remaining.
"It (winning state) defnitely makes up for it. It's a pretty awesome accomplishment; it hasn't sunk in so far," he said. "Finishing the season without any losses and winning state, it felt like a weight was lifted off my shoulders."
That proverbial weight, in Pannell's case, was coming within one point of reaching the 195-pound state finals during his junior season. Making his first appearance in Champaign, he dropped a 4-3 semifinal heartbreaker to eventual state runner-up Justin Coggins of Clifton Central.
The disappointment of that loss lingered with Pannell the rest of that day, which ended with a 7-5 loss in the fifth-place bout to Stillman Valley's Drake Jennings, ending a 38-8 campaign, but signalling the beginning for what was to come this winter.
"That loss was pretty disappointing. I shouldn't have let (Coggins) dictate the match," he said. "I didn't feel too good after that match. I was pretty down on myself."
Having struggled first through a 19-21 freshman season at 145 pounds that ended in the regional round, then missing his sophomore postseason entirely due to an ankle injury, Pannell had plans for the remainder of his prep wrestling career.
"Knowing I had two years left, I wanted to make the most of them," he said. "Getting to state last year really helped me for this season. I had amazing confidence in myself; I wasn't nervous going into any of my matches."
With his state title, Pannell joins the aforementioned Kuebel in the Steamers' select club of champions, as well as 1975's 105-pound state winner Butch Wingett and two-time state champ Tyler Fleetwood (106 pounds in 2016, 120 pounds in '17).
Before this past weekend, Pannell was able to commiserate with Fleetwood, a former teammate who had a great impact on Pannell's own career. The advice he got from the two-time gold medalist was brief and to the point, and the results will speak for themselves forever.
"He just told me to get out there and wrestle, and to wrestle my match," Pannell said. "Don't wrestle their style, just your own, and work your moves. I was able to set the pace in all of my state matches."
Be the first to know
Get local news delivered to your inbox!