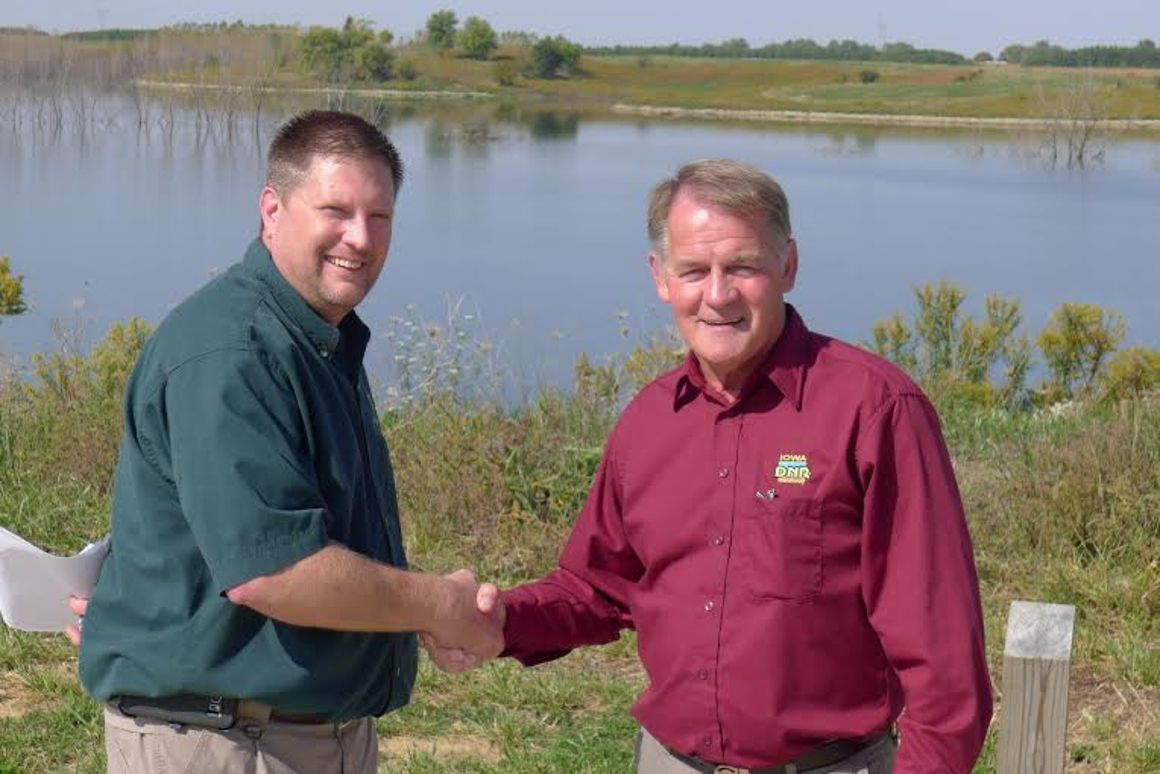 It's been a really long time coming -- from the early 1980s, when the idea first surfaced, until the official dedication last week, some 35-ish years later.
Nonetheless, Lost Grove Lake is finally ready for what it was built—recreation by and for all.
And, from what I understand, interest is already high and growing. I predict that sales of Iowa non-resident fishing licenses to Illinois anglers will soon will be increasing as the lake is just 15 minutes from the I-80 bridge over the Mississippi River.
A couple of years ago, I had the opportunity to sit in on a lunch meeting with Jim Mayhew, who's now well into his 80s. In the early 1980s, he was chief of fisheries for the Iowa DNR. I took that opportunity to ask him if he was familiar with Lost Grove Lake.
"Familiar?" he replied. "Why I named it! There was a little one-room country school house near the project named Lost Grove; I thought that was an appropriate name, and it stuck. And the main stream feeding the lake is called Lost Creek.
"The Iowa DNR wanted to build four new recreational lakes in the state back then — one in each quadrant. The other three lakes have long since been completed. Lost Grove had a problem getting going."
The issue Mayhew was referring to was that the Iowa DNR would not condemn land for recreational purposes, and there was one landowner who was reluctant to sell, so the DNR waited several years, and finally completed acquisition of all 1,700 acres in 2002.
Design then was started and completed, but the final project review showed that a new home had been built downstream of the dam. That brought new criteria to the project. Back to the drawing board — literally. A new and more expensive dam design was made.
And finally, in 2010, a contract was awarded for construction of the spillway and dam. That work was completed awhile back, and the main lake started filling. Then a contract for the three-boat launch ramps and parking lots was awarded and completed not long ago. The lake reached full pool this summer.
The lake has been designed so that all of the tributaries have sediment traps that catch unwanted sediment material before reaching the lake. Believe me — the lake water is gin clear.
You have free articles remaining.
Design and planning also incorporated many underwater fish habitats for the several species of fish that have been stocked into the 350-acre, 3-mile long lake. Stocking of many thousands of bluegill, largemouth bass, crappie, sunfish, catfish, walleye and muskie has been systematically and strategically done that each species should do as well as can possibly be—remember that fish eat each other to survive.
Several officials spoke at the dedication ceremony. More than one touted not only the obvious fishing contribution that the lake brings to this region, but also the other health and wellness outdoor recreation opportunities aspect the entire 1700-acre facility offers.
And more than once the positive economic impact the lake will bring was mentioned. According to experts at Iowa State University, Lost Grove Lake should have about 350,000 visits per year, creating 175 regional jobs and spurring $20 million in annual spending.
Several partnerships have been created and more are likely to come. Two examples are the Hawkeye Fly Fishing Club, who many years ago adopted a lake cove and now have plans to start a lake Friends group.
The Mississippi Valley Hunting Retriever Club worked with the local DNR wildlife biologist and set up a special 145-acre dog training area on the site that can be used year round, Most dog training areas are closed in the spring-time bird nesting season. The dog training area already attracts trainers from several states who often come as a family.
Lost Grove lake is located about three miles west-southwest of Princeton, Iowa; the dam is addressed as 24800 240th Ave., Princeton. 
Donate your deer to charity: Illinois deer hunters can donate entire field-dressed deer to the annual Sportsmen Against Hunger program.
While the Illinois Conservation Foundation can cover the cost of processing, hunters are encouraged to donate the $50 processing fee.
Deer Processing Coal Valley (309-799-5994) and Woodhull Locker (309-334-2235) are participating locally. All meat is ground and provided to food banks and pantries.
Hunters also can donate field-dressed deer to the Heartland Chapter of Farmers & Hunters Feeding the Hungry (FHFH).
Participating meat processors are: Reason's Locker Service in Buffalo Prairie (309-537-3424) or Woodhull Locker.
All of this donated venison will stay and be used by food pantries in the Quad City area.
Bob Groene is outdoors writer for The Dispatch and The Rock Island Argus, he can be reached at groene@qconline.com