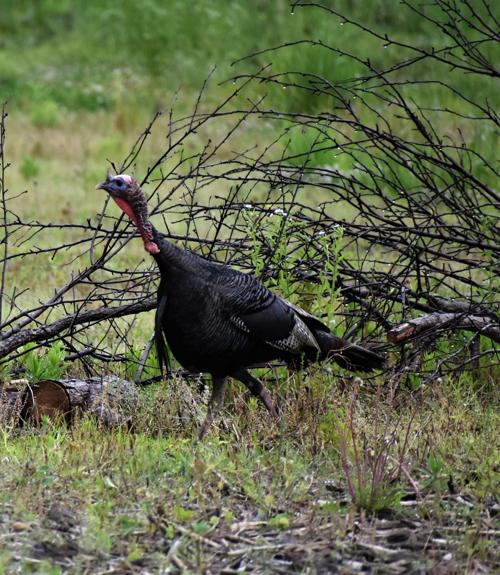 With social distancing being the new norm, there is nothing better than getting your child out of the house and into the woods this weekend for the start of Illinois' spring youth turkey season, which continues April 4-5.
The spring youth turkey hunt is open only to hunters who have not reached their 18th birthday prior to March 28. Hunters must have an apprentice or youth hunting license, or they must have completed a state-approved hunter education course and have a hunting license, unless exempt. In addition, all hunters must have a Habitat Stamp. The youth hunters are limited to one youth spring turkey permit — either a special hunt area permit or a county permit. Permits issued for the spring youth turkey hunt will be counted toward the maximum of three permits a person can be issued for the regular spring wild turkey season.
It is best to get that youth out at least once to practice shooting prior to the hunt, even if this is not their first time. This week's weather looks to be cooperative for that practice time. I highly recommend a realistic turkey paper target during all practice sessions so the child visualizes that turkey head through the scope or at the end of the bead.
Remember, practice makes perfect! Like any high intensity situation, you want the child to react and not think about the situation at hand. We, as adults, do it all the time with endless training of our mind and muscles.
For more information, check the Illinois DNR website. You can also purchase your licenses at any Illinois DNR license vendor. You can try to call the ILDNR, but with the Coronavirus shelter-at-home mandate, many ILDNR employees are currently working from home.
Drowning on the Mississippi River at Guttenberg: This past weekend, there was unfortunate news that an angler drowned below Lock and Dam 10, near Guttenberg, Iowa, after they ran into turbulent waters within the restricted area and a passenger fell overboard. The fishermen were not wearing their life preservers, but had them in the boat.
While all the details have not been released, this was an avoidable death. Usually I hear, "I wouldn't make that mistake …," however, let me share a situation I observed at Lock and Dam 13, Clinton, several years ago.
I was sauger fishing with a friend from his 18-foot aluminum boat along with about a dozen other boats on the Illinois side of the dam. I heard someone yell and then a splash. As I turned, I saw a fisherman struggling next to his boat.
Fortunately, he was pulled from the water with the aid of other boats that swooped in to help within seconds. The freezing cold, elderly fisherman was rushed back to the ramp to avoid hypothermia and other potential complications.
Now, this fisherman did not do anything foolish to put himself in harm's way with the exception of not wearing a life jacket. However, he ended up in a life-or-death situation. The metal post his seat attached to snapped in the cold, and it nearly cost him his life.
Without the quick action of the other boats, he would have drowned as his fishing mate was not physically able to pull the soaked fisherman out of the water.
Therefore, when you are fishing under these types of conditions, it is absolutely essential that you take these simple precautions because it may not be your mistake that costs you your life.
Be the first to know
Get local news delivered to your inbox!