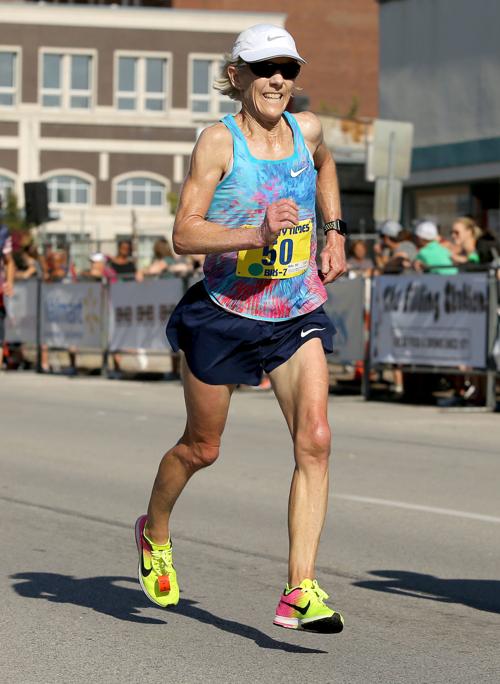 About three decades ago, Joan Samuelson did a television commercial for Nike that showed her running down a seemingly endless country road.
It was part of a campaign titled "There is no finish line," and that was the tagline that popped onto the screen at the end of the ad: "There is no finish line."
"At that time, I didn't really understand what it meant," Samuelson said. "I come to find out that I'm really living that adage."
It doesn't seem as though Samuelson ever will be finished running. At the age of 62, the most successful women's marathoner in U.S. history still is going strong and still trying — and often achieving — things no one else has done.
She will take a break from her quest to set new age group marathon records to participate in the 45th annual Quad-City Times Bix 7 on July 27 and join in the retirement celebration for long-time race director Ed Froehlich.
"This is Ed's year and Ed's race," Samuelson said. "It's something to marvel at and something to respect and something to celebrate. Hopefully, we'll do all of the above this year for the 45th."
This will be the 33rd Bix 7 for a runner who won the first Olympic women's marathon in 1984 and who still is doing amazing things several decades later.
Last year she set a goal of becoming the first 60-something woman to run a marathon in under three hours at the Chicago Marathon. (The world record for that age group is 3:01:30.) She injured her knee a few weeks before the race but still finished in 3 hours, 12 minutes, 13 seconds.
This spring the goal was to come within 40 minutes of her winning time when she won the Boston Marathon for the first time in 1979 (2:35:15). She did that easily, covering the Boston course in 3:05:18.
She's still intent on doing a marathon in less than three hours and will try for that next spring, probably at Tokyo (March 1) or London (April 26). If she succeeds, she likely would be the first person ever to run sub-three-hour marathons in six different decades.
She knows she will be the first woman ever to accomplish the feat. She's not sure it's even been done by a man.
"We'll see if anyone actually has done it or if I can even do it," she said. "I'm up against the aging process. …
You have free articles remaining.
"I just need to stay injury free," she added. "That's a hard thing to do these days."
People like Froehlich can't help but marvel at how well Samuelson continues to run.
"She's a tough cookie," he said. "She's the sweetest little thing, but she's competitive and tough."
Samuelson has run more than 150,000 miles in a career that extends back to her childhood in Maine.
In fact, Nike came out with another commercial this past spring celebrating that fact.
The ad shows a broken down car in the woods with Samuelson saying "This is where 150,000 miles gets you. Out in the middle of nowhere."
She then adds: "With every tick of the odometer, you're reminded that miles can do one of two things. They can either break you down. Or they can make you stronger."
Near end of the 60-second piece, Samuelson comes into view, jogging past the car with that steady, relentless stride that is so familiar to Bix watchers.
The words on the screen say: "150,000 miles and still running. … It's only crazy until you do it."
There seems little question that Samuelson will continue to run — and run extremely well — for several years to come.
A bigger question: Will she continue to return to the Bix 7 every year after her friend, Froehlich, no longer is connected with the race.
"I don't know," Samuelson said. "If they take the Brady Street Hill out of the race, maybe I will. It's getting tougher and tougher.
"I'll tell you what, if Ed runs the Quick Bix, I will come back after he retires. How about that? As his swan song, he needs to go out and do the Quick Bix. Then I'll keep the door open."