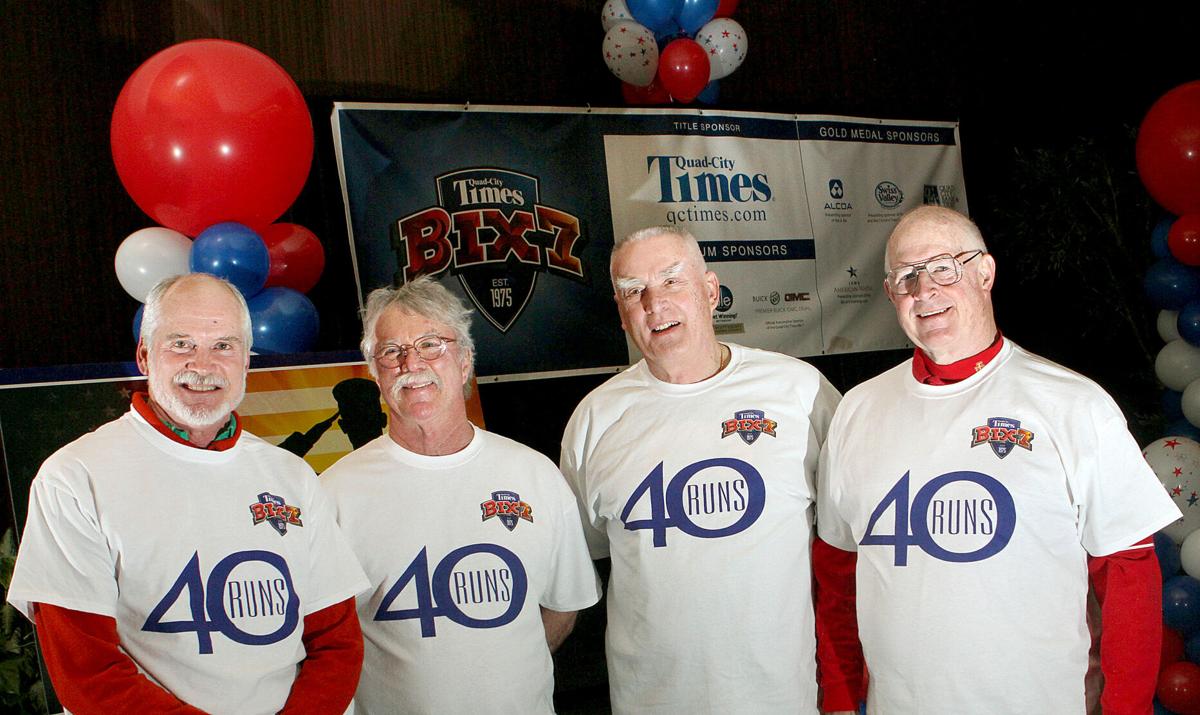 Don Fish, Gary Fischer, Steve Clark and Ed Lillis all have lost a little bit physically since 1975.
Not that they were super athletes even then. All of them were among the 84 people — 81 men, 3 women — who ran in the very first Quad-City Times Bix 7 that year and none of them finished in the top half of the field.
But none of them has lost anything in terms of their competitive fire.
All four will be out on Brady Street Hill on Saturday morning to navigate the seven miles of hills in the Bix 7. They remain the only people to have entered and completed every Bix 7, and none of them is willing to give in to advancing age and drop out of the every-Bix club.
"Even if I have to walk the whole thing, I'm definitely still going to be there,'' said Clark, who is now 74 and living in Streamwood, Ill., northwest of Chicago.
This tells you how important it is to these guys to keep their streak alive: Lillis is planning to do the race on crutches for the second time.
The 76-year-old head track coach at Rock Island High School needed to have both his hips replaced a few years ago. In 2019, he broke one of those hips and needed to have it replaced again.
He still went ahead and did the Bix on crutches.
"I'm still relying on those a little bit, not so much for support as for balance,'' Lillis said. "Especially on the hills, they kind of give me a chance to get some push-off. I don't have much push without them.''
He went out Saturday morning and walked the first two miles of the Bix course, out to where Kirkwood Boulevard meets Bridge Street, then walked the two miles back from there.
He said he found it was easier to do on crutches and he said that gives him one additional benefit in his friendly rivalry with Clark, Fish and Fischer.
"With crutches, with the unlikely thing of them coming anywhere near me, I can just hit them with my crutch,'' Lillis joked. "It gives me a weapon I can use against them.''
The 79-year-old Fischer, living in Iowa City, is the oldest of the four but still intent on doing the race again.
Davenport's Fish, the youngest of them at 71, is the one who seems likely to actually run the entire seven miles.
He finished 20th in the four-mile Rustic Run in Lost Nation, Iowa, on Saturday, completing that hilly course in 44 minutes, 56 seconds.
"So, I know I can do four …'' he said. "I'm planning on being there.''
Clark said he also was planning to actually run for most of the seven miles.
"But I tweaked my back about a week ago and I've been even having a little trouble walking so I think this year I'm probably be walking all of it,'' he said.
All four men are just looking forward to being out among the masses on the Bix 7 course Saturday.
All of them did the race virtually last year during the COVID-19 pandemic.
"That sure wasn't the same as all the excitement that goes with actually running the race there in Davenport,'' Clark said.
"It wasn't nearly as much fun,'' Lillis added. "Last year was just such an overwhelming year in so many ways. So much separation and isolation and the break from the normal. It was a tough year to get through.''
Fish has befriended many of the African runners who come to the Bix and actually serves as the agent for a few of them. He said he is looking forward to seeing all his friends after being apart from them for two years.
"It will just be great to have everybody back out here together and have it be more normal,'' Lillis said.