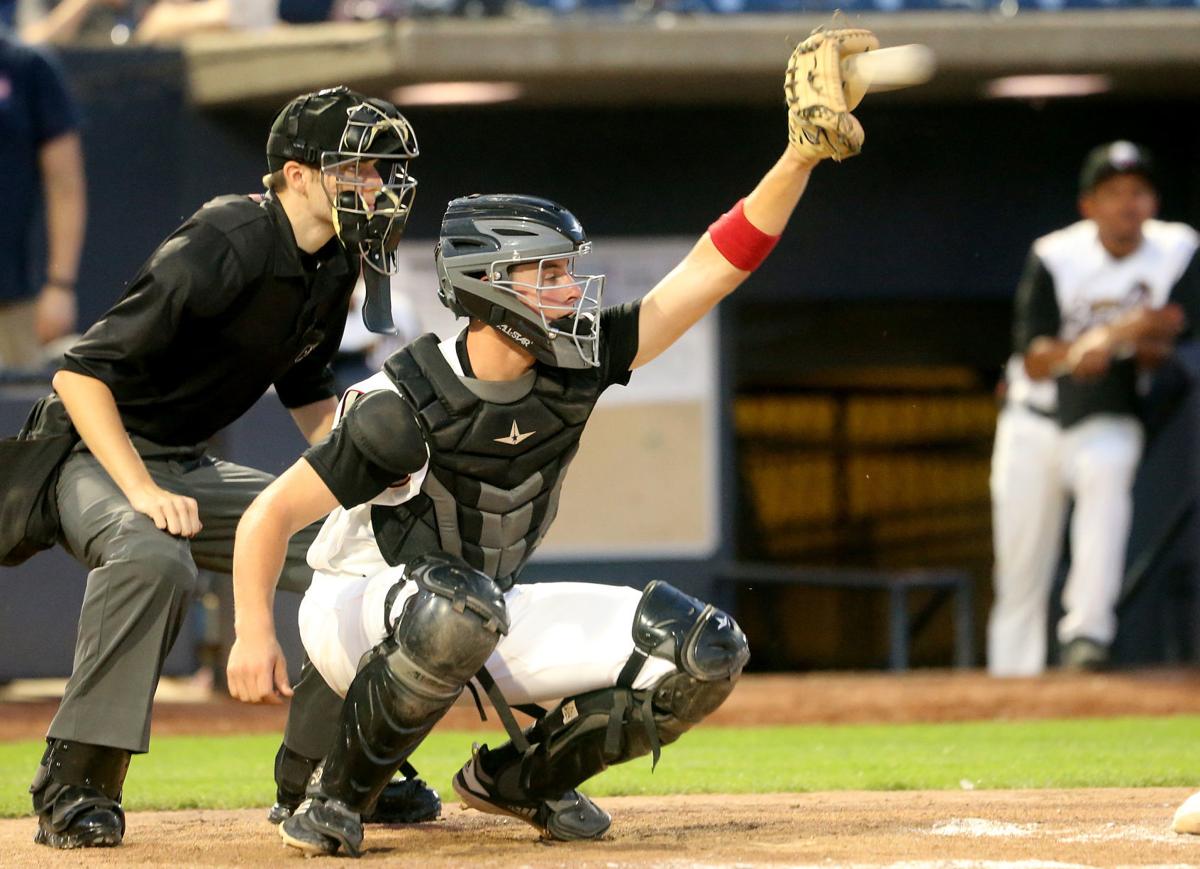 With his older brother Garrett already working his way up the Houston Astros company ladder, C.J. Stubbs had a handle on what to expect at the onset of his professional baseball career.
But something finally caught the Quad Cities River Bandits catcher by surprise last week.
"I didn't expect to be promoted to this level this season. That was something I wasn't thinking about at all,'' said Stubbs, who was sent to the Class A Midwest League one week ago from short-season Tri-City in the New York-Penn League.
A 10th-round selection of Houston in this year's draft out of USC, Stubbs has already made a quick impact with the River Bandits.
His three-run home run Saturday was the difference in Quad Cities' 4-1 win over Cedar Rapids and he added to his collection of RBIs with a pair on Sunday, that helped decide the River Bandits' 5-4 win over the Kernels.
"The pitching I've seen here is a little more polished than it was at Tri-City and if a guy makes a mistake, you better be ready to take advantage of it because there haven't been a lot of them,'' Stubbs said. "I'm getting settled in, doing what I can to help out.''
That's one thing that doesn't surprise Quad Cities manager Ray Hernandez.
The River Bandits manager spent the 2018 season working as the development coach with the Astros' Triple-A affiliate at the time, Fresno in the Pacific Coast League. Garrett Stubbs, who hit .274 while playing for a QC team which won 88 games in 2015, batted .310 over 84 games for Fresno last year.
"I worked a lot with Garrett last year and in the short time C.J. has been here, I can tell that they are both very competitive people who are willing to put in the work to do well,'' Hernandez said. "That same desire, it's there in C.J. That will serve him well.''
C.J. Stubbs communicates daily with his brother, who saw the first major-league action of his career this season for Houston and is currently playing for Triple-A Round Rock.
They talk more life than baseball, but Garrett's experience in dealing with the draft and adjusting to the daily work and routine that accompanies playing professional baseball helped prepare C.J. for what he's dealt with the past few months.
"It's a luxury that a lot of guys don't have, especially with Garrett coming up through the same farm system,'' C.J. Stubbs said. "I came in with a pretty good idea of what to expect and an understanding of how things work. It gave me a good starting point.''
That start began at Tri-City, where he homered in his first professional at-bat in the New York-Penn League and counted five doubles and five homers among 27 hits while batting .213 over 39 games.
Stubbs liked the fact that he was able to start with the ValleyCats, giving him the opportunity to get to know a number of players from the Astros' 2019 draft class.
It also allowed him to get in a chance to get in some work behind the plate, where his defensive ability was also among factors in his promotion to the Midwest League.
It's an opportunity Stubbs doesn't take for granted.
"The plan right now is for me to play my game and see how it works against guys at a different level,'' Stubbs said. "It's an experience I didn't think I would be able to have this year, but I want to make as much as I can from it.''
That starts with maintaining the confident approach that he has embraced throughout his first year in pro ball.
"You have to believe in yourself and your abilities,'' Stubbs said. "I might struggle in one at-bat or on one day, but that doesn't define me. I'm here for a reason and in every at-bat and on every day, I'm working to show the Astros they did the right thing by bringing me here.''
The appreciation for that opportunity is an outgrowth in part because of how Stubbs' baseball career has evolved.
The San Diego native began his college career at USC as a pitcher, but returned to action in 2019 as a catcher after undergoing Tommy John surgery which forced him to sit out the 2018 season with the Pac-12 program.
He doesn't miss pitching, although it has forced him to shelve his long-term goal of striking out his brother in a major-league game.
"I'll have to come up with something else,'' Stubbs said.
For now, Stubbs' concentration is on coming up with growth over the final weeks of the season.
"Coming into this clubhouse, the guys are a little older and I can see that things are a little more business-like and the expectations are greater,'' he said.
"I like that. It's a good position for me to be in right now and get a sample of what this level is all about. Hopefully we can win some games and have a good run here late in the year. I know I'll do what I can to help.''
Weekly honors: Former River Bandits first baseman Jake Adams was named Monday as the player of the week in the Texas League. The former Iowa infielder hit .476 last week for Corpus Christi with three doubles, three homers and 11 RBI.
Cedar Rapids pitcher Luis Rijo and Lake County outfielder Clark Scolamiero were named the pitcher and player of the week in the Midwest League. Rijo struck out nine over seven shutout innings of two-hit work in a start at Wisconsin while Scolamiero hit .375.
Passing through: Last weekend provided one scout attending games at Modern Woodmen Park with a trip down memory lane.
Dave Machemer, an infielder for the Quad City Angels in 1973 who went on to manage the Clinton LumberKings in 2002, was at Saturday's River Bandits game as part of his duties as a special assignment scout for the Orioles.
"The place has changed quite a bit since then, but there's some good memories coming back here,'' said Machemer, who reached the majors in 1978 and 1979 with the Angels and Tigers and recalled being teammates with future major-leaguer Jerry Remy during his season in the Quad-Cities.
RIVER BANDITS THIS WEEK
At Peoria: Today-Friday, 6:35 p.m.
The Chiefs will miss the MWL playoffs for the first time since 2014, eliminated Sunday
Kane County: Saturday, Monday-Tuesday, 6:35 p.m.; Sunday, 5:15 p.m.
The Cougars lead enter the series leading the West in the second half
At Cedar Rapids: Wednesday, 6:35 p.m.
The Kernels have a 7-6 record against the Bandits this season
LUMBERKINGS THIS WEEK
Cedar Rapids: Today-Friday, 6:30 p.m.
Led by SS Wander Javier at seven, six Kernels are ranked among the Twins' top-30 prospects
Wisconsin: Saturday, Monday-Tuesday, 6:30 p.m.; Sunday, 2 p.m.
Rattlers C David Fry leads the league with 58 extra base hits, including 41 doubles
At Burlington: Wednesday, 6:30 p.m.
With 142, the Bees' Hector Yan leads the Midwest League in strikeouts