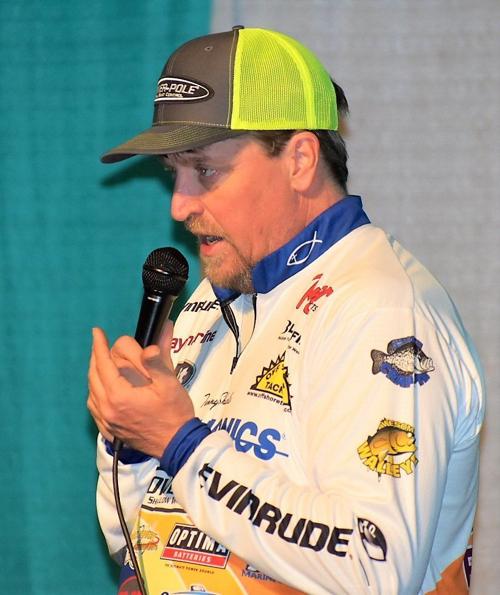 The fishing world has lost one the best anglers to ever hook a walleye on the Mississippi River.
Tommy Skarlis was a multiple-time World Champion of walleye fishing and one of the most decorated anglers on the river. He further distinguished himself by winning a Crappie Masters Championship a few years back.
He was inducted into the Freshwater Fishing Hall of Fame earlier this year as well. Unfortunately, he lost his battle with brain cancer after 17 months of treatment. He was a great fisherman, hunter, father, husband and a man of deep faith in Jesus Christ.
I was fortunate to get to know him about a decade ago as he was a fixture at the Quad-Cities QCCA Outdoor Show each February. He, along with some of the biggest names in the industry, would give insightful seminars on area-specific topics, but mostly on river walleye. He was very open when answering questions and I enjoyed our conversations about river walleyes.
When I took over for Bob Groene as this publication's outdoor writer, Tommy stepped right in, without my asking, and helped to break the ice with some big names, including my first major interview with legendary angler Hank Parker.
When he introduced me to Hank as a Mississippi River walleye expert, it instantly got Hank's attention since it was coming from Tommy. That moment helped me to understand and really appreciate his kindness. It is the little things you can do for people — a quick introduction, an invite to dinner, or just giving someone your time to listen — which are so meaningful in the long run.
Another example of his demeanor came a couple years ago at ICAST Expo in Orlando. I ran into Skarlis on the exhibition floor and he was no different than if we were back at the QCCA in Rock Island. He was always working hard for his sponsors and answering questions with a giant smile on his face.
He would attend the QCCA Outdoor Show and give seminars, all the while in significant pain as he recovered from a broken neck. Even this spring, while in a wheelchair and beat-up from the cancer treatments, he came to support the show and see old friends with all the energy he had.
I spoke with Groene, who knew him better than I as they spent a fair bit of time together when the pro walleye circuit began coming to the Quad-Cities. I asked him what others anglers should know about Tommy.
"The only thing I'd like to add is the absolute genuineness and honesty of his character, evidenced by the legions of friends across the U.S., the strong group of fellow competitors and the faithfulness of his many sponsors, all of which stayed with him, both when he broke his neck falling out of a deer stand and most recently, when his cancer was diagnosed," said Groene.
While this is all true, the one thing that impressed me the most was how he lived during his cancer diagnosis and how he conducted his life thereafter. There are countless examples of people being bitter when their life is turned upside down. Tommy used this illness as a tool to spread the good news of the Gospel in a time that it is not popular to do so. While he did that before his ailments, he really ratcheted it up during his treatments. That showed me the strength of his character more than any of his fishing accomplishments or the kindness he had shown me over the years.
From all the fishermen in the Q-C, rest in peace, Tommy.
Be the first to know
Get local news delivered to your inbox!