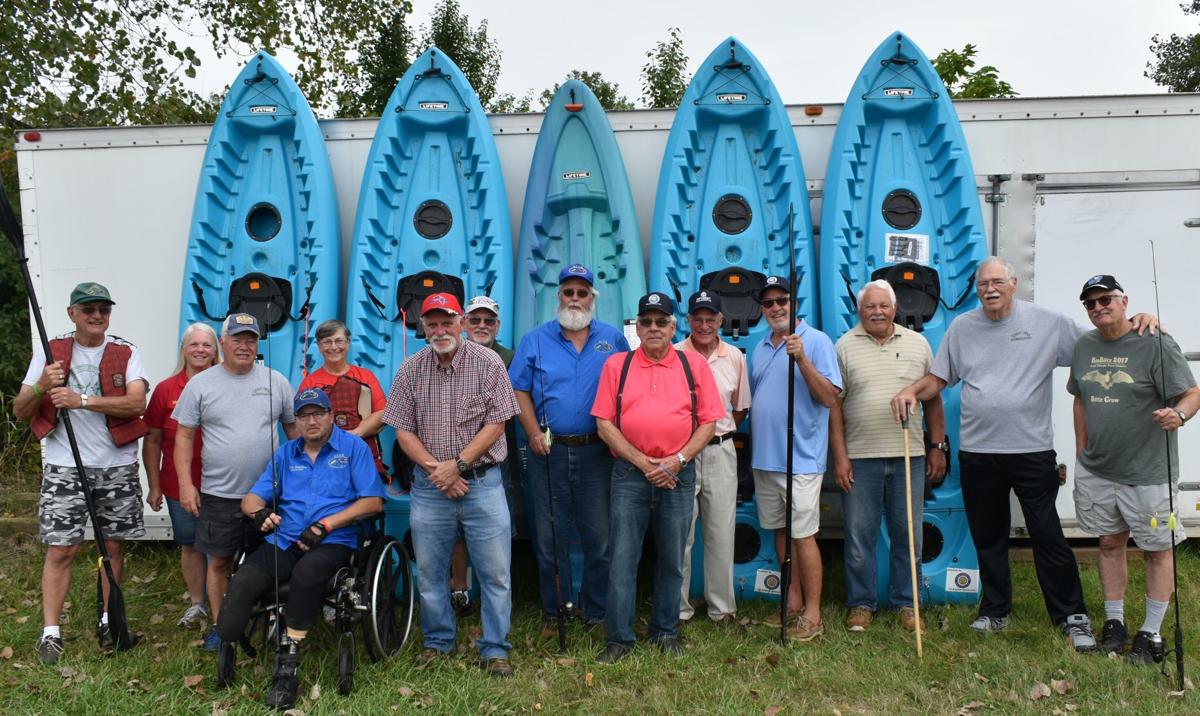 The QCCA recently announced the donation of 10 kayaks from our Quad-Cities Sam's Club to be used at the QCCA Wetlands Center.
The Wetlands Center is a property used to promote and educate area adults and children about the outdoors and other resources around the Quad-Cities. For many children, this is their first exposure to the outdoors. The activities conducted at the center include fishing, kayaking, and hiking. For more information about the QCCA Wetland Center or to schedule a group outing, contact Dick Riddell at 309-737-9550.
Illinois trout opener this weekend: The fall trout opener across Illinois is Saturday at 57 lakes, ponds, and streams across the state. Nearly 67,000 rainbow trout of harvestable size will be stocked at these designated bodies of water. The season opens at 5 a.m. with a daily limit of five (5) fish at most sites. There are a couple sites with different regulations, so check your local site for more details. Some of the area waterways that participate include Prospect Park in Moline, Centennial Park Pond in Rock Falls, Citizen's Lake in Monmouth, and the Apple River at Apple River (Ill.) State Park if you do not mind a little bit of a drive into Jo Daviess County to view some great scenery while fishing.
Anglers need a valid fishing license and a trout stamp to participate in this fishery. Anglers can purchase these licenses online from the Illinois Department of Natural Resources website, directly from the hundreds of local vendors across the state, or by calling the DNR at 888-673-7648.
Youth deer season a success: The cold front that occurred this past weekend helped keep the mosquitoes in check while youth deer season began Saturday morning. While the final numbers were not available at the time of this printing, it is safe to say that harvests by our area youth were up over recent years.
At the old Savanna Army Depot, 30 young hunters braved the cold weather to attempt to harvest a deer. The two-day hunt is part of Lost Mound Unit of the Upper Mississippi River National Wildlife and Fish Refuge hunting program located near Savanna, Ill. Young hunters from the Quad-Cities area as well as across the Midwest harvested 16 animals, eclipsing the previous record of 14 back in 2014. Of the 30 hunters, 10 hunters were from out of state, eight were young ladies, and three of hunters were successful for the first time.
Stories like this are why we have youth seasons. Even though the cold made it difficult to hunt for some kids this particular weekend, the ability to get out before the really cold weather typically occurs, allows young kids to have a positive experience. That was no clearer to me than opening morning for my son and I, which was cut short by 7:20 a.m., when my young hunter was too cold to continue. Even with my heated sweatshirt on him, he is just too small to handle the conditions. This ultimately limited us to two evening hunts for our entire season because we had other obligations on Monday evening. However, this was more than enough for a first-time shotgun hunter to have a positive experience.
Taking kids hunting is one of the most important things we can do as parents and stewards of natural resources. Without investing the time and energy to take kids out, and it does take a lot of energy at times, we cannot guarantee those pastimes and traditions will continue in the future.
Be the first to know
Get local news delivered to your inbox!