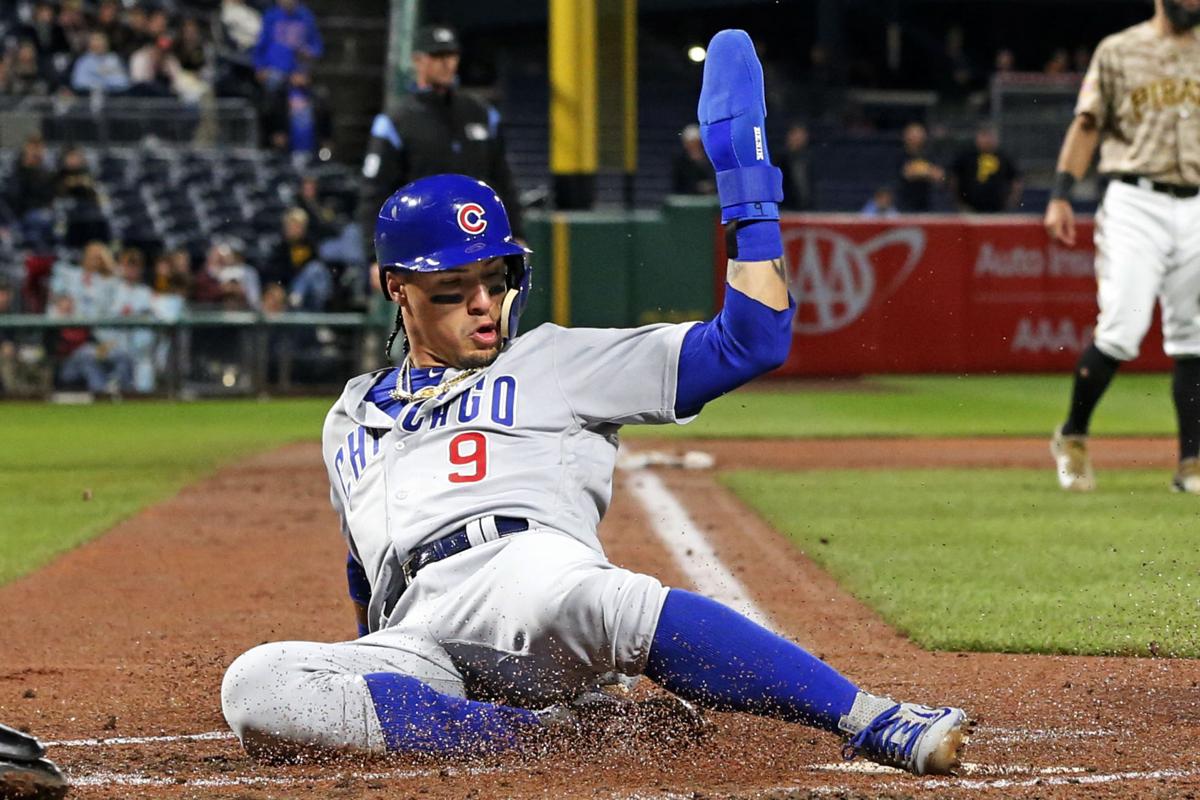 PITTSBURGH (AP) — Ian Happ grew up in Pittsburgh's suburbs and had a big night in his hometown Thursday.
Happ had three hits, including two doubles, and threw out a runner at the plate from center field to help the Chicago Cubs to an 8-2 victory over the Pittsburgh Pirates.
It was a big turnaround from Wednesday's performance, when the Mt. Lebanon native went 0 for 3 with two strikeouts and tripped over his own bat coming out of the batter's box.
"It's always great for me to come home and play at PNC," Happ said. "I had a lot of family and friends out there."
In the second inning, he threw out Jordy Mercer as the Pirates baserunner was trying to score from second on a single by pitcher Jameson Taillon.
"The Mt. Lebanon boy had three knocks tonight and how about the throw to the plate?" manager Joe Maddon said. "He had himself a pretty nice evening."
The Cubs had 13 hits, including eight for extra bases, as the offense broke out after totaling four runs in the first three games of the series.
Happ singled and scored to lead off the game and doubled in the third and eighth innings.
Javier Baez doubled and scored in the second. Jason Heyward singled and was driven in by pitcher Jon Lester's double in the fourth. Baez and Heyward then drove in Anthony Rizzo and Ben Zobrist with back-to-back singles in the fifth as the Cubs piled on against Taillon.
Albert Almora Jr. later added on with a two-run shot in the seventh off receiver Angel Sanchez.
Lester (10-7) worked around traffic in his first four innings but settled down to go six innings with one run and five hits allowed. He struck out five and walked four.
It was Lester's second start since coming off the disabled list Sept. 2, and he felt he made progress after a four-run, eight-hit outing over five innings his first time out.
"(I was) able to get ahead of guys, just wasn't really able to get them out as quick as we would have liked to," Lester said. "Whether that's a little bit of rust or being too fine, I don't know, but we got through it and a couple good defensive plays helped."
Taillon (7-6) lasted just 4 2/3 innings while giving up six runs and 11 hits. He struck out three and walked just one. While he was far from wild, Taillon felt that his pitches were just missing their spots and the Cubs were taking advantage.
"Frustrating, I guess is probably the best word," Taillon said. "I felt strong. I felt great. But no one cares how you feel. You've got to go out, get results and get guys out. I feel great, but they were just hitting every single mistake I made."
Rookies Josh Bell and Jordan Luplow each had RBIs for the Pirates, who had eight hits but left 11 men on base.
The start of the game was delayed 52 minutes by rain and was played through scattered showers throughout.
The teams split the four-game series in Pittsburgh, with NL Central-leading Chicago taking the overall season series, 10-9.
Pirates' INF/OF Chris Bostick recorded his first major league hit with a double off the right-field wall in the ninth inning as the rain intensified to a steady downpour.
"I was walking to the plate thinking, 'What a way if this happens,'" he said. "It's pretty cool."
Cubs: C Willson Contreras made his first rehab appearance since straining his right hamstring. He went 0 for 2 with a strikeout and caught two innings with Class A Myrtle Beach.
Pirates: RHP George Kontos (strained right groin) was activated from the 10-day disabled list. The team expects to activate OF Gregory Polanco (left hamstring strain) and INF/OF Adam Frazier (right hamstring strain) on Friday.
Cubs: John Lackey (11-10, 4.74 ERA) will begin a three-game series with Milwaukee. He's 6-1 with a 3.83 ERA since the All-Star break.
Pirates: Trevor Williams (6-7, 4.14) starts a series in St. Louis. In his last three starts, he's given up just two runs.