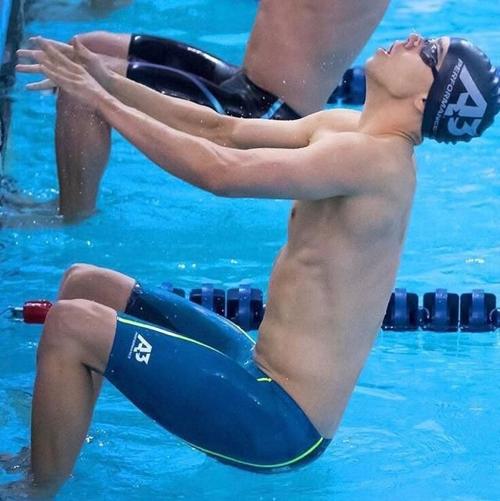 As Bryce Bohman continues his training for a shot at the 2020 Olympics in Tokyo, last week's Phillips 66 National Championships gave the 2009 Moline High School graduate some insight to how his training is going.
Bohman, 29, finished in a two-way tie for 22nd in the finals of the 100-meter butterfly (53.61), and 46th in the prelims of the 100 backstroke (56.21).
Nationals — swam in an Olympic-sized long course (50-meter) pool — this year took place at the Avery Aquatic Center on the campus of Stanford University in Palo Alto, Calif., from July 31 to Aug. 4. Bohman was among many of the country's fastest swimmers who have posted a qualifying time that chose to compete.
Maxime Rooney won the 100 fly in 50.68 at nationals and Shaine Casas won the 100 back in 52.72.
For perspective, Caeleb Dressel set the 100 fly world record with a 49.50 last year at the World Championships in South Korea. Fellow American Ryan Murphy set the 100 back world record at the 2016 Rio Olympics with a 51.85.
At last year's nationals in Irvine, Bohman set both personal bests with a 52.65 in the 100 fly finals (finishing 12th) and a 55.06 in the 100 back prelims; he finished 18th in the latter event with a 55.42 in the finals.
Although there was a dip in this year's finish, Bohman said his preparation was good. The 2014 West Virginia grad and Big 12 Men's Swimmer of the Year resides in Austin, Texas, working as an assistant coach with the Longhorn Aquatics Team while focusing fully on his swimming career.
"I just need to change a few things leading up to (Olympic) trials next year," said Bohman. "Really the best way to look at it, is (I'd) rather be down this year than next year."
The 2020 U.S. Olympic Team Trials will feature an estimated 1,400 swimmers, taking place next June 21-28 at CHI Health Center Omaha.
Bohman's optimism is unaffected as he continues his journey of swimming improvements.
"If I got to the point where I wasn't improving, then I would probably hang it up," Bohman said. "Swimming is tough to hit your peak."
Cycles of constant preparation and tapering is always a balancing act, especially as Bohman learns his body needs more time to recover with each passing year.
He still holds the WVU records in the 100 back (45.29) and 200 back (1:39.83) from 2014, two events he placed fifth in at that year's NCAA Championships. He was inducted into the NJCAA Hall of Fame in 2016 due to a decorated two-year career at Lincoln College, earning three JuCo national titles. Bohman's name also remains alongside the Maroons' best marks in the 100 fly (50.25) and 100 back (51.64) from 2009.
Even as an accomplished swimmer, Bohman says nerves are still something you have to contain.
"If you're feeling nervous, it's a sign that you really care about what you're doing," he said. "The nerves are good, you just have to use them positively and not let them take over."
Bohman was engaged over the summer and plans to get married next August just as the Olympics come to a close. His fiancée, Lia Salzano, was a gymnast at WVU and teaches in Austin.
As he prepares for his final run at Team USA, Bohman still remembers to embrace the challenge and have fun at this stage of the game.
"You can drive yourself crazy trying to be too serious," he said. "Knowing it is the last run at things, I just try to enjoy it and make the most of it. It's not going to be any easier, you just keep trucking along."
The Toyota U.S. Open from Dec. 4-7 in Atlanta, is the next big test of the swim season. That's almost midway to the Olympic trials, where the top two swimmers in each event qualify for Team USA.
Down the line, Bohman hopes to continue to use his swimming knowledge, hopefully continuing at the college club level.
"I definitely want to take what I've learned in my years of competing, and share it with the next generation."
Be the first to know
Get local news delivered to your inbox!