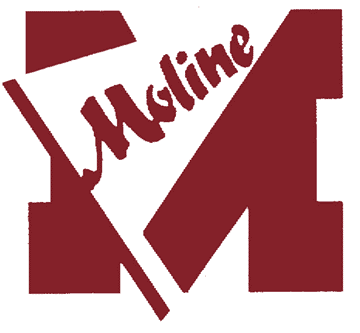 The Moline girls basketball team overcame lapses in its trademark defensive intensity on Saturday to hold on for a 54-50 win over Rock Island, the Maroons' third conference win in a row. 
Both teams were in foul trouble for much of the game, with the Maroons picking up 21 fouls, including four on key players Bralee Trice and Kadence Tatum. Trice had three fouls early in the first half, causing her to sit much of the first two quarters.
Trice made the most of the time she was on the court, as the senior ended up with 19 points and went an impressive 10-of-11 from the charity stripe.
Trice is one of the most experienced members of coach Randy Weibel's squad, and she's learned over time to not get frustrated when things aren't going her way.
"It's something I've been working on my whole career, to not let things in the past affect my play in the present," Trice said. "I have to do what I can out on the court for us to win, and that means I need to stay on the court."
Weibel echoed his senior's statements and knows how important she is to the team on both ends of the floor.
"She's one of the best players in the conference and we need her to stay out on the court," Weibel said. "We hope that she learns from this game to stay out of foul trouble and off of the bench. In her absence, Paige Melton stepped up and kept us in the game, and Ellie Lynn had a big rebound at the end of the game to help us seal things up. That kind of play from our depth is the expectation, not the exception."
Lynn finished with three points and five rebounds, and Melton had one rebound and an assist. Both were crucial in taking away clean Rock Island looks from deep, as the Maroons shifted their defense around on the perimeter.
Moline controlled the boards for the first half, out-rebounding Rock Island 20 to 13. This led to many second chance opportunities for the Maroons, as they had 34 shots in the first half compared to just 16 from Rock Island. 
"That's something that we're always talking about, hauling in the rebounds," Weibel said. "We need to do a better job of rewarding those rebounds with a better shot selection, but the girls show their toughness on the court inside."
Moline pressed Rock Island for much of the game on defense and had 10 steals and forced 12 turnovers. That defensive intensity is a staple of the Maroons' gameplan, but it is an area Weibel says they still needs improvement. 
"We had some positioning problems that made things tougher than they needed to be," Weibel said. "We'd consistently have one or two girls out of position, and that sets everything else off. They fought the whole game, but we need to clean a few things up."
Bri Stewart led Rock Island with 14 points and three rebounds. She also had a pair of steals and an assist. Jamyah Winter was the only other Rock Island player in double-digits with 13 points.