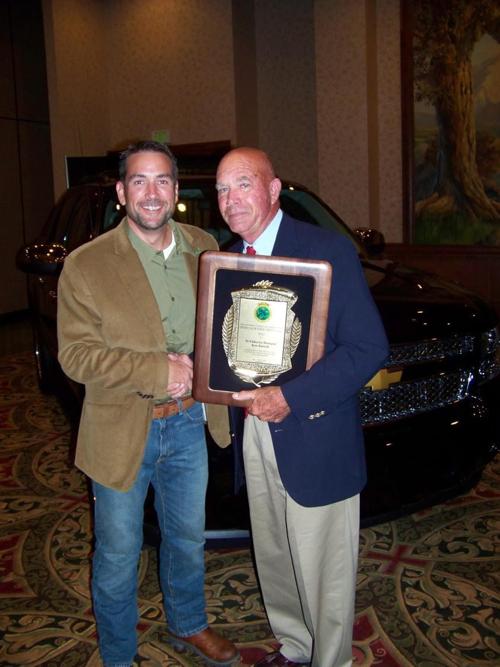 The term "legendary" sometimes can be overused, but this is not one of those occasions. Ken Russell, district fish biologist for west-central Illinois for over 53 years, recently was honored at the annual Fifth Grade Outdoor Education Day for Knox County when they renamed the event in his honor.
This event has been held at Lake Storey in Galesburg each September since 1985. Usually about 30 volunteers present to over 500 fifth-grade students and their teachers from Knox County schools. The students rotate through eight different stations on outdoor and environmental education topics. Station topics include: A Bee's Life, Aquatics & Reptiles, Renewable Resources Scavenger Hunt, Recycling, and a Fishing Station.
Many of the volunteers have been a part of Outdoor Education Day since its inception.
"Ken Russell has participated in the event since 1987 as part of the Illinois Department of Natural Resources," said Lori Loving, assistant regional superintendent of schools. "Ken's wife was a local school teacher, so it was natural for Ken to be a part of this program."
Historically there were three separate fisheries stations at this event, but it dwindled to one as state budgets tightened. Ken was always there teaching, regardless of the size of the group. He invited many state biologists as well as college students to participate over the years. I assisted Ken a couple years while in graduate school at Western Illinois. What I clearly remember was his ability to get down to the kid's level to teach. Twenty years later, I can still see Ken down on one knee showing the children different fish and encouraging them to touch one if they had never done that before. Like his wife, his passion for teaching was very apparent.
In a press release from their office, it stated, "It is because of his life-long work and dedication to the environment and educating kids that Jodi Scott, regional superintendent of schools, has decided to rename this event in honor of Ken. The event will now be called: Regional Office of Education Ken Russell Outdoor Education Day."
When you consider that Ken has mentored nearly every fish biologist who has worked in northern Illinois during the past half century and he has spoken directly to thousands of Knox County children at this event alone during the past 30 years, his impact on the educating people about the outdoors of northern Illinois is well beyond measure. It would be hard to believe that there is someone more fitting for this honor.
Jeremiah Haas is the outdoors writer for Dispatch•Argus•QCOnline
Be the first to know
Get local news delivered to your inbox!