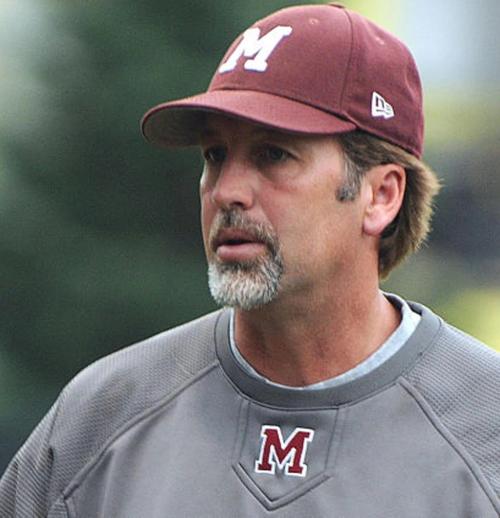 The Quad-Cities has had its share of great coaches. When you think of those, the first that come to mind are usually in football or basketball.
However, when you get around to the best baseball coaches in the area, that list is much shorter.
"When you think about the Mount Rushmore of baseball coaches," said Moline High School baseball coach Craig Schimmel, "you have to put Derek Lindauer in there."
Lindauer's coaching accomplishments stack up with the best of them and he was being remembered by coaches from all around the sports world Sunday.
Lindauer, who was in his first year as an assistant boys basketball coach at United Township High School for Ryan Webber, passed away unexpectedly on Saturday at Unity Point in Rock Island after complications from a heart issue. He was 58.
In a Facebook post on Sunday, Derek's younger brother, Dirk, pinpointed the cause of death as an aortic dissection — a condition that also took the lives of actors John Ritter and Alan Thicke. According to sciencedirect.com, approximately 20% of patients with acute aortic dissection die before reaching the hospital.
According to many, Lindauer became ill Saturday while removing snow and was rushed to the hospital via ambulance.
"We thought he was stable and surgery was being discussed," Dirk wrote. "Derek was in good health and living his best life."
And enjoying himself being back in the coaching ranks with Webber at UT.
"We were just at a party with Ryan Webber talking about how much fun Derek was having back on the bench," Schimmel said.
Lindauer was one of Moline High School's best baseball coaches and steered an unprecedented run of success that led to his 2020 induction into the Illinois Baseball Coaches Association Hall of Fame.
During his 19 years leading the Maroons from the spring of 1993 through the spring 2011 season, he compiled a 463-159 record. He won 20 or more games every season except his first and led the Maroons to 12 Western Big 6 Conference championships, 11 regional titles, five sectional crowns and two state trophy finishes — third place in 2002 and fourth place in 1996.
When asked what Lindauer meant to the Moline baseball program, Schimmel had a simple answer: "Everything."
"In 1993 when he started, our baseball program was not in a good place," said Schimmel, who coached with Lindauer for two seasons. "He had a vision as to how to make the program successful. It took some time to do it, but he did it."
Schimmel said one of the keys was to start the Moline Blackhawks youth travel program with Greg DeClerck and others, something that was not prevalent at the time.
"Our program would be nowhere near where it is now without him," Schimmel said.
While Lindauer made his mark in the Quad-Cities as a coach, he always downplayed his own athletic success.
After a stellar high school career at Evansville (Ind.) Central High school that included more than 1,000 points in his junior and senior seasons, he was inducted into the Indiana High School Basketball Hall of Fame in 2007.
Averaging 23.9 points as a senior and 22.9 points as a junior, Lindauer earned all-state honors both years. As a senior, he was fifth in Indiana's Mr. Basketball voting.
He played Division I baseball and basketball at Ohio Valley Conference champion Murray State.
He also garnered a tryout with the former Quad City Thunder of the old CBA before trading the playing hat for the coaching hat at Moline.
When Lindauer was coaching, he was focused and intense.
When a game wasn't on the line, he was probably one of the most honest people you could talk to and would do whatever he could for anybody interested in improving their game or coaching abilities.
Lindauer was active in coaching at all levels of both sports and was on the sidelines as his sons Thomas and Anthony turned their love for sports into college opportunities.
Thomas, after graduating from the University of Illinois, also played Minor League baseball, including a stint with the Quad City River Bandits in the Class A Midwest League a few seasons ago. Derek was usually in the stands watching as a fan.
Former Black Hawk College men's basketball coach Darren Bizarri, who coached with Lindauer when both were assistants at Moline before teaming up at BHC, and Schimmel pointed out that there was more to Lindauer than what was usually displayed during a game.
"People that didn't know him and just saw him coaching, he probably looked upset a lot," Bizarri said. "He was just focused and always thinking about the next play, the next thing."
Schimmel added that Lindauer "just managed a game and let the kids play."
"You couldn't ask for a better friend. He was great to be on the bench with and great on bus rides," Bizarri said. "Even the kids who didn't get him when they were playing for him, I haven't run into one who hasn't laughed and talked about their favorite 'DL' stories years later."
As Bizarri said, Lindauer had a wry sense of humor and never minced words.
"He came at kids differently than most people do," he said. "He was very blunt and sarcastic. Sometimes kids didn't know if he was serious or not serious."
But whether it was as a player, coach or fan, he always enjoyed being involved.
 "He loved kids and loved sports," Bizarri said. "He was genuinely a really good person."