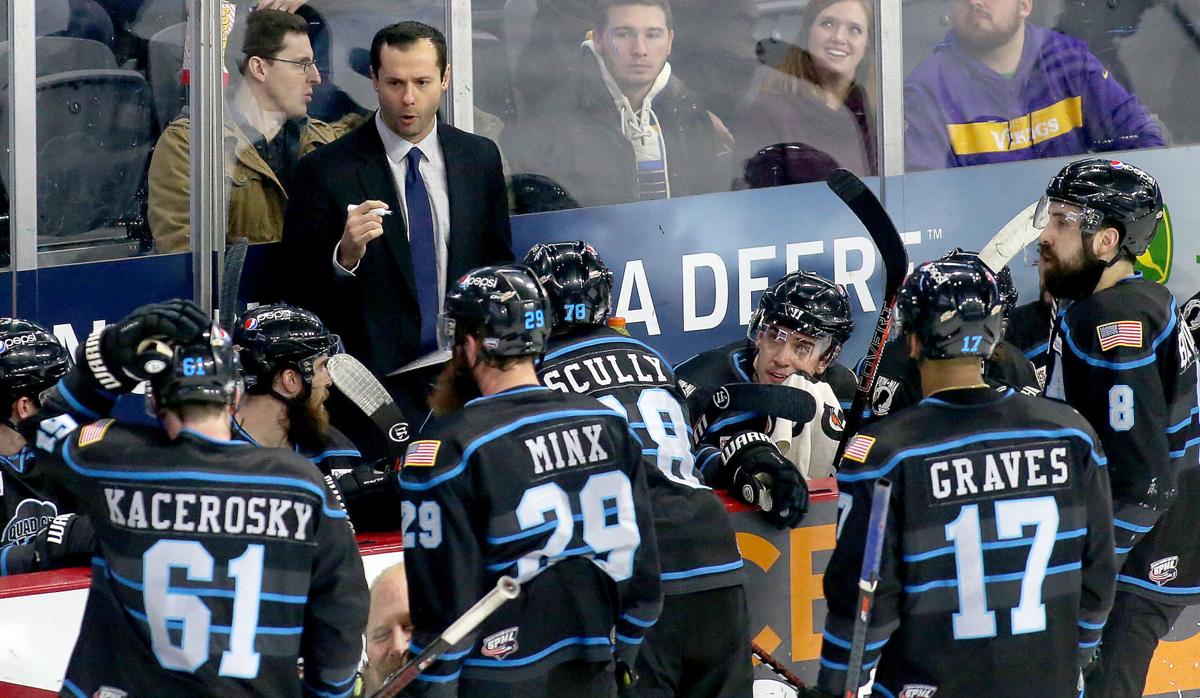 Dave Pszenyczny was just trying to play catch up a year ago. 
He had decided less than a month prior to end his playing career to get into coaching and was hired to be the first head coach of the Quad City Storm in June, tasked with leading an expansion SPHL team that had less than five months to prepare for the season.
Pszenyczny feels more prepared this year as he works to assemble a team that will take the ice in just over four months.
"With anything, you have a little more experience as you go through things," Pszenyczny said. "Last year I was kind of thrown to the wolves and had to figure out things on my own, reach out to other coaches in the league to see what they do but not steal all of their ideas."
With no roster base to work from last year, the Storm's roster was built entirely from scratch and had to be tweaked throughout the season by Pszenyczny, who also serves as the team's director of hockey operations.
Just six players from the opening-day roster were on the season-ending roster, but Pszenyczny thinks he's found a core that he can use to build a more successful team than the one that won just 18 games and finished ninth in the 10-team league.
The Storm protected 13 players last month, including four who spent all of last season with the team in forwards Dalton Mills, John Scully, defenseman Kristaps Nimanis and goaltender Peter DiSalvo.
Unlike last year, Pszenyczny has had since the end of April to officially recruit players, and that extra time has paid off.
Pszenyczny said he has several players signed but the team can't release any details until the league approves the moves, which he expects will happen before some players return to the Quad Cities for a Dekhockey tournament next month.
You have free articles remaining.
"Recruiting is easier just for the simple fact that I wasn't recruiting until July last year, now I'm able to do it after the season ended and put together a good protected list," Pszenyczny said. "I think a lot of players I've reached out to are really excited with the core I'm bringing back. A lot of them have said they're impressed a lot of these guys will be returning."
Despite the struggles on the ice, Pszenyczny said that hasn't really affected recruiting, saying the players he's talked to want to come play in the QC.
"People are finally seeing what it's like in the Quad Cities, being a visitor and seeing what it's all about," Pszenyczny said. "There's different changeover every year and I think there was a lot of uncertainty about the Quad Cities as far as recruiting last year but from the sounds of it, through the wire with mutual people I've played with or coached, all of them have had great things to say about playing in the Quad Cities."
The biggest change might come from Pszenyczny himself.
After seeing the ins and outs of coaching, he's recognized he may need to change the way he does some things, including his on-ice philosophy.
"It's something, after watching some of the game films, I think, maybe if we'd done this, things would have been a little bit different," Pszenyczny said. "I can't blame everything on the players that were out there, as a coach I've got to take responsibility. Definitely a lot of looking in the mirror these past couple weeks."
It helps that the Storm enjoyed plenty of off-ice success last year, raising over $162,000 for non-profit charities and being awarded the Wanda Amos award last week, which recognizes an SPHL organization for its charitable efforts throughout the season.
The Storm said prior to last year they wanted to be involved in the community, and Pszenyczny made it a point to let players know he wanted them to be active in the QC.
That won't change this year.
"I think it speaks volumes about the front office and the players we brought in," Pszenyczny said. "This is part of what it's like to be a Storm player, there's responsibility with it."