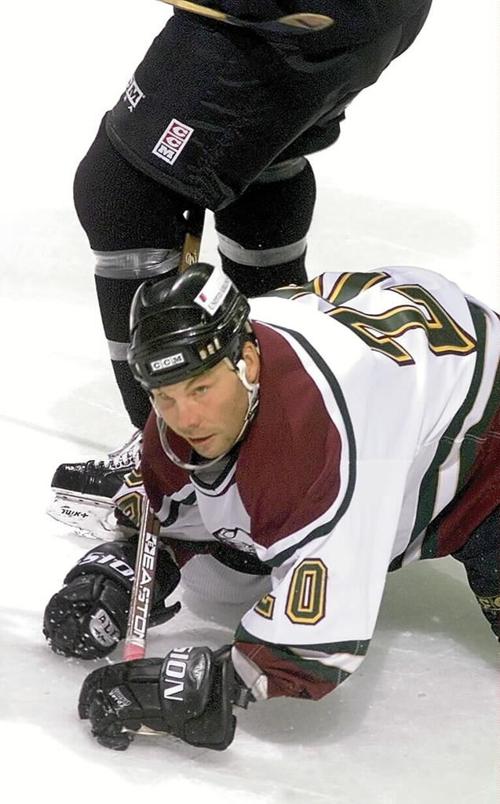 (The Quad-City Times is rerunning some of Don Doxsie's most memorable columns from the past. This column originally appeared in the Times on May 15, 1999.)
It seemed as though the only thing keeping Kevin Kerr's head from falling off and rolling across the floor were his two hands.
They were clasped firmly against his temples as he sat in his cubicle. Every now and then a teammate would wander past, clap a hand on his shoulder, and murmur something, but they couldn't pry Kerr's face from his grasp.
After several minutes, he finally lifted his eyes and fixed them on some unknown object across the room. But nothing else moved. The game had been over for half an hour. He still was wearing his uniform.
Across the room, Sergei Zvyagin dutifully was attempting to speak with reporters, but nothing was meshing. All that came out were jumbled, disjointed pieces of pain.
"I don't know ... Muskegon ... we ... Dimaline had ..."
Tears were tumbling. Finally, an intelligible sentence.
"Who cares what kind of series I had if we lost ...," he said. "I didn't show up tonight. I guess we don't deserve it."
Most of the other members of the Quad City Mallards were moving about the room, showering, combing hair, popping open beers, doing interviews. But there were blank spaces where their eyes should have been.
"It's a tough pill to swallow," Garry Gulash said. "I don't know if it's hit us yet. You just go on."
This is how perhaps the most dramatic defeat in Colonial Cup playoff history left you. Stripped down. Stunned. Stupified. Staring into space.
This is how it felt to blow a three-goal lead in the final 13 minutes, give up a gift goal to start the comeback, then allow the game-winner with 19 seconds to go.
This is how it felt to disappoint the second-largest playoff crowd in United Hockey League history.
This is how it felt to watch a pithy, chippy, despised (but probably deserving) opponent celebrate its biggest moment on your home ice.
There must be something somewhere that's more excruciating, but you can bet the Mallards would have traded the feeling for a couple of anesthetic-free root canals even-up.
Chances are, it hurt so much at the end because for most of the night everything felt so good.
The karma seemed so right for the Mallards on Friday.
They'd never in their history lost Game 6 of a playoff series.
It was owner Eric Margenau's birthday.
Rookie of the year Mike Melas was back in the lineup for the first time in five weeks. Instead of wearing his customary No. 10, he wore jersey No. 14. In each of the last two years, the player who scored the winning goal for the Mallards in overtime in the deciding game of the championship series wore that number. Freddy Nasvall did it in 1997, Ryan Black a year ago.
Even a little pregame fun with the recent finger-biting incident in this series seemed to be a plus.
The home-made signs were everywhere: "Muskegon Cannibals." "Mallards finger lickin' good." "On to Game 7 — isn't that a bite?" Public address announcer Guy Perry noted in his introductions that all the Mallards still had enough fingers for one more championship ring.
Those wild and crazy radio zanies, Dwyer and Michaels, had arranged for everyone to get a rubberized finger with some fake blood dripping off it. After the national anthem, everyone tossed their fingers out onto the ice to the tune of "Goldfinger."
UHL officials allowed the move with the stipulation that any further finger-flinging during the course of the game would result in a penalty against the Mallards.
It didn't happen until the third period, but when it did, it deprived the Mallards of a power play. The off-ice official who mans the penalty box swore the offending finger came flying out of the Muskegon bench, but the call was made nonetheless.
It didn't seem to matter anyway. The Mallards held a comfortable 5-2 lead at the time.
But things began to unravel.
Zvyagin, who had been spectacular in the previous four games, shoved a clearing pass right to Chad Grills, who scored to make it 5-3.
The Fury appeared to score another goal with 5 minutes, 22 seconds left, but it was waved off because one of their players was in the crease. Didn't matter. They scored for real :06 later, then again with 2:25 to go to tie it at 5.
With :43.9 left, Kerr was penalized for slashing, giving the Fury a power play. With :19 left, John Vary (who really should have been the series MVP) completed his first career hat trick with a slap shot from the left circle.
To their credit, the Mallards players shook hands and left the ice without incident. The fans behaved themselves, too.
They seemed too stunned to do anything else.
Be the first to know
Get local news delivered to your inbox!