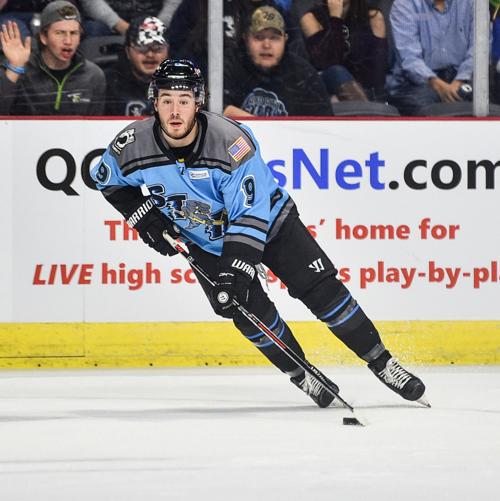 MOLINE — It was last New Year's Eve and Shane Bennett was suddenly in a new city with a new team.
He had just been traded from the Fayetteville Marksmen to the Quad City Storm, leaving a playoff team for one near the bottom of the Southern Professional Hockey League standings.
It could have been a lot to process, but very quickly, starting with a win that night over the Peoria Rivermen, Bennett realized he had been given an opportunity entering the new year.
"I wasn't really sure how it was going to be but coming in, knowing the team was struggling and seeing the fans we had for that night was great," he said. "I had hundreds of people coming up to me saying they were glad I was here after the game which was pretty cool."
Bennett settled in quickly with the Storm, finishing the year with a team-high 14 goals and 30 points in just 34 games and earning an all-star selection.
The 26-year-old has picked up right where he left off this season as he has seven points in seven games, tied for the team lead with three goals and four assists.
"It's good to start getting points early and producing," he said. "Last year I kind of had a slow start and picking up from where I left off (with the Storm) last year, just have the same mentality as I did last year. Everybody that we have this year is making it so much easier to play."
Bennett's not surprised at how well he's produced since being traded. In four seasons in the Ontario Junior Hockey League, he scored 123 goals and added 132 assists in 202 career games.
He earned a preseason tryout with the Greenville Road Warriors in the ECHL in 2014, but didn't make the roster. He decided to play college hockey at SUNY-Cortland in New York, but only played one season.
Bennett spent the next 18 months essentially away from hockey, playing only recreationally in beer leagues.
"It sucked. It was hard, I didn't really know what to do with my time," he said. "I was just kind of sitting around not doing much."
Looking to get back into hockey, Bennett found an opportunity with Fayetteville, thanks in part to his younger brother, Blake. Blake is currently at American International College, but at the time was with the Charlotte Rush of the United States Premier Hockey League. His coach there was Ryan Cruthers, who was also the director of hockey operations for the Marksmen.
That earned Shane a tryout with Fayetteville and he nabbed a roster spot.
"I hadn't been skating much before going," Bennett said. "I went down and had a really good camp and ended up making it."
Bennett showed potential early in his career. He had 37 points in 55 games his rookie year, split between the Marksmen and the Mississippi RiverKings in the 2017-18 season.
Last year, he rejoined Fayetteville but didn't see many opportunities, oftentimes the team's 10th forward and not often on the power play. In 20 games, he scored just three goals and added six assists, and wasn't surprised when he learned he had been traded.
"It was definitely frustrating. My whole life I've been somebody who produces and I've never really been in a situation like that where I wasn't playing as much or wasn't getting power-play time," Bennett said. "Then I came here and Chezy gave me the opportunity to do what I want, kind of, and it paid off."
Though he hadn't produced, Storm coach Dave Pszenyczny saw the kind of player Bennett could potentially be if given the right opportunity. With the Storm struggling in the standings last year, he could afford to take some risks on players, and with Bennett, that risk paid off.
"You see talent put on other teams and, to be honest, he wasn't the best defensively so I think that's why he wasn't getting enough ice time there in Fayetteville," Pszenyczny said. "This year, he's been buying in defensively and I think coaches that have had him in the past would probably be impressed with how he's been playing in terms of throwing his weight around and doing all the little things to getting the puck and go.
"The trade makes me look great but at the end of the day, you see that a player, when given an opportunity, if you just work with a player, he gets better and has more confidence. That kid should have the most confidence in the locker room right now."
Bennett is unsure about what the future holds. He was in preseason camp with the ECHL's Fort Wayne Komets and scored an overtime goal in their preseason game. He isn't sure that if he earns another call-up opportunity he'll take it, or maybe stay with the Storm if they're in the midst of a strong season.
But right now, Bennett is just enjoying his time on the ice.
"It definitely beats a desk job," he said. "I'm happy doing it and you've got to do it while you can."
Be the first to know
Get local news delivered to your inbox!