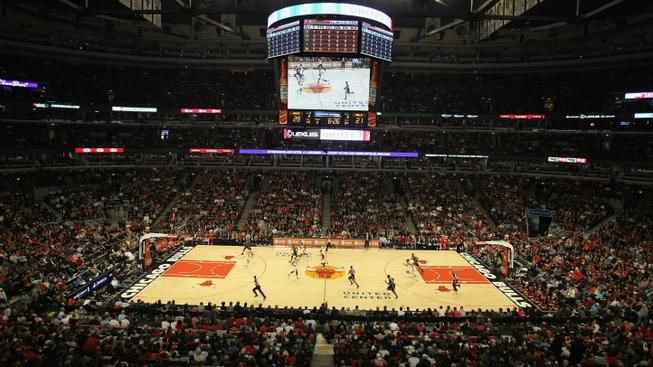 MOLINE — It is good to have connections.
From his days as a basketball coach at Northridge Prep, current Moline athletic director Dick Knar always promised his teams something special. He is keeping that tradition alive.
While at Northridge, Knar was able to get his boys' basketball teams into the "Preps for Pros," which allows a high school basketball team to play an afternoon game at the United Center prior to a Chicago Bulls game.
"We continued that tradition when I was at Mundelein, but while I was at Grant, they didn't want to participate in it," Knar said. "I knew the coach at North Lawndale (Lewis Thorpe) and we talked about it. I talked to Sean (Taylor, Moline's coach) and he was all in on it. In the interim, coach Thorpe passed away in late October, but the school still wanted to go ahead with it.
"I talked to the people who set these games up and asked to be on the list and get first dibs. They called me with the date on Feb. 23, I talked to Sean and we decided to do it."
So, on Saturday, Feb. 23, the Maroons will travel to Chicago to play North Lawndale in a 2:30 p.m. game. Then, they will stay, along with their fans, to watch the Bulls take on the Boston Celtics that night.
You have free articles remaining.
"We are paying for the kids to stay and watch the NBA game," Knar said. "When our fans buy a ticket for the afternoon game, that will include the Bulls' game. Our players can also hang around after our game to watch the teams work out before the gates open or they can leave and get something to eat."
Tickets are on sale for the event through Moline High School. Prices are $40, $45 and $50. Fans can sit behind the bench for the Moline game.
"We sold 100 tickets right away, mostly administrators, faculty and families," Knar said. "We typically sold about 450 tickets in past years. It usually is an early rush, a lull during the holidays and then a rush as the game gets closer."
More exciting stuff
The Moline basketball team has another big deal in January, hosting the first annual Moline Boys' Basketball Shootout at Wharton Field House.
Seven teams will be involved in this year's event with Knar dreaming the shootout will grow next year.
"Right now, we have Rock Island in the event and five teams from out of town," Knar said. "I would like to add United Township and Alleman and make it a really big deal. I am looking at finding a sponsor where we can pay for the hotels for incoming teams and have a big banquet the Saturday morning of the event."
This year's shootout will feature three games on Friday night and three more Saturday.