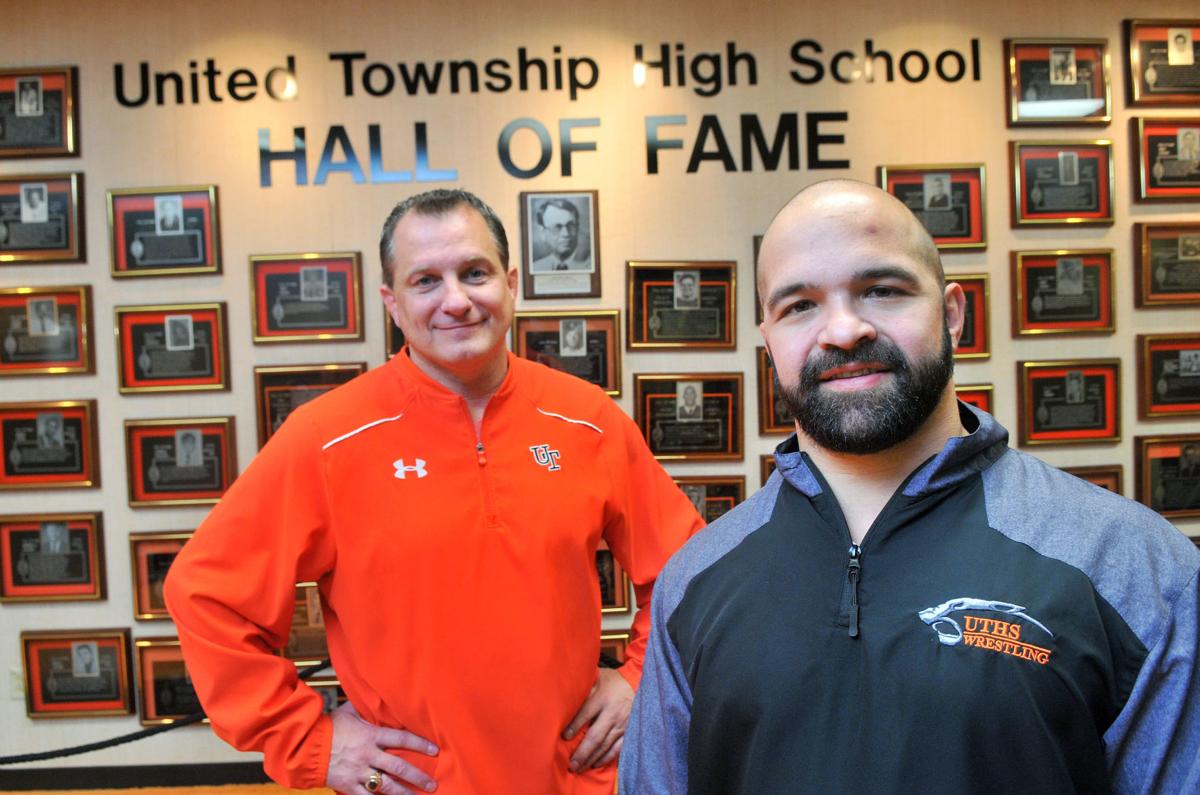 EAST MOLINE — Mark Pustelnik and Lambros Fotos are the only individual state champions in the history of the United Township High School wrestling program.
However, the pair have much more in common. Both have been inducted into the school's Hall of Fame, and both made the conscious choice to return to their alma mater to teach in the classroom and coach their favorite sport to help shape the lives of young people.
Fotos, the Panthers' current head wrestling coach, even wrestled during the head-coaching tenure of Pustelnik, now UT's athletic director.
"Lambros was the hardest worker I've ever had the pleasure of coaching," Pustelnik said. "I simply could not push him hard enough; the expectations he placed on himself were sky-high."
The same could be said of Pustelnik, better known by his nickname, "Bam."
In addition to winning the 98-pound state title in 1985, Pustelnik finished second at state at 105 the following season. He accepted a scholarship from Northern Iowa, where Pustelnik went on to earn four letters and qualify for the national tournament before receiving his college degree in Health Education in 1991.
At UNI, Pustelnik also won the United States Open Wrestling Tournament at 125.5 in April of 1990. The win qualified him for the Pan-American Games, held in Las Lenas, Argentina, where Pustelnik won the silver medal, losing only to Olivera Gonzales of Cuba.
"I don't mind confessing that the gold medal match was one of the best learning experiences of my wrestling career, even though I lost," said Pustelnik. "Coming from the United States, and participating in an international competition, you quickly learn that wrestlers from many smaller nations have far different incentives, and a primary goal of defeating Americans."
After serving as a graduate assistant coach at UNI for one year, Pustelnik decided to end his competitive wrestling career and put his education to work, accepting a teaching and junior high coaching position in Sherrard.
"At the time, there simply was not enough money available to us, maybe a total of $750 per month, to continue to pursue wrestling, and it was time for me to think about turning my energy toward helping young people," Pustelnik said.
In 1993, Pustelnik returned to UT as a health teacher, and the following year was appointed head wrestling coach. He led the program for 13 years before being promoted to the position of assistant principal, and then AD.
Fotos was a four-time state placewinner during Pustelnik's coaching tenure, capped by the 145-pound title in 2002, which earned him a scholarship to wrestle at the University of Illinois for Quad-Cities native and Alleman great Mark Johnson.
Fotos wrestled for the Illini from 2002-06, graduating with a bachelor's degree in history, before following his mentor's lead and returning to UT to teach and be an assistant coach in 2007. Fotos assumed leadership of the wrestling program in 2011.
"I had one goal, and that was to return to my hometown as a teacher, and to continue the process of building a top-notch wrestling program," Fotos said. "I started wrestling in the first grade, following in the footsteps of my older brothers, John and Paris. As the youngest, I had to develop the determination to be stronger and mentally tougher than other kids my age, and that focus and resolve didn't work out too well for anyone I faced on the mat in junior wrestling, and later in high school."
Both Pustelnik and Fotos share another meaningful characteristic.
"In my case, winning my state title was special because my parents, Ron and Peg, were able to be there and share the triumph with me and my teammates," Pustelnik said. "They sacrificed a great deal, the cost of enrolling me in countless junior tournaments, and night after night of practice, so the joy and pride I saw in their eyes meant everything to me."
The same was true for Fotos.
"I expected to win a state title; you have to have that mentality in an individual sport," Fotos said. "But my parents, Gus and Toula, owned a small café, and never hesitated in making sure my brothers and I had every opportunity to pursue our goals, no matter the cost or what they had to do without, so I was wrestling more for them than myself."
Pustelnik and Fotos have both experienced success as well as some frustration in their coaching careers.
"I had to learn the hard way that wrestling is an individual sport certainly, but the inspiration and support of teammates is the difference-maker for many competitors," said Pustelnik. "As a coach, you have to determine what the limits are in communicating with, pushing and setting expectations for each individual, and it is much the same now in my position as athletic director, as my role is to establish expectations for each program at UT."
"I've had a few kids quit on me because wrestling is hard, hard work," Fotos added. "And building a program entails creating a culture of excellence, starting with the lower grades, where student-athletes learn to believe in themselves, set very high expectations, and go out and work their butts off to achieve."
The one thing that separates the two is something Pustelnik hopes his protégé will also experience some day soon.
"I had the pleasure of winning a state title for UT, and with Lambros, coaching a title winner for UT as well," Pustelnik said. "Coaching Lam to his championship was actually more fun and meaningful for me than winning my own.
"Now it's Lam's turn. I tell him all the time, 'Win one, OK you did that, now coach one.'"
Alleman Pioneers
Coach: James Ealy (7th season).
Last season: 28-4 (3-2 Western Big 6); 4th at Class 1A Rockridge Regional.
Returning state qualifiers: So.: Gage Mowry (120), Jack Patting (145), Billy Taylor (126).
Other returning letterwinners: Sr.: Ben Meenan (170), Zach Pinc (195); Jr.: Anthony Bullock (145), Roberto Torres (220); So.: Eli Denton (285), David Dierickx (132).
Top newcomers: Sr.: Alex Jamarillio (182), Aaron Mickelson (152); So.: Sebastian Villanueva (160); Fr.: Jaime Diaz (113), Dalton Nimrick (106).
Ealy: "This year's sophomore class made a huge immediate impact last season, and we will once again lean on them heavily. The two returning seniors have shown great leadership, which will be greatly needed after losing four 4-year starters last season. We look to get more than the three returning state qualifiers back to state and also get more than one on the podium."
Geneseo Maple Leafs
Coach: Jon Murray (17th season).
Last season: 17-3 (3-1 Northern Illinois Big 12 West); 2nd at 2A Rock Falls Regional.
Returning state qualifiers: Sr.: Billy Blaser (285), Andrew Rizzo (138/145).
Other returning letterwinners: Sr.: Nathan Carroll, Jayden Erdman, Andrew Hock, Augie Schmitt; Jr.: Eli Allen, Dawson DeCap, Luke Henkhaus, Cade Hornback, Will McKelvain, Kane Miller, Mick Mooney, Kyle State, Rob Stohl; So.: Brandon Cathcart, Clay DeBaillie, Bruce Moore, Garrett Toom, Dylan Webster, Kyler Williams.
Top newcomers: Fr.: Ben Knowles, Anthony Montez, Harrison Neumann, Brock Parker, Carson Raya, Malakai Schaad.
Murray: "Our guys have been working hard in practice and are ready for competition. These guys have a great potential this season, and I'm excited to see how it unfolds."
Moline Maroons
Coach: Jacob Ruettiger (2nd season).
Last season: 25-4 (5-0, WB6 champs); 2nd at 3A United Township Regional.
Returning state qualifiers: Sr.: Jayden Terronez (152).
Other returning letterwinners: Sr.: Isaac Martinez (132); Jr.: Jonathon McMillan (170), Zach Wallace (220), Cobie Underwood (HWT); So.: Charlie Farmer (106), Andrew Burkeybile (120), Mack Mulvany (145), DJ Parker (160).
Top newcomers: Sr.: Bukuru Stire (113); Jr.: Emmanuel Bailey (170), Marcelo Cruz (152/160), Parker George (182), Clayton Miller (160/170), Anthony Tovar (170/182); So.: Kayden Dreifurst (182/195); Fr.: Kole Brower (126), Alec Schmact (113), Parker Terronez (138).
Ruettiger: "We have four guys ranked in the state top 10 right now — Terronez (5th), Farmer (6th), Martinez (10th) and Underwood (10th). So the goals remain the same — win conference and regionals, get to team state, and have individuals bring home medals from the state tournament."
Rock Island Rocks
Coach: Joel Stockwell (11th season).
Last season: 10-8 (3-2 WB6); 8th at UT Regional.
Returning state qualifiers: Jr.: Victor Guzman (132).
Other returning letterwinners: Sr.: Vershaun Lee (145), Michael Myers (120); Jr.: Brandon Lawver (152), Donovan Rogers (220), Jaiden VanCoillie (182); So.: Manny Limon (120).
Top newcomers: So.: Pharaoh Gray (220-285); Fr.: Aiden Morgan (195).
Stockwell: "We are looking to be more competitive as a team and qualify more individuals to state. Our biggest obstacle has been in keeping our numbers up. Finishing with only 23 wrestlers last year, and forced to forfeit several weights each dual, we had one of the worst seasons since I started. We have much better numbers in our freshman and sophomore classes this year. We are hoping to build something this year that can bring us back up in the near future."
United Township Panthers
Coach: Lambros Fotos (8th season).
Last season: 5-16 (3-2 in WB6); 9th at UT Regional.
Returning letterwinners: Sr.: Hunter Aldrich (132), Logan Golding (138), Cade Harris (170); Jr.: Braydon Hodson (160); So.: Trevor Lannoo (120), Simon Wilson (285).
Top newcomers: Jr.: Tyler Berhenke (195), Faraja Samuels (126), Caleb Swearengen (138/145), Eliazar Tapia (220), Jeff Wallace (182/195); Fr.: Ronnie Gomez (126/132), Alex Pappas (152), Dylan Roberson (160).
Fotos: "Our seniors have always been solid, but they've matured enough to make the next jump and compete at a higher level. They've never made it out of regionals, but I know they have it in them to make strong bids to get to state. I'm also excited about our younger kids. If they work hard and stay committed, they have a lot of potential. If they step up and follow the lead of our seniors, we could end up being tough."
Erie-Prophetstown Panthers
Coach: Tod McCullough (23rd season).
Last season: 27-6 (11-0 Three Rivers champs); Class 1A Rockridge Regional champ.
Returning state qualifier: Sr.: Mat Garrison (160/170).
Other returning letterwinners: Sr.: Lucas Carey (195/220), Gabe Friedrichsen (182), Jeremy Huizenga (182), Jon Jensen (195/220), Calvin Naftzger (170), Trevor Pratt (HWT), Max Weidel (152); Jr.: Cameron Abell (120), Gabe Bohms (220), Eric Maraquez (120/126), Tyler Smith (160), Luke Wetzell (152); So.: Brady Chavez (106/113), Cody Jacobs (126/132), Carter Jepson (113), Robert Munther (145/152), Dean Otten (145/152), Jack Ruff (126/132), Gunnar Weubben (145/152).
Top newcomers: Fr.: Corey Barnes (132/138), Trevor Cobo (138/145), Nick Smith (106)
McCullough: "We hope to build on the success from last year. We have 40 wrestlers on this year's roster. Our goals are to be competitive in a tough conference and put ourselves in position to win the TRAC again."
Fulton Steamers
Coach: Chris Grant (10th season).
Last season: 13-8 (9-2 TRAC); 7th at Rockridge Regional.
Returning state qualifiers: Sr.: Eli Pannell (220).
Other returning letterwinners: So.: Michael Apostolos (132), Noah Ford (126), Max Pannell (195), Ethan Rash (160).
Top newcomers: Fr.: Evan Bly (195), Lucas Raab (126).
Grant: "We have a very young team this year, but they are hard workers and quick learners. It will be an exciting season to watch the youngsters develop. We will work to get Eli Pannell back to state and on the podium along with a few of his younger teammates that were close to making the trip last year. "
Kewanee Boilermakers
Coach: Charley Eads (12th season).
Last season: 11-9 (4-7 TRAC); 2nd at 1A Princeton Regional.
Returning letterwinners: Sr.: Christian Carder (152); Jr.: Diego Jackson (138), Jorge Ramirez (126), Tristan Tucker (220); So.: Rhett Charlett (132), Draven Crain (138), Michael Hall (182), Alex Vandevoorde (145), Ryan Welgat (120).
Top newcomers: Fr.: Xander Gruszeczka (113), Nathan Hampton (106), Kadin Rednour (120).
Eads: "We lost some solid seniors. This year we are young overall, but the kids have some talent and energy. Work ethic in the practice room will provide this team with multiple dual victories this year. I am looking forward to see how far they can go."
Mercer County Golden Eagles
Coach: Steve Speaker (6th season).
Last season: 14-15; 2nd at Rockridge Regional.
Returning state qualifiers: Sr.: Steven Speaker II.
Other returning letterwinners: Sr.: Jonathon Svoboda, Camden Whitenack; Jr.: Noah Miller, Seth Speaker; So.: Broctyn King.
Top newcomers: Sr.: Jayden Klingaman (220), Mason Meridethh (132), Caleb Smith (160), Jayvon Woodsmall (182); So.: Jake Headrich (220), Griffin Kernan (145), Collin Miller (152), Carson Tippie (132); Fr.: Carson Clawson (106), Carter Donahou (126), Jon Headley (113), Austin Walker (195).
Speaker: "Our schedule is pretty tough. So it should be a challenging year for us, but in the end, it's all practice for the 3rd of February. Like every year, weight is always an issue. If we spread out as a team, and fill all the weight classes, we will be able to compete with the best of them."
Monmouth-Roseville Titans
Coach: Ben Green (1st season).
Last season: 10-7 (5-0 West Central champs); 6th at 1A Camp Point Regional.
Returning letterwinners: Sr.: Josh Cerna (285), Danilo Fernandez (220), Cory Stokes (138), Jakob Wolf (TBA); Jr.: Martin Arteaga (113); So.: Aston Anderson (106), Trey Anderson (182), Kevin Bikopo (145), Alex Ferguson (195), Dryson Griffin (285).
Top newcomers: Sr.: Nick Corman (TBA), Christian Cortez (160); Jr.: Stella Narkiewicz (106); So.: Steven Meza (142).
Green: "The team goal is to win our conference again. It is my personal goal to beat both Galesburg and Knoxville. We have several wrestlers who should make it to state."
Morrison Mustangs
Coach: Tony Wright (7th season).
Last season: 16-15 (6-5 TRAC); 4th at Princeton Regional.
Returning letterwinners: Sr.: Dakota Carber, Brevin Pruis; Jr.: Chace Garland, Ryan Kennedy, Kyle Roberts, Riley Wilkens; So.: Colten Linke, Aaron Wolf.
Top newcomers: So.: Tyson Smith; Fr.: Thomas Dauphin, Nathan Schaefer, Thomas Schlafer, Andrew Schmidt, Kayden White.
Wright: "We have a strong junior nucleus with a really great freshman class. With no returning state qualifiers, we are looking for several of our guys to step up and break through. We have four returning sectional qualifiers and four freshmen with youth state experience of their own."
Orion Chargers
Coach: Dan Diamond (13th season).
Last season: 20-1 (10-1 TRAC); 3rd at Rockridge Regional.
Returning state qualifiers: Sr.: Logan Lee (HWT), Trent Scharpman (152); So.: Noah Schnerre (132).
Other returning letterwinners: Sr.: Andrew Allen, Gage Eastin, Ray Herd, Mason Loete, Camden Sellers, Ryan Wegerer; Jr.: Ethan Meisenburg; So.: Ethan Moran, Josh Fair.
Top newcomers: Jr.: Luke DeBaillie; Fr.: Allen Catour.
Diamond: "Keys to our season will be getting our lineup settled in after a late start due to a great football season. I feel this could be one of our best groups in many seasons. We have a lot of senior leadership. We beefed up our schedule and will have many challenging meets."
Riverdale Rams
Coach: Myron Keppy (21st season).
Last season: 15-15 (7-4 TRAC); 6th at Rockridge Regional.
Returning state qualifiers: Jr.: Trystan Altensey (152); So.: Bryan Caves (182).
Other returning letterwinners: Sr.: Clay Brinkmeier, Colton Fuller, Billy Strickland, Kale VenHuizen; Jr.: Colton Reiman, Andrew Walker; So.: Corey Hartson, Charlie Mitton.
Top newcomers: Sr.: Alyssa Garza, Mason Webster; Jr.: Carson Ebenroth, Noah Rozeboom, Max Weiss; So.: Dalton Cathcart, Jaden Searl.
Keppy: "We will start out slow due to injuries, but we will continue show a lot of improvement throughout the year. It is nice to get back a few that didn't wrestle last year. We have a good group of kids to work with."
Rockridge Rockets
Coach: Lucas Smith (6th season).
Last season: 9-12 (3-8 TRAC); 8th at Rockridge Regional.
Returning state qualifiers: Jr.: Dallas Krueger (145), Nolan Throne (152).
Other returning letterwinners: Sr.: Nick Berenger (138), Myles McCabe (170), Hunter Stineman (138); Jr.: Colin Swailes (120); So.: Hunter Locke (152).
Top newcomers: Fr.: Dacoda Cornwell (132), Damon Pearson (182), Nate Petreikis (160), Connor Shaffer (195).
Smith: "We have 10 young wrestlers coming into the season, so getting those athletes up to speed with high school wrestling as soon as possible is the goal. Putting together a strong dual/tournament team for the postseason is a realistic goal this year."
Sherrard Tigers
Coach: Jeff Garrett (13th season).
Last season: 20-9 (8-3 TRAC); 5th at Rockridge Regional.
Returning letterwinners: Sr.: Carson Caldwell (152), Wyatt Frere (170), Jacob Hanson (138); Jr.: Rhett Frere (160), Gavin White (195); So.: Josh Bynum (182), Walter Franck (126-132), Kaiden Jones (126-132), Andrew Ryckeghem (145), Alex Wilson (132-138).
Top newcomers: So.: Tanner Timmerman (113); Fr.: Nate Bynum (106), Wyatt Dochterman (113), Ryder Roelf (120), Dylan Russell (120).
Garrett: "I have a lot of talent in the room. Our goals include repeating as the Riverdale Invite champs, placing high at both the Erie and Orion tournaments, and challenging for the conference and regional titles. I see Orion in command, but we should be right there challenging them for the TRAC championship."
Be the first to know
Get local news delivered to your inbox!