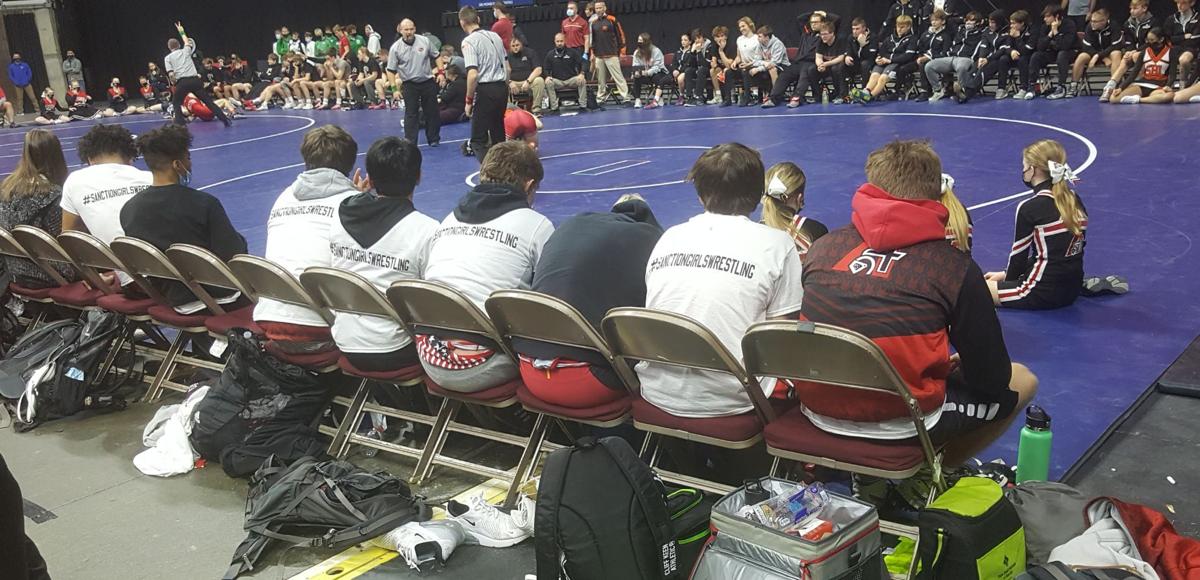 DES MOINES — Illnesses and injuries finally caught up with Davenport Assumption's wrestling team.
Despite being at less than full strength for the majority of the season, the Knights still managed to reach the Iowa Class 2A state dual meet tournament for a 14th consecutive year.
Assumption, though, didn't have much bite against the best teams in its classification Wednesday at Wells Fargo Arena.
Coach Jon Terronez's team dropped duals to Independence, 44-24, and Sergeant Bluff-Luton, 41-30, before salvaging a seventh-place win over Creston/Orient-Macksburg, 47-25.
"We wrestled really rough today," 195-pound junior Aiden Morgan said. "We didn't take it as seriously as we should have. We were the fourth seed and we got seventh. That's not a good look.
"We had success even when we didn't have a completely full lineup this year, but it kind of crumbled at the end."
In the opening dual against Independence, Assumption led 24-16 through nine weight classes. The Knights had state-ranked 106-pounder Derrick Bass on the mat, but the sophomore had to medically forfeit during the match because of a shoulder injury that has sidelined him for a large portion of the season.
Those six points spurred Independence to the finish line.
The Mustangs came up with three contested bonus-point wins and a forfeit to close the dual.
"If Derrick is able to finish that match, I truly think it would have changed the outcome of the dual — both the mentality and spirit of our team," Terronez said. "It is wrestling, though, and you've got to rise to the occasion and be healthy at the right time."
The Knights were shorthanded all season.
It lost Jacob Maes (113) and Noah Gonzalez (132) to season-ending injuries. They were shut down for about a week due to COVID-19. Others wrestled through the pain.
"We've had a lot of kids put a smile on their face and battle as hard as they could," Terronez said. "I appreciate that. Those are the type of kids you want on your team.
"Unfortunately, everything caught up with us at once and we were beat up."
Terronez felt his team wrestled uninspired in the loss to Sergeant Bluff-Luton. He challenged his upperclassmen at the hotel before the final dual to have some pride.
Assumption (18-3) had nine bonus-point wins in the finale, including pins from Parker Terronez (152), Logan Schimanski (170), Morgan (220), Joe Turner (285) and Michael Macias (138).
Morgan collected three wins on the day.
"Going 3-0 really helps going into (Thursday)," he said. "I'm winning matches here, got to keep rolling and going with it."
The Knights believe they have a strong foundation in place to return next winter.
They had only three seniors in their lineup Wednesday — TJ Fitzpatrick, Parker Foley and Schimanski.
"They're not going to want to have this feeling next year," coach Terronez said. "They're going to tell the new kids coming in, 'Hey, we're not doing this again.' Sometimes, you've got to have that little bit of adversity to get better in the long run.
"I think next year is going to be a lot better."