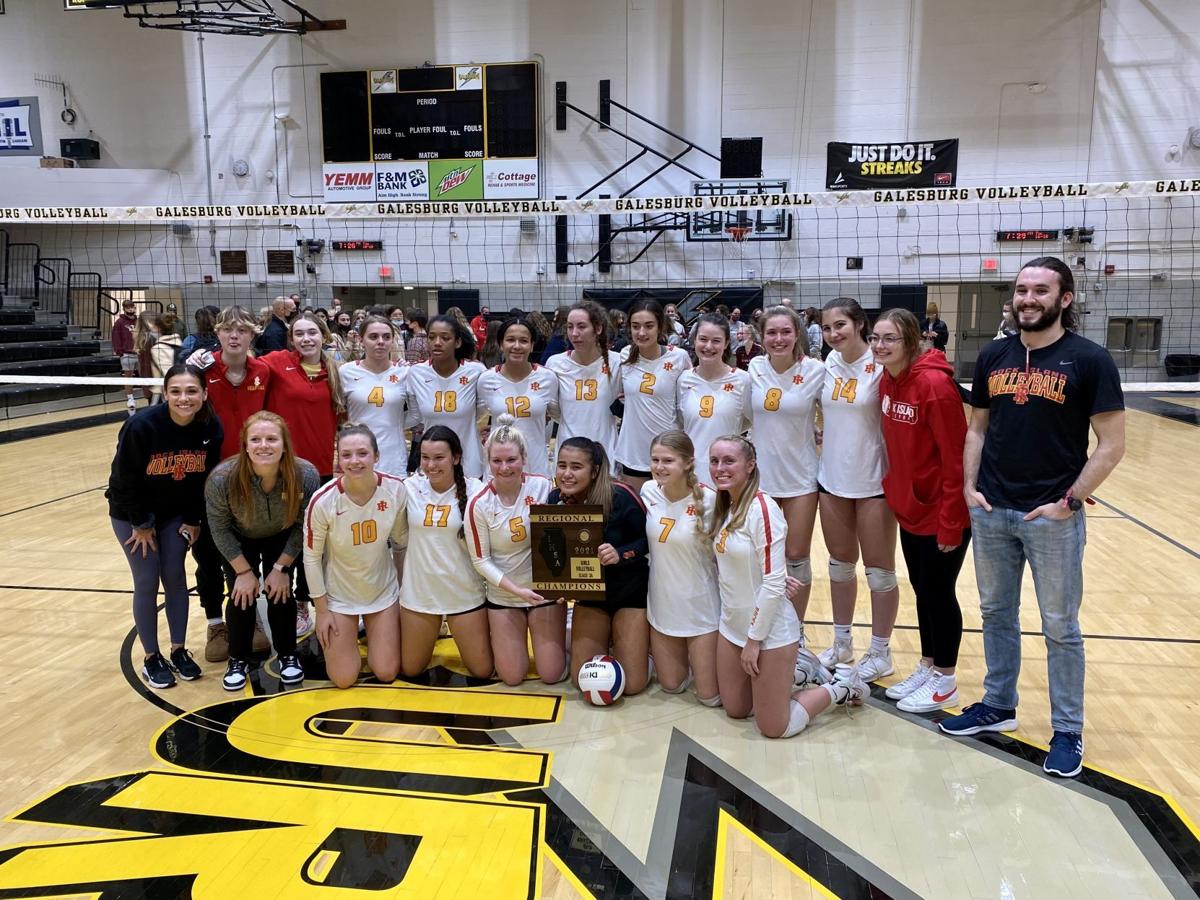 GALESBURG — For the first time since 2013, Rock Island High School volleyball has earned a regional title.
"It feels like a dream," senior outside hitter Emily Allison said. "I can't even explain it. It was a whole team effort."
Rock Island defeated Dunlap in three sets (23-25, 25-21, 25-16) Thursday in Galesburg. The game itself was wild. There were scoring runs, questionable calls and even a football style tackle — but Rock Island won the final two sets to earn a regional trophy.
"They like to keep it interesting and give me a heart attack, which they definitely did tonight," Rock Island coach Morgan Gray said. "Honestly, I didn't expect anything less from my team. There was a lot of ups and downs, but Dunlap had just as many as we did. Thankfully, we were able to have fewer at the end and pull away."
But it wasn't that simple. This game tested the athletes' mental strength more than a few times. There were moments where it seemed either team could win.
Most of those for Rock Island, though, came toward the end. Dunlap jumped ahead 8-2 in the first set behind Emma Robben and Chandler Fassett's play at the net. The two 6-foot-2 seniors began the game with early blocks that proved Rock Island was going to have to find other ways to score.
"The first couple balls we hit into the block, and I was like okay, calm down," Gray said. "We worked on hitting through the block and around the block at practice. We knew they were going to block us. If we can make them tired, we are going to win some of those rallies. I told them it was time to make an adjustment. And I can say that for the first time this season, they made those adjustments fast and they paid off."
Rock Island immediately got back into the game and even took a 20-17 advantage before two calls by the line judge flipped the set. Allison and company were already celebrating her backline kill when the line judge raised her flag, signaling the ball as out. A stunned Rock Island bench instantly raised its arms up in protest and the chirps from the crowd rained down.
It happened again with the game tied at 23, and Gray had had enough. Visibly upset, she let her frustrations be known. Two kills that looked either on or even inside the line had been torn away. And with the next point, Dunlap took the first set.
"I will leave it at that I thought at regionals we would clean some of those things up," Gray said. "The line judges, you would think, would benefit you. They really didn't. I was just proud of the girls not worrying about those things and only focusing on what they can control."
The second set went much better for Rocky, at the start. Rock Island held a 20-10 advantage after finally getting the offense going. But a Dunlap timeout changed everything. The Eagles came out and quickly made the score 21-20. Rock Island looked like it was in a daze.
"I was so nervous," Gray said. "I told them to stop making me poop my pants in this game — stop the errors and take deep breathes. That's easy to forget in a fast-paced game, but luckily they were able to do it in the final points. I wish they were able to do it sooner, but it happened and I couldn't be happier."
After surviving the second set, the third set was all Rock Island. Allison took over offensively and there was nothing Dunlap could do to stop her.
The senior was on a mission.
"I just wanted it so bad," Allison said. "Being a senior and not having won a regional, I just wanted it. I think that game was about who wanted it more and who was going to try the hardest." 
"I knew I had to be the one to find the court offensively. I knew my team was going to count on me for energy. I looked for what was open, and then we were rolling."
Rock Island grabbed an early 7-6 lead and never let go. The lead swelled as big as 21-10 before Dunlap made its final push. 
Allison had six kills in the final set but none bigger than the one to go up 22-15. Dunlap was on a run, similar to the second set, but the senior found a lane in the back of the Eagles' court and struck the ball home.
She was greeted with a celebration so strong that she was tackled to the ground. After that, Rock Island pulled away to win the third set 25-16.
"I haven't seen this much energy and passion in the girls all year," Gray said. "You could tell they wanted it badly. I wanted it badly."
"I tried staying as motivating and as positive as I could, even when we almost gave them that second set. Our attitude and mentality tonight was exactly what you need to win a regional title."