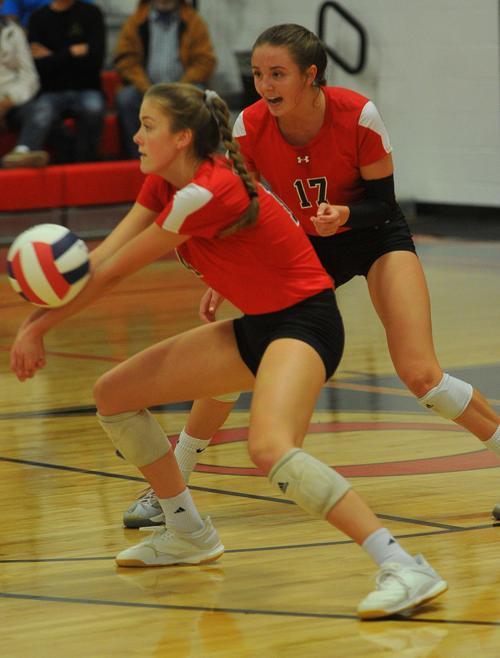 Co-champions of the Three Rivers Conference's West Division, the Orion and Fulton volleyball teams combined to fill six of the eight first-team positions on the all-conference squad.
However, it was the Chargers dominating the first-team roster, accounting for half of those eight spots, a quartet led by senior outside hitter and unanimous selection Sarah Jacobsen.
Two of Jacobsen's classmates — setter Faith Catour and fellow outside hitter Mackenzie Grafton — earned first-team status, as did junior libero Kati Kratzberg. Senior middle hitter Emiliah Morrison was a second-team honoree.
Those five all played key roles for an Orion squad that finished 37-2 and won its first Class 2A sectional championship in four years, eventually falling in a three-set super-sectional to eventual 2A state champion Decatur St. Teresa.
Fulton (30-9), which split with the Chargers during the regular season and shared the division title with Orion at 9-1, had just two first-teamers, but both senior outside hitter Emily Schipper and junior setter Kylie Collachia were unanimous selections. Altogether, Fulton also had five all-conference selections. Senior middle hitter Megan Bailey earned second-team kudos, while classmates Ally Curley (libero) and Maddie Hodge (OH) were honorable-mention choices.
Riverdale (18-16-2), which took third in the TRAC West and captured a 2A regional title, had one unanimous first-team pick in senior outside hitter Brooke Smeltzly. Junior outside blocker Shae Hanrahan and junior libero Molly Sharp earned second team and honorable mention, respectively.
Rounding out the first team was senior libero Lauren McMillin of Sherrard (13-19), who tied with Orion's Kratzberg in the vote-receiving process for the seventh first-team slot. McMillin's senior teammate, middle blocker Carley Whitsell, earned second-team honors.
Rockridge (15-17-1) had two second-team picks in senior OH Mia Freyermuth and junior setter Nicole Sedam; senior MH Mackenzie Douglas and junior OH Olivia Drish earned honorable mention.
Morrison (1-31-1) had one second-team honoree in senior Grace Steines.
E-P's Brooks unanimous TRAC East first team pick: ​Erie-Prophetstown (16-19-2), which broke even in the Three Rivers East Division at 6-6, had one first-team honoree in junior middle hitter Emily Brooks, who was one of five unanimous selections to the seven-player first team.
Kewanee (16-20-1) also had one first-team selection in senior outside hitter Aly Shafer.
The E-P Panthers had two second-team picks in senior libero Jasmine Nickerson and junior setter Baylee Anderson; the Boilermaker duo of senior right-side hitter Gracey Damron and junior defensive specialist Josie DeBord earned honorable mention.
Get in the game with our Prep Sports Newsletter
Sent weekly directly to your inbox!