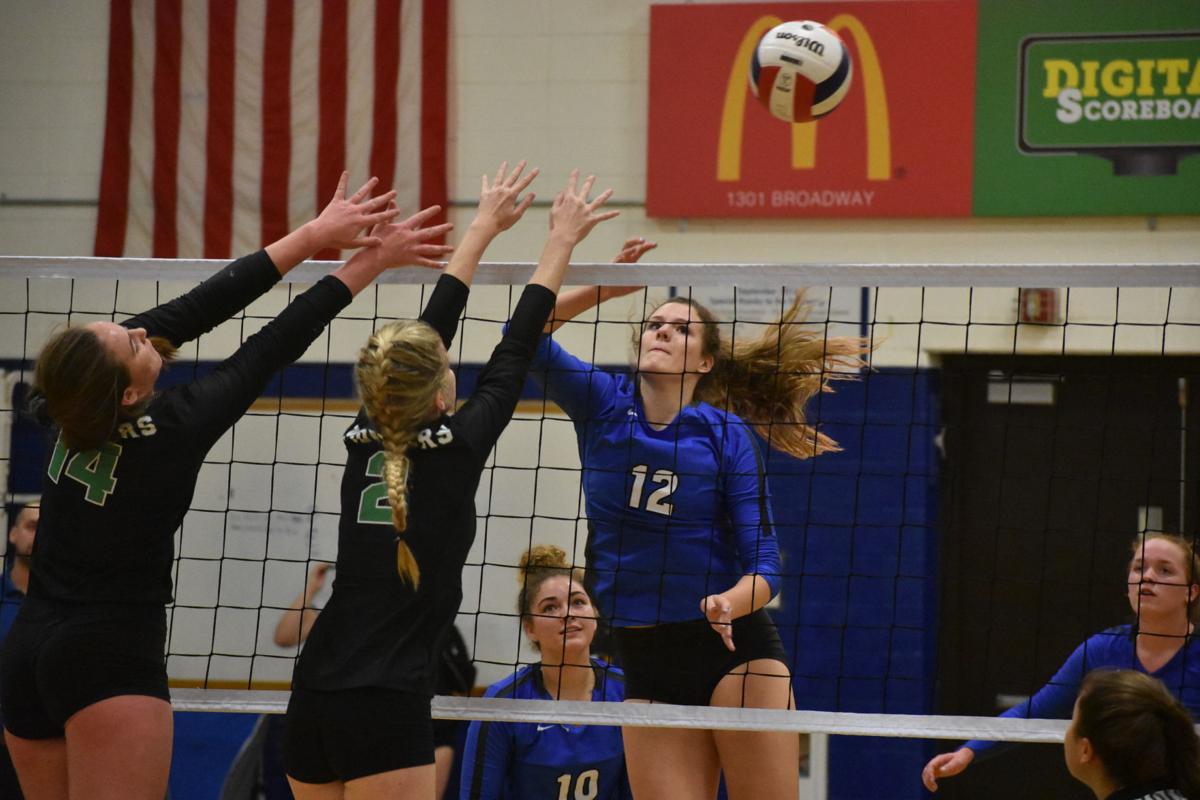 QUINCY — Tim Hill could sense some uneasiness in his altered lineup he sent out for Quincy volleyball's senior night and Alleman took advantage of it.
"I had all my seniors out there and some of them were in new positions, kind of guessing 'Is that my ball?'" the Quincy coach said. "So I told them to just relax, have some fun, play some volleyball and that's what they ended up doing."
Trailing Alleman 8-3 out of the gate in Tuesday night's Western Big 6 Conference match at the QHS gym, the Blue Devils put together an 11-1 run and never trailed again in the first set, rolling to a 25-18, 25-17 victory.
"We just got together as a team and started to come together more," QHS senior outside hitter Addy Penn said. "We then cheered up each other and we were good from there."
Hill said it was a noticeable change in demeanor.
"They ended up settling down to doing what they know how to do, and that's what got them back into the match," Hill said.
Alleman responded to Quincy's run to pull within 14-13 when the Blue Devils hit the ball out of bounds, but Quincy outscored Alleman 9-5 the rest of the way.
The Pioneers got off to solid start again in the second set, building a 5-1 lead before the Blue Devils (15-8, 7-4 WB6) responded with four straight points to tie it.
Alleman coach Andrea Larsen was impressed with the way the Pioneers (1-21, 0-14 Big 6) started each set, specifically their serve-receive-pass game.
"We started out with fire." said Larsen, who got three kills and four digs from Errin Hoffman and three aces and six digs from Colleen Kenney. "We've had the problem where as you go through the season, you start out really well and then you have those six or seven points where you just can't get it going again. We've been in those ruts every single match."
QHS went on one of those splurges, scoring five of the next six points for a 10-6 that forced Alleman to call a timeout.
Alleman scored off a pair of long hits and pulled within 11-10, creating a back-and-forth affair before QHS pulled ahead 19-15 as Deonna Douglas had a kill to the corner of the court.
Lexi Wolf, who finished with six kills, had a couple of hits in the gap of the Pioneers' defense to make it 23-16. Penn, who had four kills, hit the ball off Hoffman for a point, and Blaine Evers, who had 12 assists, scored the final point of the game.
"It felt great to get that senior night win," Penn said. "The last time we played them we went into three sets, so it felt good to beat them in two sets this time."
Get in the game with our Prep Sports Newsletter
Sent weekly directly to your inbox!