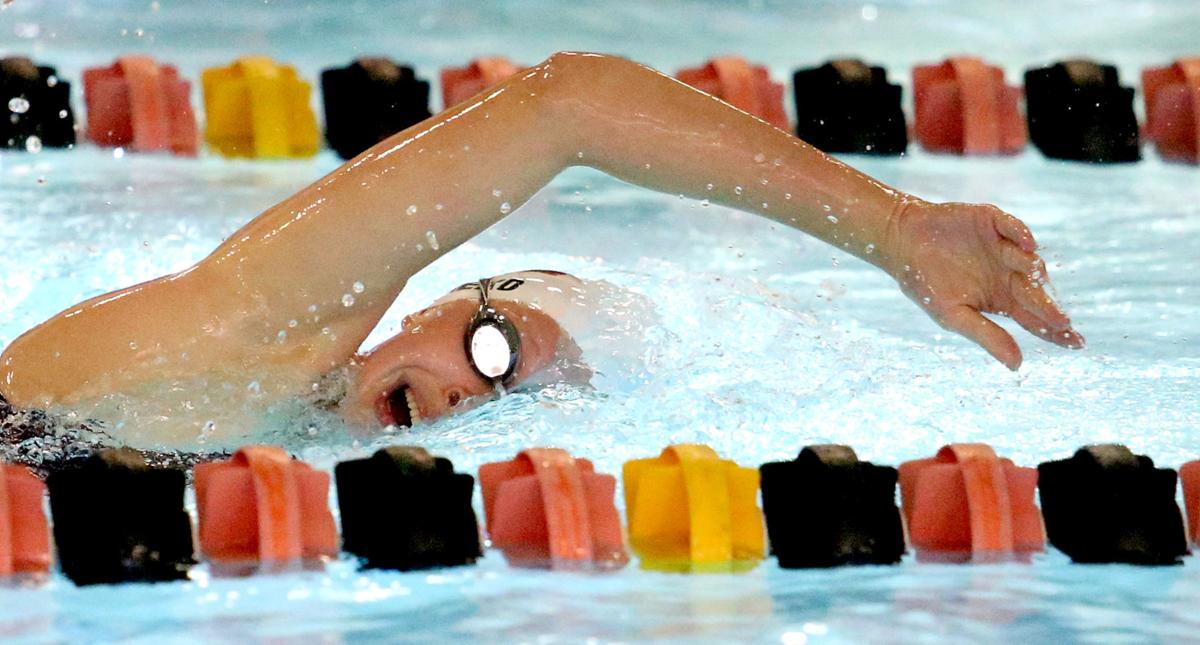 Moline
Coach: Michael Roche (2nd season)
Assistants: Joseph Hroma, Joe Ehlers, Joel Delp (diving)
2018-19: Won fourth straight Big 6 title; sectional runner-up. 
Returning letterwinners: Srs.: Remi Greko, Steven Klumb, Derek Burgin, Morgan Schaub, Adam Klumb, Max Reid, Santiago Flores, Jay Akers, Vamsi Regalla. Jrs.: Aiden Perry, Ethan Van Meersch, Tanner Meyers. Soph.: Henry Neff, Peter Adams, Phineas Van Vooren, Adam Perry, Caleb Brandes, Owen Perry.
Key newcomers: Jrs.: Warren Oestmann, Alex Earnest, Donavyn Tousseau. Fr.: Jack Curnyn, Aden Ehrmann, Akshat Gupta, Schuyler Kirgan, Kyle Phillips. 
Roche: "We lost a lot of fast seniors last year. A lot of ground to make up. Need guys to step up this year and make improvements across the board."
Rock Island
Coach: Dave Busch (1st year with Rocky boys, 40th year coaching)
Assistant: Andy Parer (diving coach, asst. swimming)
2018-19: Third at Big 6; sectional fifth place. 
Returning letterwinners: Sr.: Ryan Nickel, Peyton Jones, Eh Yee. Jr.: Peyton Cassidy, Jacksen Hansen, Noah Rettig, Thomas Taylor, Eh Tha, Shay Wright. 
Top newcomers: Jr.: Avery Donaldson, Femi Ojelade. Soph.: Peh Lay, Pearce Lelonek, Jay Richardson, Tyler Wolf. Fr.: Cade Barnes, Xavier Lolli, Noah McMeekan, Lucas Rettig, Jude Rowell, Ethan Smithson.
Busch: "Will take a while for them to get to know what I want and for me to know what they can do. Everyone is working hard and we look forward to starting the season to see what they can do. We will have some strong events but will need to improve on some of our weaker events. We have a lot of boys that can swim multiple events so it will be fun to match them up in meets with other teams."
United Township
Coach: Melissa Messerschmidt (2nd season)
Assistants: Jamie Meier and Ryan Hemphill (diving)
2018-19: Fifth at Big 6; sectional sixth place
Returning letterwinners: Sr.: Ethan Hergert. Soph.: Derek Cruse.
Top newcomers: Sr.: Cameron Hetzel. Jr.: Mateo Garcia, Jared Weese. Soph.: Quadre Johnson. 
Messerschmidt: "My goal is to rebuild after losing 10 seniors last year, and to build leadership within the lower classmen. My boys are excited to build stronger bonds this year and to get the community involved in the swim/dive team."
You have free articles remaining.
Kewanee
Coach: Julie Fristad (3rd season)
Returning letterwinners: Srs.: Gage Behnke, Cristofer Fernandez. Jrs.: Jasper Brokaw, Jake Brown, Connor Bryan, Calvin DeSplinter, Eathan Newton.
Top newcomers: Fr.: Emmitt Brokaw.
2018-19: Eighth at sectional; Behnke qualified for state in four events for Athletes with Disabilities.
Fristad: "I'm excited about having another season to compete. Adding new swimmers to the mix, it is always exciting to see what they can add and bring to the team. It's also exciting to watch our returners grow and show improvement."
Monmouth-Roseville
Coach: Nicole Trego (2nd season)
Returning letterwinners: Sr.: Logan Trego. Soph.: Tanner Trego. 
Top newcomers: Sr.: Cullen Vickroy. Soph.: John Mattan. 
Trego: "We are a small team and we are still new on the scene, so we are just working toward faster swim times at every meet. This group of boys has been swimming for a long time through other organizations.  To have them come together as a team again is going to be fun to watch."
Morrison (co-oping with Sterling)
Coach: Kyle Ruiz (Sterling)
Morrison swimmers: Soph.: Sam Richards. Fr.: Skylar Drolema. 
Wethersfield
Coach: Tara Mosley (2nd season)
Returning letterwinners: Sr.: Cody Mosley. Jr.: Jarrett Chayer. Sophs.:  Colton Mosley, Jesse Sandoval.
Top newcomer: Fr.: Matthew Senteney
Mosley: "Expectations for Colton Mosley (are high) as he is a long time swimmer being a top competitor. He swims off-season with a USA swim team year-round. Colton has achieved many accomplishments including qualifying in the USA Age Group Championships and USA Senior Championship."
"The swim team is small in numbers, however. We have seen much success with two of the swimmers being brand new to swimming. We achieved teaching all the four strokes and the basics of swimming competitive within a months' time."