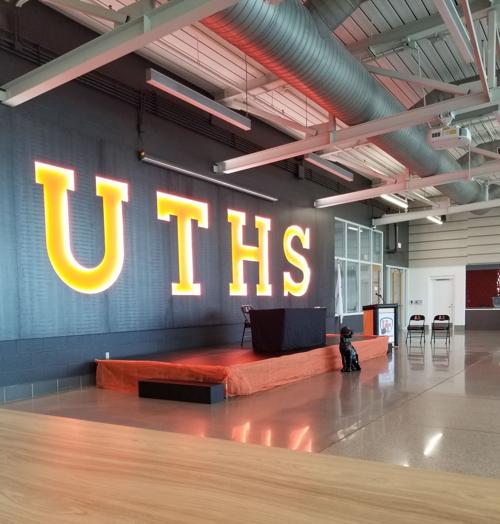 United Township athletic director Mark Pustelnik delivered a message at Wednesday's signing day ceremony.
"Once a Panther, always a Panther."
UT recognized 18 seniors signed to play in college inside the school's commons area while adhering to safety guidelines due to the ongoing COVID-19 pandemic.
"We definitely wanted to give our athletes what they deserve, and that's a senior signing day," Pustelnik said at the start of the event. "Use this, and remember it; and seize each day."
Masks were required to attend the ceremony, and only groups of four or five athletes with their parents and coaches were allowed in at a time. The tables were disinfected after each group signed, and athletes left with their letters of intent and the pen they signed them with.
Helmut Soglohun, who signed to run track at Division I University of Illinois at Chicago, enjoyed being able to attend an in-person signing day as a senior.
"I think it's a really important part of a student athlete's life," he said.
Soglohun, also a soccer player and UT's male Don Morris nominee, said it was an honor to have his multi-sport ability and classroom dedication recognized.
"The ones I have to thank are the people around me, my family, friends, and coaches, because they're the ones who pushed me to do it," he said. "The teachers in the classroom, parents at home, coaches on the field, on and off. It wasn't just me, it was through them."
Ashlyn Burkeybile, who signed to bowl at Division II Upper Iowa University in Fayette, said it was special the ceremony was able to take place under the current conditions.
"It's saying that they care about us and they want us to achieve in our college careers," she said, "and they're taking a day just to wish us well."
The three-time state qualifier finished 29th at state her senior year, and sympathized for the seniors who were not able to have a final season.
"Having this (ceremony) really helps it," Burkeybile said, "and puts a light on the hard times we're going through right now."
Helmut Soglohun said he connected with UIC assistant coach Neil Houlihan by attending a soccer game, his "secondary sport" in high school, during the recruiting process.
Last year's Western Big 6 champion in the 300 meter hurdles said he felt at home during his visit.
He said his primary college event will most likely be the 400 hurdles. UIC competes in the Horizon League.
Soglohun said he's been training early mornings with his older brother, Jean Luc (Olivier), a 2017 UT grad and triple jump state medalist. The older Soglohun is attending North Carolina A&T State University after two years at Iowa Central CC.
Helmut said he looks forward to competing in the big city, and felt grateful he was able to sign at the next level despite not having his full final prep season.
"I have friends that go there, and every single person that's gone there says, you go there and don't want to come back home, because you find a love for the city," he said. "That's what I'm hoping I can find there."
Get in the game with our Prep Sports Newsletter
Sent weekly directly to your inbox!