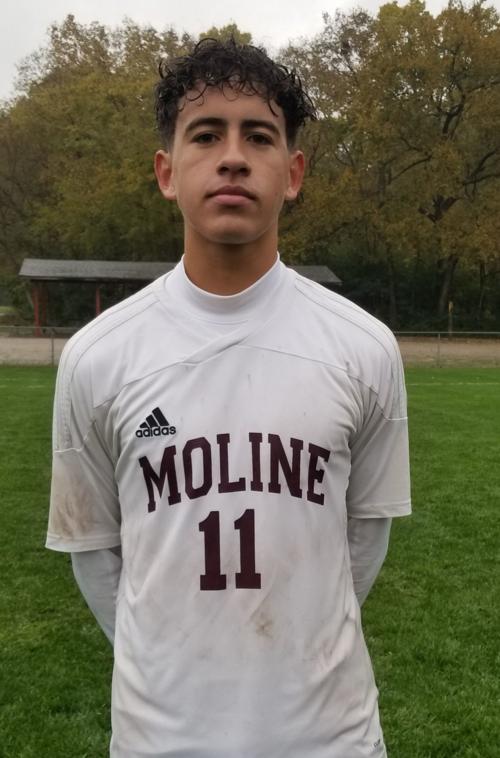 NORMAL – Not many people would have given the Moline boys' soccer team much of a chance to play for a sectional title after a rough start to the season. 
However, a second-half goal from Jose Ruiz set up just that opportunity for the Maroons in the IHSA Class 3A Normal West Sectional. Ruiz's goal was the difference in Moline's 3-2 victory over the top-seeded Joliet West Tigers.
Ruiz made a deep run down the right size and received a beautiful pass from Boukary Mnengue to set up the game-winning goal. Ruiz couldn't tell you how the goal happened, but he's sure happy that it went in.
"I made that run and then the ball just went in," said a jubilant Ruiz. "It's crazy, I can't even remember what happened."
What it resulted in, though, is memorable as the fifth-seeded 12-7-3 Maroons will now face O'Fallon, a 1-0 Tuesday winner over Edwardsville, in Friday's sectional title game back in Normal at 4:30 p.m.
Moline coach Rick Sanchez was happy with how his forwards went into the attack all game.
"We wanted to attack them quickly when we could," Sanchez said. "With our first and third goal, we were able to get into their backline and make a shot."
Moline went into the halftime break down 2-1 after Saheed Jah opened he scoring in the 13th minute off of an assist from Isaac Ruiz. A penalty kick 13 minutes later and a second goal from the Tigers took the momentum away from the Maroons.
Sanchez took his team into the halftime huddle and reminded them of the game plan that they had going into the game.
"Overall, we knew a little about them," Sanchez said. "We wanted to attack certain spots on the field and we were able to do that a lot better in the second half. Our defense did a remarkable job holding them to only two goals."
The Maroons opened early in the second half with a header from Michael Galvin off an Isaac Ruiz corner in the 45th minute and closed out the game 14 minutes later with the goal from Jose Ruiz.
The Maroons' defense limited chances inside the box and forced Joliet West to take shots on less than stellar scoring chances. The Tigers out-shot Moline 9-7, but the Maroons had more shots on target at 5-4.
"Our backline, including our keeper (Carson Klavohn) has been pretty steady all year," Sanchez said. "We knew they were very technical and wanted to keep them outside of the box."
Jose Ruiz reflected back on what it took to get to this point and is thrilled that the Maroons are advancing into the Sweet 16.
"No one believed in us to start the year," Ruiz said. "Our chemistry wasn't good and it showed on the field. To come out in the postseason and show how good we really are is an incredible feeling."
Get in the game with our Prep Sports Newsletter
Sent weekly directly to your inbox!