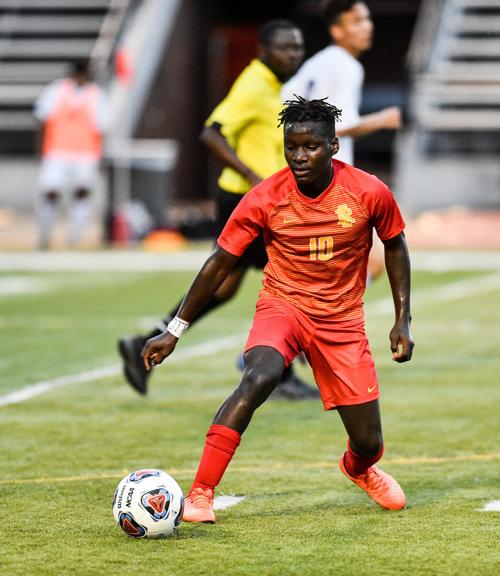 OTTAWA — It took a few minutes to gauge the playing surface at Ottawa High School, but once the Rock Island boys' soccer team figured it out the Rocks were off and running.
The top-seeded Rocks (13-1-3) blew past Morris 6-1 in the semifinals of the Class 2A Ottawa Regional on Wednesday.
"This field is really small and it was hard for us to adjust to it with our speed," RI coach Rudy Almanza said. "Once we got settled in we attacked early and got a goal five minutes in. That got us more comfortable. Then, we got a couple more in the first half and it allowed us to let my starters get some extra rest and the reserves got some playing time."
Osvaldo Perez got the Rocks on top in the opening minutes. Peter Kimba and Jordan Rice made it 3-0 just past the midway point of the first half.
Msengi Landry scored early in the second and Migambi Athana scored twice in a three-minute span to make it 6-0.
Morris got on the board in the final minute when a Rocky defender headed the ball into the net for an own-goal.
The Rocks, on a 14-game undefeated streak, will play host Ottawa, a 6-2 winner over Sterling, on Saturday at 3 p.m. with the Rocks looking for their first regional title.
"We really don't know anything about Ottawa," Almanza said. "We will check with some people about them. I've never been big on scouting a ton. We are trying to be more tuned in on our focus and playing with no pressure."
Get in the game with our Prep Sports Newsletter
Sent weekly directly to your inbox!