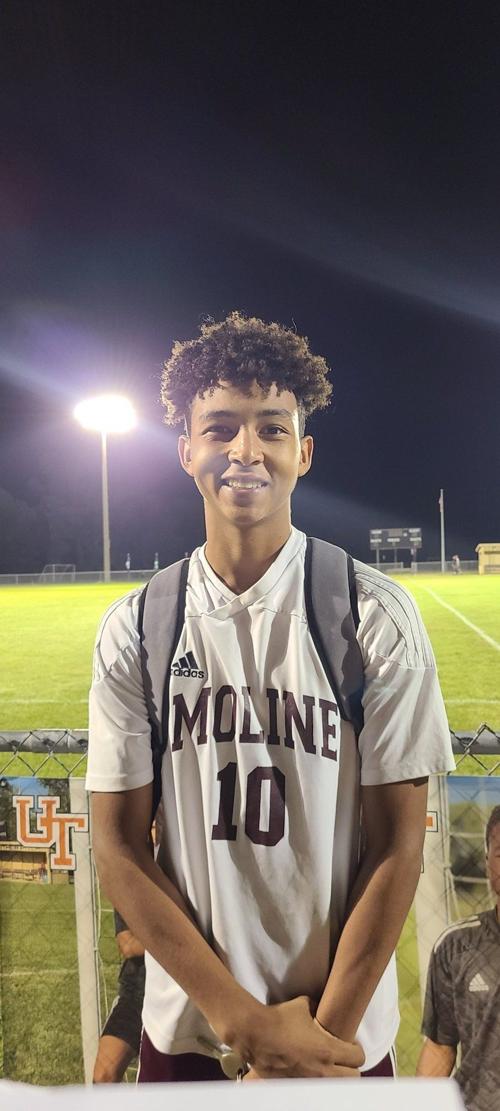 It was an ending no one wanted to see at the conclusion of Moline's 4-1 Western Big 6 Conference boys soccer win at United Township on Tuesday evening.
Following an incidental collision in front of the UT goal, Panthers keeper Ismael Hernandez was on the ground until an ambulance arrived and drove onto the field at the Panther Pitch. The game was called with 5:35 remaining as Hernandez was taken away on a stretcher by paramedics.
UT coach Phil Weaver said Hernandez was talking and moving his fingers and toes before he was taken away after landing on his back.
"Hopefully it's just precautionary measures and he will be OK," Weaver said. "It was just one of those accidents and calling 911 is just a precautionary measure, we hope so anyway."
Moline (10-2-2, 3-2 Big 6) held UT (2-5-2, 1-4) without a shot in the first half as it mostly dominated possession throughout the contest.
Moline junior forward Saiheed Jah scored the opening goal in the 14th minute and capped the Maroons' scoring with another goal in the 50th minute. Senior Isaiah Gallegos, who assisted both Jah goals, came off the bench to score in the 25th minute. Classmate Izaiha McDowell also came off the bench to score in the 34th minute as Moline led 3-0 at halftime.
Moline coach Rick Sanchez said the team hopes Hernandez is OK following the game. He thought his team played "flawless" in the first half as it put together one of its best performances.
"The guys did a nice job getting some quality opportunities," Sanchez said. "And on our back line, we were flawless."
UT's only goal came from Deontae Nache in the 59th minute. The Panthers had just four shots, one on goal, in the loss.
Sanchez hopes the team can continue to buy into what he wants it to do offensively. Having senior midfielder Nelson Acosta back after missing the first chunk of the season has also helped.
Jah thought the team played well on both sides after the win.
"I think we could have done better in the second half and put more goals in, but it is what it is," he said. "They play a weird formation and we were able to get past their stopper, so we were able to get a lot of chances in the attacking third."
Jah played club soccer with Hernandez, and said it was sad to see him go down in the game.
"Soccer is a physical sport and sadly that happens sometimes," Jah said. "I just hope for the best for him."