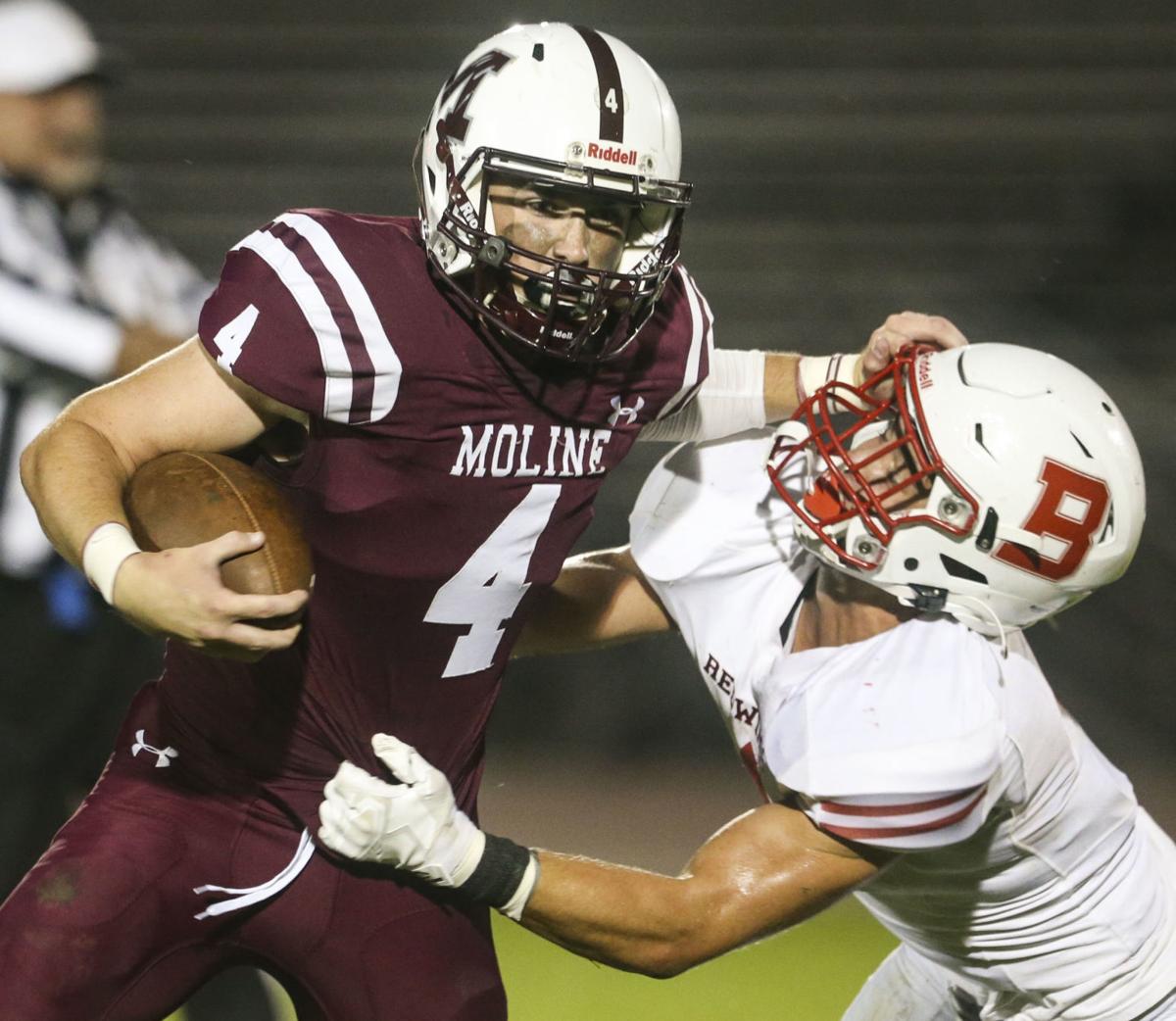 Athletes of the week
Riley Fuller
Fuller rushed for a career-high 252 yards on 37 carries last Friday in Moline's 48-35 win over Quincy at Flinn Stadium in the Western Big 6 Conference opener. Coming off an abbreviated spring season during which he rushed for 346 yards, Fuller eclipsed 150 yards for the second time in three games this fall. The 5-foot-10 and 175-pounder scored twice against Quincy as Moline had 619 total yards.
Nate Henry
Henry hauled in eight receptions for nearly 180 yards and three touchdowns last Friday night in Rockridge's 55-12 rout of Riverdale. The 6-foot-4 receiver had touchdown catches of 38, 38 and 41 yards in the first half. The linebacker also had an interception that set up another Rockets score. Henry has caught 16 passes for more than 260 yards in Rockridge's last two outings.
Noelle Steines
School: Calamus-Wheatland
Ranked No. 1 in Class 1A by the Iowa Association of Track & Field Coaches, Steines ran a personal best 18 minutes over 5,000 meters to place second at the Monticello Invitational last Saturday, just four seconds behind reigning 2A state champion Danielle Hostetler. Steines, already with two victories this fall, won the Tipton meet last Tuesday in 20:11, a minute clear of second place.
Teams of the week
Central DeWitt football
Last week: Central DeWitt is off to a 3-0 start for the first time in 13 years following last Friday's 44-28 win over Clinton. Quarterback Paul Kuehn threw for 180 yards and a touchdown and speedy receiver Lucas Burmeister snagged four receptions for 134 yards and a score. Ben Pace had three of the Sabers' five rushing touchdowns and Cael Grell had six tackles to ignite the defense. Coach Ryan Streets' team is averaging around 30 points per game.
Geneseo volleyball
Last week: The Maple Leafs knocked off United Township in a Western Big 6 Conference match last Thursday and then went 4-0 at their home tournament last Saturday. Hannah Copeland paced Geneseo (10-4, 4-0 Big 6) with 46 kills and 27 digs in the weekend tournament while Lauren Johnsen distributed 57 assists and collected a dozen service aces. In the three-set triumph over United Township, Copeland had seven kills, eight digs, five blocks and an ace.
Pleasant Valley volleyball
Last week: After sweeping Muscatine in a conference match last Tuesday, Class 5A fourth-ranked PV didn't drop a set in six matches last Saturday to capture the Linn-Mar Invitational. The Spartans beat three top-10 ranked teams in bracket play — 5A seventh-ranked Cedar Rapids Kennedy, 2A seventh-ranked Sumner-Fredericksburg and 3A fourth-ranked Davenport Assumption. All-state setter Kora Ruff collected her 2,500th career assist in the tournament for PV.