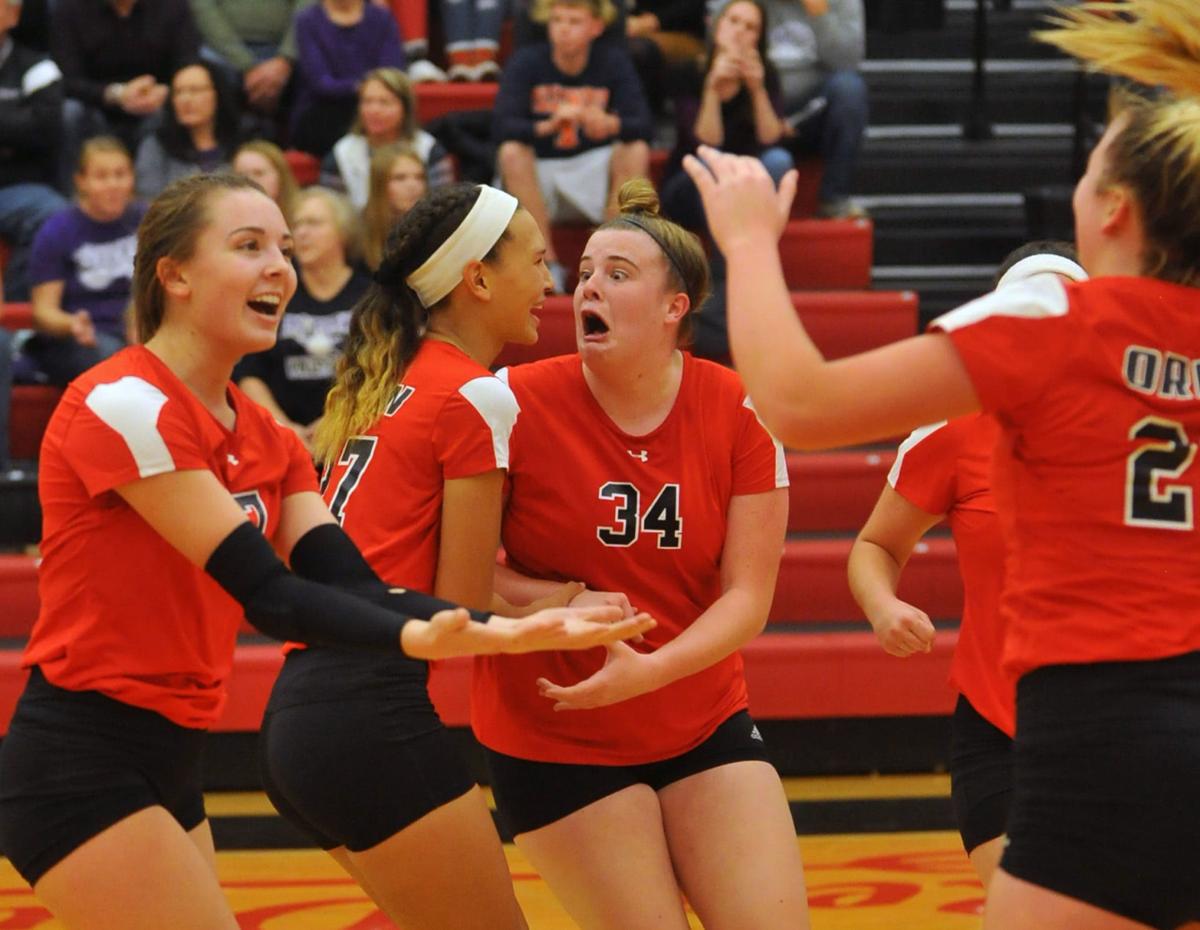 ORION — A goal four years in the making was achieved by the Orion volleyball team Wednesday night in Spring Valley.
"I was very pleased with how the girls played. They played championship volleyball (Wednesday)," Orion coach Jack Wheeler said as his club celebrated its championship at the Class 2A Hall Sectional.
But immediately after hoisting the championship plaque they earned with a 27-25, 25-14 sweep of El Paso-Gridley, the Chargers began thinking ahead to the next step after winning their first sectional title since 2015.
That next step is tonight.
Orion (37-1) takes its 29-match winning streak down to Farmington for a 7 p.m. 2A super-sectional showdown with Decatur St. Teresa (34-5).
"We've got this under our belt; now we're getting ready for the next game," senior outside hitter Sarah Jacobsen said. "We're so excited that we got to go in the gym (Thursday). It's a blessing to still be able to practice."
The Chargers hope to assure themselves of further practices with a win tonight against a St. Teresa squad that finished third at last year's 1A state tournament.
"We've got a lot of things to work on, improve and perfect for (tonight)," Orion senior middle hitter Emiliah Morrison said. "But, this is super exciting. We were able to set a goal for ourselves, and we finished it."
Now, Orion is setting a new goal for itself.
The Chargers look to follow up their first sectional win since 2015 with their first super-sectional plaque since that same season, which ended with a runner-up finish at the 2A state tournament in Normal.
Like the Chargers, the Bulldogs come into tonight's showdown at Farmington riding a lengthy win streak, although St. Teresa's run of 11 straight seems somewhat modest compared to Orion's ongoing streak.
"Everyone that's still in the running at this point, they're all good teams," Orion senior outside hitter Mackenzie Grafton said. "It's just going to come down to whoever comes out and performs at their best."
For the most part, Orion has performed at its best throughout a regular season that has seen it get pushed to three sets only four times. One of those was a road match at Davenport North, which used Iowa rules (best three out of five sets).
However, the Chargers feel they have yet to find the peak performance. They hope tonight keeps pushing them toward the summit they hope to scale next weekend at Redbird Arena.
"All of us definitely feel proud to be wearing this uniform," senior outside hitter Olivia Farwell said. "We've worked for this and trained for this going all the way back to April, when we started lifting and getting ourselves ready for this season."
Get in the game with our Prep Sports Newsletter
Sent weekly directly to your inbox!