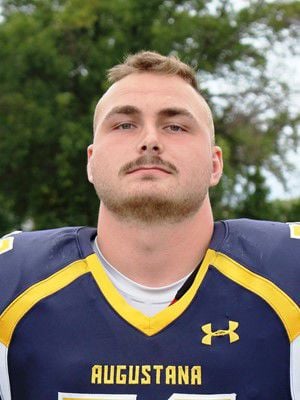 College football
Vikings' Sawicki honored: Augustana linebacker Luke Sawicki was named Monday as the CCIW defensive player of the week.
Despite only playing one possession into the fourth quarter, the senior from Naperville (Neuqua Valley HS) led the Vikings with 11 tackles, three tackles for a loss and one sack during Augustana's season-opening 41-3 victory over Coe on Saturday. Sawicki also had one interception in the win as the Vikings limited the Kohawks to 193 yards of offense.
You have free articles remaining.
Prep volleyball
Kewanee tops ROWVA: Kewanee improved to 5-4 with  a 25-5, 25-18 win over ROWVA. Tristan Nolan led the Boilermakers with six kills and Kendal Bennison (three kills) had 16 assists, with Gracey Damron adding a game-high seven aces.
Prep boys' golf
Fulton's Schrader and Wiebenga lead win: Fulton turned in a triangular win at its home Fulton Country Club course behind 34s from Andrew Schrader and Patrick Wiebenga, good for co-medalist honors. The Steamers shot 148 as a team, ahead of Riverdale (153) and Orion (175). Ashton Sutton led Riverdale with a 37 and Reece Holst's 39 led Orion individually.