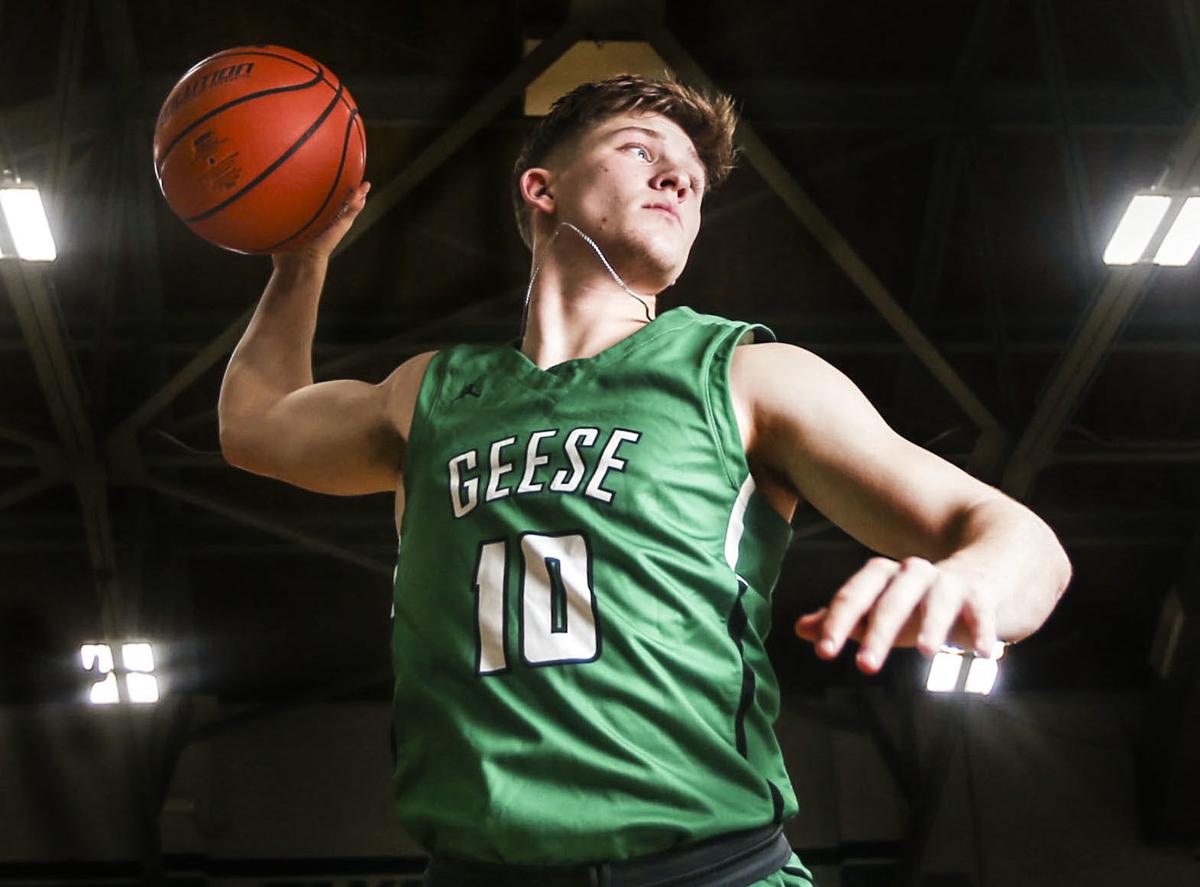 KEWANEE — Even in a considerably shortened season, Wethersfield boys' basketball standout Coltin Quagliano made time for a career's worth of accomplishments.
In the span of just 16 games, the 6-foot senior guard reached the 2,000-point career scoring mark and kept on going to break both the Flying Geese's and the Lincoln Trail Conference's scoring standards. He finished his four-year career with 2,219 points.
In three wins last week that enabled the Geese to earn a share of the LTC championship, this week's Illinois Pacesetter tallied 58 points and posted the final triple-double of his high school career by going for 24 points, 11 assists and 10 rebounds in a 61-48 win over a Knoxville club that had won 10 of 11 games prior its matchup with Wethersfield.
Sandwiched around that performance were 17-point outings in conference wins over ROWVA-Williamsfield and West Central. Those wins capped a 15-1 season for the Geese, as well as an 8-1 record in the Lincoln Trail as they shared the crown with United and finished second in the final Class 1A state rankings.
"We knew we wouldn't have a postseason, so having these games was very important to us," said Quagliano. "Without a regional, we knew we couldn't go on to the next (postseason) chapter. Instead, winning the LTC and winning as many games as possible became our main focus.
"We wanted people to look at Wethersfield basketball as being the best around, to look at us and think `What if?' What if there had been a postseason, could we have gone to state?"
Had there been a postseason, this year's edition of Flying Geese basketball could very well have had a shot at a deep run that could have culminated with them playing in Peoria.
And the efforts of Quagliano (20.3 points, 5.9 rebounds, 5.1 assists, 2.9 steals per game) would have been a major catalyst in such an achievement. In his four years, Wethersfield went 98-24, won or shared the LTC regular-season title three times and won the 2019 conference tournament, and took back-to-back regional titles in 2018 and '19.
Instead, just getting to have a season was a good enough consolation prize for the standout three-sport athlete who now heads into a modified spring football season for the Annawan-Wethersfield co-op club.
"At first, it was really brutal, hearing that we probably weren't even going to get a season," said Quagliano. "All of us were happy and excited to get a season, and that the IHSA and the IDPH were able to come together and figure something out. In the 16 games we had, we bought into trying to be ourselves and have fun in the last year of putting on a Geese uniform.
"It was a really fun ride. A ride to success."
The high point of that ride for Quagliano came on Feb. 17 in Woodhull. On that night, he broke 2009 Wethersfield graduate Nathan Kohler's program record of 2,040 points, then topped '08 Annawan graduate Tanner Carlson's LTC standard of 2,045 points. He capped the night by hitting the winning bucket in the closing seconds of a 62-60 victory over Ridgewood.
"Getting those goals meant the most to me," he said. "Going into the year, that was definitely on my mind. I wanted to break the records, but at the same time, I wanted to do it for the people closest to me — my teammates, coaches and family. The people that mean the most to me and have supported me the most.
"Winning games and being with my friends, and just being able to do this and still see Wethersfield up there and go out on a positive note, that's what mattered the most to me."