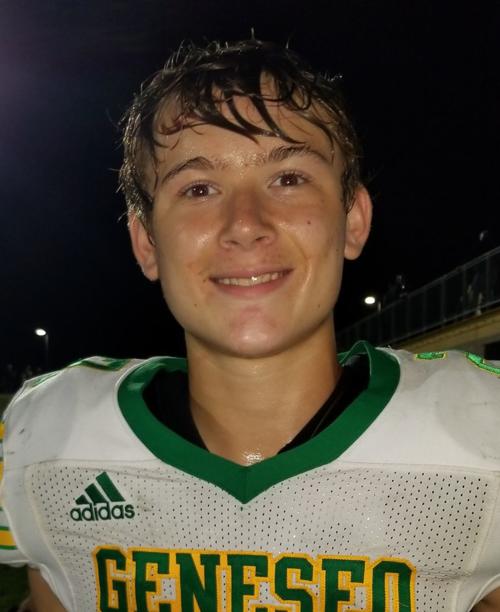 GALESBURG — A key scoring play in Geneseo's introduction to the Western Big 6 Conference was something coach Larry Johnsen Jr. had in his back pocket for just the right moment.
It was one of the few passing completions of the game for the Maple Leafs, who went on to beat the hosting Galesburg Silver Streaks 21-14 at Van Dyke Field Friday night.
With the game tied 7-all with under two minutes to play in the second quarter, Geneseo quarterback Jacob McConnell fired a pass to Nathan Beneke, who lateraled the ball to Kyle Hofer, who then ran to paydirt to finish the 20-yard score to give his team the first-half edge.
"We thought we were getting close to field goal range, and we decided to do it, and it worked out for us," Johnsen said. "It was a big play, obviously."
The play came directly after Galesburg (1-2, 0-1 Big 6) was flagged for pass interference on a ball McConnell threw high over his receiver on fourth down.
But Geneseo's defense and clock-draining run game were key as usual all evening, with Tannen Rink's interception on Galesburg's final drive in a one-score game providing the dagger.
"It feels good," said Geneseo tailback Mason Jones of the win.
You have free articles remaining.
He finished with two rushing touchdowns and a game-high 101 yards on the ground.
"We still have a little bit more to work on, but it was a good way to start our debut in the Big 6. We've got a lot tougher competition coming up, and I think it's going to be fun, but a challenge."
The Maple Leafs, who trailed 7-0 after not earning a first down on two drives in the opening frame, improved to 3-0.
McConnell finished 3-of-7 passing with 44 yards and one touchdown.
"Like our coaches say, we've just got to work hard every single play," Jones said. "The second half has been our specialty this year. We've just got to tough it out and work as hard as we can."
The competitive game had plenty of drama, with Galesburg's Justis Gatson catching a 44-yard touchdown pass from Connor Aten on fourth down with 4:14 to play to make it a one-score game.
But the Maple Leafs drained out the clock in Silver Streak territory to take home their first Big 6 win in a conference debut that generations had wondered would ever come.
"I'm glad we were able to win our debut in the Western Big 6, we're happy with that," said Johnsen. "But a win is a win and our guys really just need to enjoy that and appreciate that. Because there's a lot of hard work that goes into it."