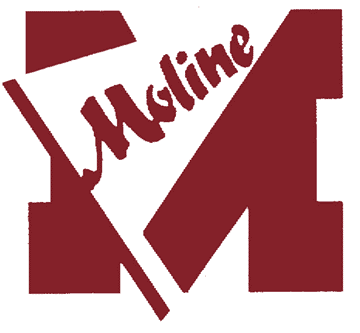 High school is a time when some tough lessons can be learned — both in the classroom and outside of it.
While not exactly the preferred method, Moline-Coal Valley School District Superintendent Rachel Savage is determined to not let recent issues within the district and athletic department be a missed teaching opportunity.
A situation arose late last week when Moline High School football players hung banana peels in a locker in the football locker room and forced a Black sophomore to sit on a stool inside that locker room under the threat of "breaking both your knees."
A video of the incident was then shared on social media and has since gone viral worldwide.
While only two players could be seen in the video — and the young sophomore player the only one identified — many others were willing participants. When the Black youngster, visibly shaken by the incident, gave way and sat down, you could hear a number of other players cheering and screaming in the background.
According to Savage, the internal investigation continues. Disciplinary actions, she said, have been issued to players involved, although she couldn't provide details. A look into athletic department policies and those within the department — including the coaches — are still ongoing, she said. So is a look at policies regarding locker room behavior and supervision.
She admits that there needs to be a degree of transparency in what happens in the district, especially regarding a situation such as this. However, discretion must also be observed.
According to Savage, when information regarding the video reached Moline school officials, who were in Galesburg for last Friday's game, coaches and administrators made immediate decisions before the game started.
"It is my understanding that upon hearing of this information, they did take some initial action right there on the sideline in Galesburg from addressing the entire team as a whole and addressing specific players as initial information had been brought forth," she said.
It was her understanding that some players were held out of the competition and have since been removed from the team.
The Maroons are scheduled to host Sterling Friday at Browning Field in a game that is still to be played.
"Really, our student-athletes have taken responsibility for a lot of that behavior that was brought forth in that video," she said. "But more importantly, our student-athletes have taken the lead on the messaging that they really want to convey to the community. That football game is one of those opportunities, and I believe those plans are still in the works. As of now the game has not been canceled, but we're still considering all factors."
Savage said that she didn't want to take away a homecoming celebration from numerous other students in the band, cheerleading, etc.
"We are also very careful as to not punish the masses for the actions of a small group of students," she said.
While much has been written about this situation this week, and district officials continue to address how they handle things moving forward, Savage said she doesn't want a teaching opportunity to slip away. After all, they are in the education business.
So, what are the plans moving forward? How do you make this a teaching moment and try to salvage anything positive from it?
"That's a great question and probably one of the most important components in our response to this student behavior," she said. "You are right, we are the community school district and we are educators. We know that research and best practice tells us that a punitive approach alone does not always change behavior. You had better believe that we are digging into how can we use this terrible, disgusting incident in a way that moves students forward in their thinking.
"Whether we say these students were friends, whether we say these students were of color, whether we say these students admit to joking around, we know that that behavior is a symptom of a larger problem. And as a school district, we do not take that lightly. We do not shy away from understanding and learning from any of our students who may have experienced racism or may have experienced discrimination or humiliation or any type of behavior that video eluded to.
"We absolutely are going to move forward with that incident as a catalyst in helping all the students and adults at Moline High School — and really in the Moline-Coal Valley School District — as a learning opportunity that we need to do more in guiding our children. At the end of the day, this was student behavior that doesn't represent our district, it doesn't represent every football player, it doesn't represent every athlete or every student or every teacher or every school. This was isolated student behavior."
One of the big problems, though, is that it affected more than the students involved and made the school district and the community look bad. And feel sick, if you were like me.
Bob Reade, the late hall of fame football coach who mentored Geneseo High School to success on the state level and led the Augustana College program to four straight NCAA Division III titles gave all of his players two simple guidelines to follow: "Obey the law and be a gentleman."
Other coaches impart similar words of wisdom for their players — "never do anything to embarrass your school, embarrass your team or embarrass yourself."
It sure would have been relevant had some players on the Moline High School football team had those words plastered in their locker room last week.
By not following those simple rules and being decent human beings, the Maroons are now embroiled in an embarrassing situation they surely wish had never transpired.
And administrators are left to clean up the mess. Savage insists that will happen. That it needs to happen.
"We certainly don't want our community to misunderstand (the time it is taking to investigate) for a lack of action or a lack of attention," she said. "We know the gravity of this incident. And we know the gravity of this incident in our community and in our state and in our nation.
"That's the most important aspect that I want to be sure our community knows. Just because we can't share any discipline for students, or once we finish the staff investigation side of this, you know staff matters are matters of personnel and are also not public information. Just because we can't share that information doesn't mean that we aren't taking action and aren't taking this as serious as possible."
This was a serious incident that needs to be handled in a serious and professional manner without any political spin.
Lessons need to be learned.