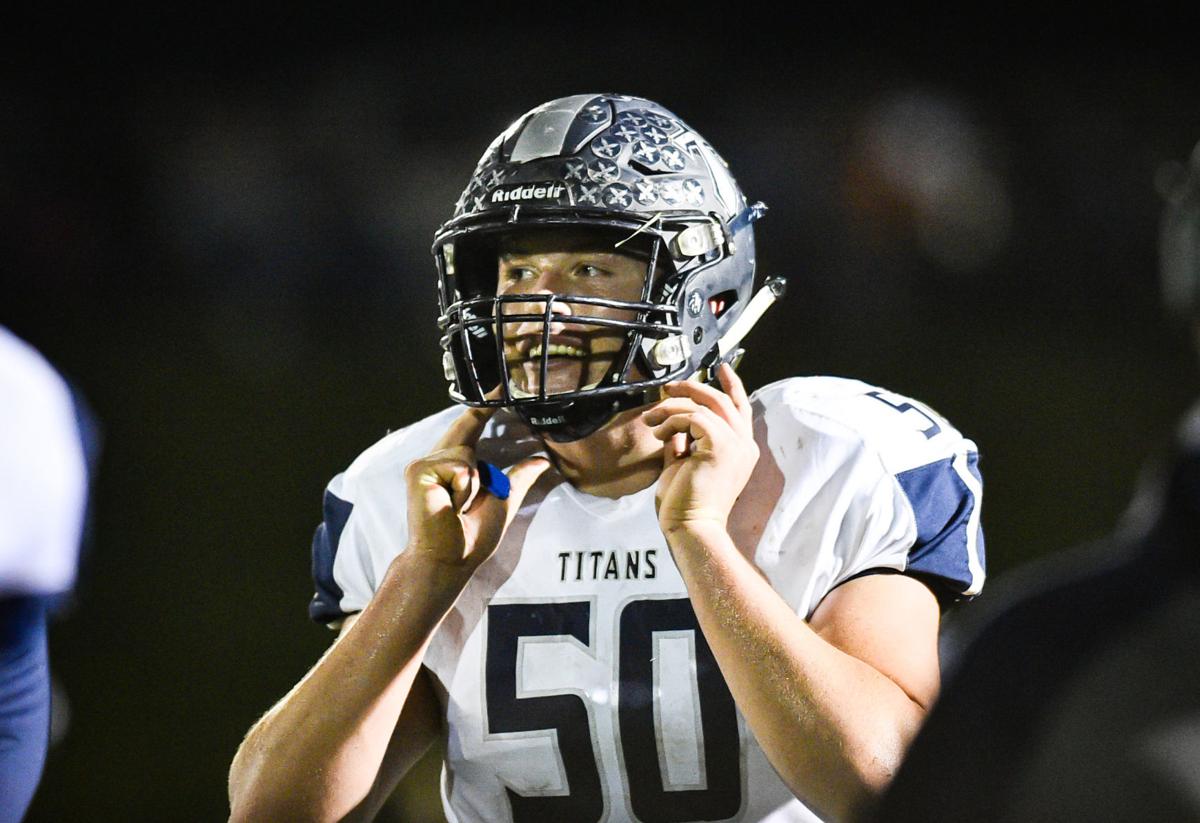 KEWANEE — Even with his own head-coaching gig to consider, it did not take much for Joe Schmitt to take what some might consider a step back.
Returning to the assistant-coaching ranks with Annawan-Wethersfield was simply coming home for the 1998 Annawan graduate who had previously been on the Titans' staff from 2010-16. That was even after spending the 2017 and '18 seasons running the Bureau Valley football squad. 
"When A-W came to me (to return), it wasn't that difficult a choice," said Schmitt. "I played at Annawan and live in Annawan, so it was an opportunity to come home and coach kids that are in the community where I live, and to be back with the program I'd been around for seven years. It was a fantastic opportunity."
Previously an assistant to Brandon Johnston, Schmitt returned as the defensive coordinator for first-year A-W head coach (and former fellow assistant) Logan Willits. The job Schmitt has done has the Titans and their fans firm in their belief he made the right choice to come back.
Going into today's 5 p.m. Class 1A second-round matchup at reigning state champion Forreston (8-2), the 10-0 and top-seeded Titans have given up just over a touchdown per game and have posted five shutouts, including last week's 52-0 first-round domination of Lewistown.
"He's done a phenomenal job. It's been incredible," said Willits. "Before the season started, we talked about what he wanted to do, and he said he wanted to make it a little bit different than what A-W had done in the past, and he wanted to make sure I would be OK with it.
"We thought we had the kids we could be aggressive with. Joe is a high-energy guy, and the kids loving being around him. They'll go to war with him every single week."
Led by a breakout year from senior linebacker Drake VanHyfte, who has a team-best 115 tackles, Annawan-Wethersfield has only allowed three teams to score in double figures against it, with an 8-2 Farmington club putting up 25 on the Titans nine weeks ago.
"We've got a great group of kids who work very hard, and who have been well-coached in the past," said Schmitt. "We've had a great group of coaches do fantastic work with these guys. I knew coming in that Coach Johnston had done a fantastic job with them. Any success we're having, the majority of the credit goes to him and the work he put in to build our program.
"And, we have very talented kids. You don't coach a Drake VanHyfte every year; you just don't get that opportunity. It isn't common having kids like Mitch Lambert, Tevin Baker, Isaac Shaw or Julian Samuels, kids that want it and work as hard as they do and are as talented as they are."
Compiling a 7-11 record in his two seasons with Bureau Valley, Schmitt admitted that running a program of his own was an experience that broadened his coaching horizons, particularly in terms of viewing a team in all of its facets.
But even over the last two years, he remained close to the A-W coaching staff, which made coming back into the fold a smooth fit. This year's success has justified that move.
"Coming back and working with our kids, it's a fantastic time to be back," said Schmitt. "It's not a bad time to be a part of the A-W Titan football program. We've had nothing but success here, but this particular group, they're setting the standard."
Get in the game with our Prep Sports Newsletter
Sent weekly directly to your inbox!