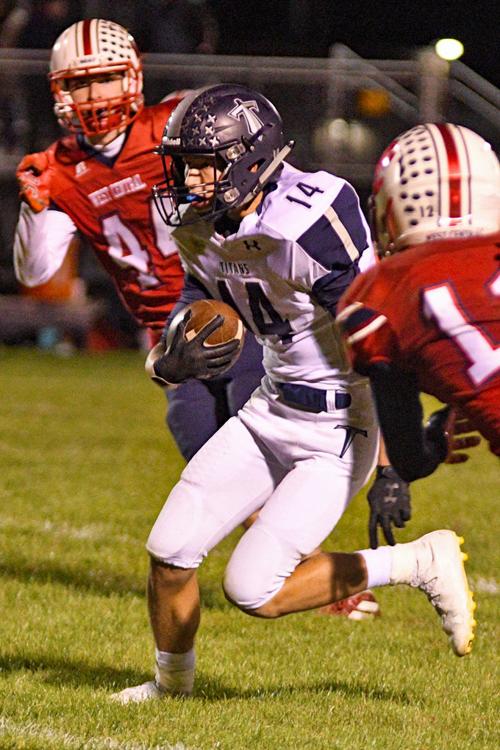 CAMBRIDGE — Celebrating its senior night here Friday, the Ridgewood football squad was taking its third shot at nailing down the sixth win that would clinch the decade-old co-op its first playoff berth.
Shaking off a sluggish opening half, the Spartans made sure it would be a night worth celebrating. Down by a score early, Ridgewood responded with 26 unanswered points as it punched its postseason ticket with a 26-15 victory over Lincoln Trail Conference rival United.
"This feels great, but we're not done yet," said Spartans' senior quarterback Logan Nodine. "We fell off the tracks a bit (with back-to-back losses prior to Friday), but now we're back. At the same time, we're never satisfied. We want to keep on going as long as we can."
Nodine threw for two touchdowns and rushed for two more as he racked up 220 total yards, including an 11-of-18, 174-yard passing performance. 
Friday's win not only puts the Spartans (6-2, 4-2 LTC) in the playoffs for the first time since the co-op began in 2010, it gives Cambridge fans their first taste of postseason football since 2007 and AlWood boosters their first since '09.
"We just had to get our minds right, make sure we focused and executed," said Ridgewood junior fullback D.J. VanHouten, who rushed for 119 yards on 11 carries. "In the playoffs now, anything can happen. Everyone's out for the same deal, so we can't fly under the radar anymore."
Indeed, the Spartans are looking to strengthen their playoff position as they look ahead to next week's regular-season finale at defending LTC champ Princeville.
"We're never satisfied; 7-2 is a lot better than 6-3," said Ridgewood coach Bruce Redding. "It gives you a much better outlook."
Down 7-6 at halftime, the Spartans took the lead for good on Nodine's 1-yard touchdown sneak and subsequent two-point conversion. A 53-yard pass to Lucas Kessinger (five catches, 110 yards) two plays before set up the go-ahead score.
Nodine then scored from seven yards out with 1:01 left in the third quarter, then hooked up with Kessinger on a 16-yard pass with 2:20 left in the game put the hosts up 26-7 and effectively began the Ridgewood crowd's playoff celebrations.
"We were a lot more motivated and had a lot more energy," Nodine said. "We just wanted it more."
But for the better part of the first half at Goff-Stahl Field, United (1-7, 1-5 LTC) was the team playing like a postseason trip was on the line, dominating on both sides of the line as well as the first quarter time of possession.
The Red Storm took the opening kickoff and put together a methodical 60-yard drive that had them on the brink of scoring the game's first points. Needing 61 yards to reach paydirt, though, United found that last yard elusive.
After Colton Stahl hit Cormaic Flynn for a seven-yard loss on third and goal at the Spartan one-yard line, Declan Flynn's fourth-down pass was incomplete with 35.5 seconds left in the opening period.
"That was huge," said United coach David Milroy. "A couple of mistakes, just two plays on that drive. It's unfortunate."
United finally broke through with 2:37 left until halftime. Two plays after a successful fourth-down conversion, Flynn (16 of 31, 203 yards) found Nolan Leffler open downfield for a 50-yard touchdown pass, with Diego Godina's PAT kick putting the Red Storm up 7-0.
"We rebounded and came back well," said Milroy. "We had some good throws and some big runs. We did a great job in the first half."
However, the Spartans answered with 36.8 seconds remaining when Nodine hit Lucas Althaus with a 14-yard TD toss to get on the board. Ridgewood then had a shot at taking the lead when Payton Catour fell on a loose ball at the United 31 with 29.8 seconds on the clock.
The Spartans had a first and goal at the nine after Nodine hit Kessinger for a 22-yard gain, but the United defense was able to keep the hosts out of the end zone as the first half ended. Still, the momentum had clearly swung into the hosts' favor.
"It felt like we were a little bit dead in the first half," said Nodine, "but once Lucas (Althaus) scored, everything started clicking, and in the second half, we were just rolling."
Get in the game with our Prep Sports Newsletter
Sent weekly directly to your inbox!