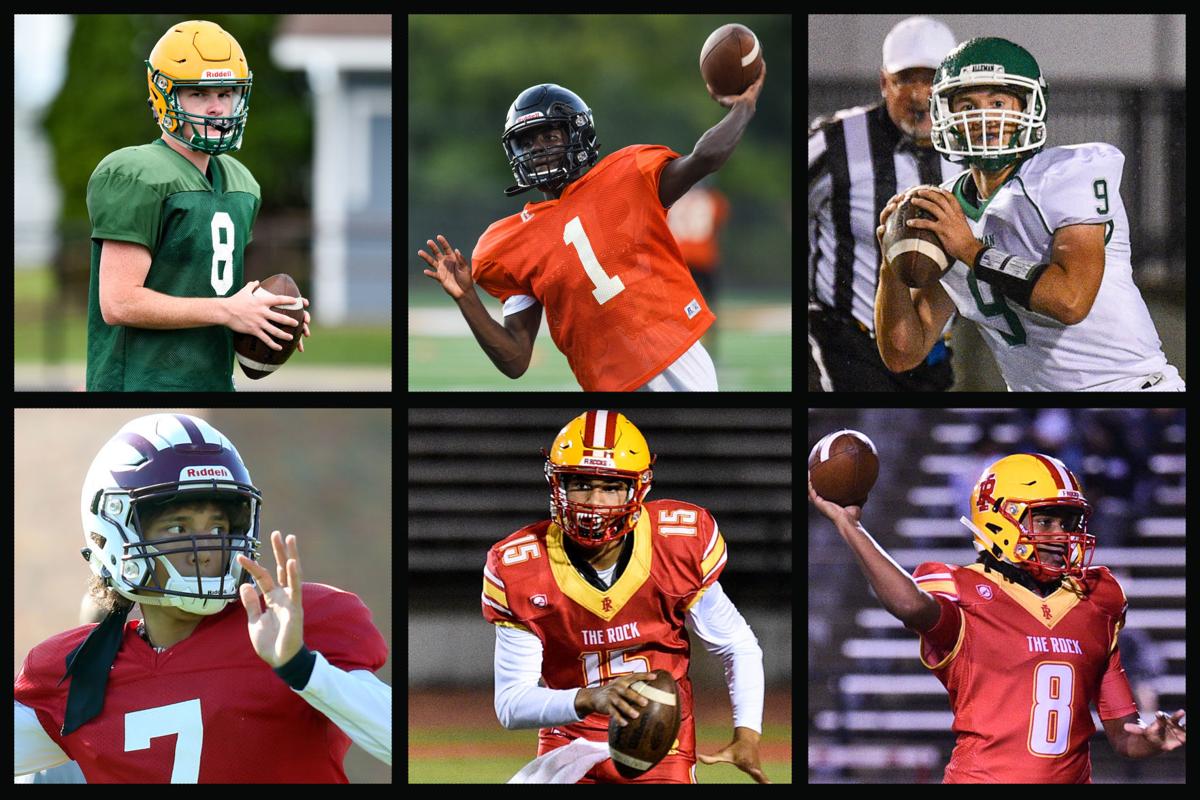 Some say it is all about athleticism. Others say it is IQ. Whatever it is, the Western Big 6 Conference is filled with quarterbacks who are also basketball players.
Five teams have six quarterbacks who will end their fall season and head right into the basketball season. Rock Island has been playing two quarterbacks in their first two games — and likely will again tonight at Moline. Only Sterling's Cooper Willman and Galesburg's Connor Aten are not hoopers.
At Alleman, junior Zach Carpita is in his first season as a football starter. He played big minutes for the Pioneers' basketball team last season and is also a standout on the baseball field. He has decided the toll it takes on his body will keep him from the basketball court this year.
"It has just been a lot of seasons in a row without a break and I decided to not play basketball and focus on being ready for baseball," Carpita said. "No question, playing multiple sports builds team camaraderie and gets you in great shape."
Geneseo's Jacob McConnell is another who adds baseball to his high-school career and the senior is also a first-year football starter. He is a believer that he would never do it any other way.
"I guess I have thought momentarily about giving up one or another sport, but I could never do that," he said. ""I look at it that I want to do as much as a I can with my friends and they are also on the playing field or court."
Moline senior Zidain Sterling started at quarterback last season and was an on-and-off starter in basketball. He believes both sports help him improve in the other.
"The conditioning in basketball gives better endurance and makes you faster," Sterling said. "In football, you get stronger and tougher to play on defense and getting rebounds."
Rock Island sophomore Eli Reese believes there are so many more quarterbacks who play basketball because of their minds.
"Maybe it has something to do with IQ," Reese said. "You spend a lot of time learning plays in football and you need to do the same in basketball. You have to be quick on your feet with those plays and the defense you are facing as a quarterback and on the court."
Reese splits the time with junior Devin Swift, who also believes the athletic ability of a quarterback just seems to work with basketball. He also believes it helps as he and his sophomore teammate battle against each other.
"Eli and I battle each other and go at it hard in basketball," Swift said. "We are always competing, just like we are for playing time at quarterback."
You have free articles remaining.
Added Reese, "Yeah, we battle hard against each other but it never crosses the line because we will always be good friends."
United Township quarterback Daslah Geadeyan started in both sports as a sophomore last year. He believes leadership is the key.
"As the quarterback I am leading 10 teammates, as a basketball player I am leading the other four guys on the court," Geadeyan said. "For me personally, learning the defense as a quarterback is a lot like running the offense in basketball."
Quincy quarterback Kyle Reis is also a starting point guard for the Blue Devils.
To a man, all of these quarterback said the hardest part of playing both football and basketball comes not in practice, not during the season but in the summer when they have to juggle practices, camps, summer basketball team games, AAU games and 7-on-7 football.
"You have to stay healthy and focused, Geadeyan said. "It is all about keeping everything balanced."
Added Sterling, "I don't like to miss any practices. When football and basketball came back to back I would just come late and stay late. It can be tough at times, but my coaches never give me any pressure."
Rock Island's duo also know the juggling act.
"The hardest part is doing football all week and having to leave for AAU trips to Milwaukee almost every weekend," Reese said. "I hate having to miss a day of football, but you learn how to do both. I'd never not do both."
That is something, aside from Carpita, each agrees with. There may be some hard days, but every one of the quarterbacks loves playing multiple sports. They also love having coaches who never put extra pressure on them.
"My coaches at Geneseo are great," McConnell said. "They understand I love playing everything."
Said Swift, "neither of my coaches have ever pressured me to pick one sport or another. Coach (Thom) Sigel gives us some days off from basketball when we are going hard in football, but I never take them."
For Carpita, he will find out this winter if stepping aside from basketball will be a good thing.
"That is a question that is still to be answered," he said. "I guess I will see if I miss it. But the nice thing there would be I can come back my senior year and play basketball again if I want to."
Jeff Wendland is the lead prep sports writer for the Dispatch-Argus-QCOnline. He can be reached via email at jwendland@qconline or on Twitter @jaydub_DA