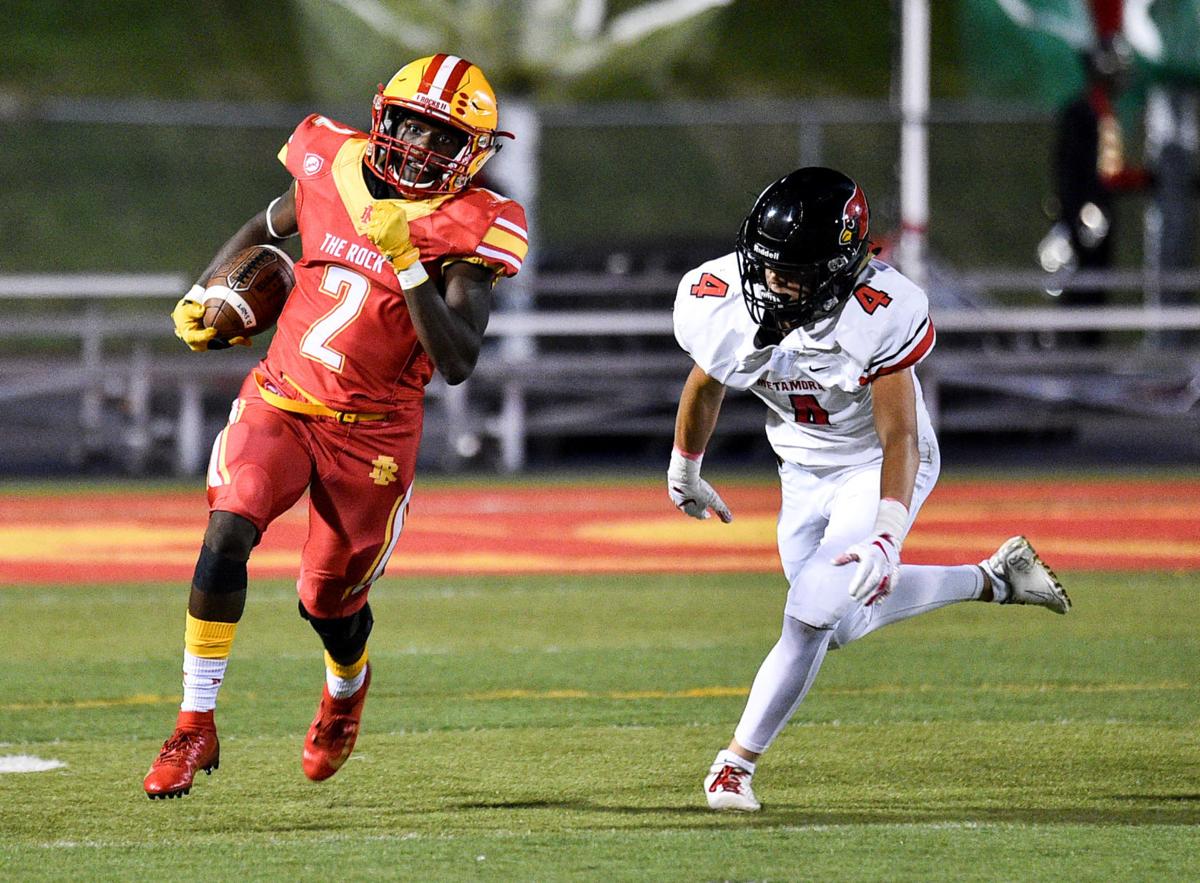 You have free articles remaining.
Rock Island (1-1) at Moline (1-1)
GameNight: Tonight's game will be the 118th meeting between the two rivals. The series started in 1899 and, according the Rocky historian David Sebben, the series took a two-year hiatus in 1911-12 after a fight after a game ... Both teams have run the ball well this season. The Maroons are averaging 326.5 yards per game and 7.3 yards per rush. The Rocks average 264.5 yards per game and 6.7 yards per attempt
Alleman (0-2) at Sterling (2-0)
Tonight: 7 p.m. at Roscoe Eades Stadium. Twitter: @eric_ingles
GameNight: Alleman comes in looking for its first win and recent history doesn't make it look like an easy chance. The Golden Warriors have defeated the Pioneers each of the previous four season and outscored Alleman 175-42. ... Sterling quarterback Cooper Willman has completed 17 of his 21 passes for 318 yards and also ran for 225 yards
Quincy (1-1) at UTHS (1-1)
Tonight: 7 p.m. at Soule Bowl, East Moline. Twitter: @KyleH_DA. Online: QCSportsNet.com
GameNight: The Panthers come in off a rout of East Peoria and feeling like they are ready to compete in the Western Big 6 ... Quincy averaged 362 yards and 9.9 yards per carry last season. Through two games, the Blue Devils are averaging 97 yards per game and 3.7 yards per carry
Geneseo (2-0) at Galesburg (1-1)
Tonight: 7 p.m. at Van Dyke Field. Twitter: @DLansman_DA. On the air: WJRE-FM 102.5 and regionaldailynews.com
GameNight: The Maple Leafs are excited about their long-awaited first Western Big 6 Conference game. ... Geneseo fullback PJ Moser did not start the season-opening game but has carried 23 times for 196 yards ... Galesburg is averaging 203.5 total yards and 10.5 first downs per game
Rockridge (2-0) at Orion (2-0)
Tonight: 7 p.m. at Charger Field. Twitter: @TDuckett_DA. On the air: wrmj.com
GameNight: Both teams have had the knack of coming back late and scoring late to win their games ... In fact, the Chargers needed a late rally to beat the Rockets in last year's 21-17 playoff win. Orion also beat Rockridge 31-0 in the regular season last year
Morrison (2-0) at Riverdale (1-1)
Tonight: 7 p.m. at Riverdale HS, Port Byron. Twitter: @ThomasS76083486
GameNight: After a 2-7 season in 2018, Morrison has come out firing this season. The Mustangs have scored 95 points and allowing 13 in two running-clock wins ... The Rams have designs on getting off to a fast start in the Three Rivers Rock with an upset on their home field
Stark County (1-1) at Mercer Co. (1-1)
Tonight: 7 p.m. at George Pratt Memorial Field, Aledo. On the air: WRMJ-FM 102.2 and wrmj.com
GameNight: Both teams are 1-1 and looking to get off to a good start in Lincoln Trail action ... MerCo had an impressive 22-point win over Elmwood-Brimfield last week
A-W (2-0) at United (0-2)
GameNight: Wins over longtime winning programs (Illini West and Farmington) has the Titans feeling good about themselves as they start LTC play ... United gets its third tough test in as many weeks
Bureau Valley (0-2) at Fulton (1-1)
Tonight: 7 p.m. at Fulton HS. On the air: KCLN-AM 1390 and 1390kcln.com
GameNight: With high hopes coming into the season, Fulton needs to find its groove against a BV team that has allowed 80 points in its first two games
Mid-County (1-1) at Ridgewood (2-0)
Tonight: 7 p.m. at Goff-Stahl Field, Cambridge.
GameNight: The Spartans are off to just the start they were looking for in they chase for a playoff berth. A win tonight against a 1-1 Mid-County club could move Ridgewood into a good spot at 3-0 and with a win in the LTC.
Newman (2-0) at Kewanee (1-1)
GameNight: In a Three Rivers crossover game, Kewanee is hoping to wipe away last week's late-game loss to Orion ... Newman has a new coach but still knows how to win.
Monmouth-Roseville (0-2) at Hall (1-1)
Tonight: 7 p.m. at Richard Nesti Stadium, Spring Valley.
GameNight: Mon-Rose looks for a reversal of fortune in its Three Rivers Mississippi opener after losing its first two games by a combined three points, including last week's OT loss at Rockridge.
E-P (1-1) at Sherrard (0-2)
Saturday: 2 p.m. at Clifford King Field. On the air: WRMJ-FM 102.3 and wrmj.com
GameNight: Sherrard started the season fast with a 30-8 halftime lead against Rockridge; since then, the Tigers have been outscored 83-6 over the last six quarters ... Erie-Prophetstown has had two very different games, winning Game 1 in easy fashion and losing last week by 21.