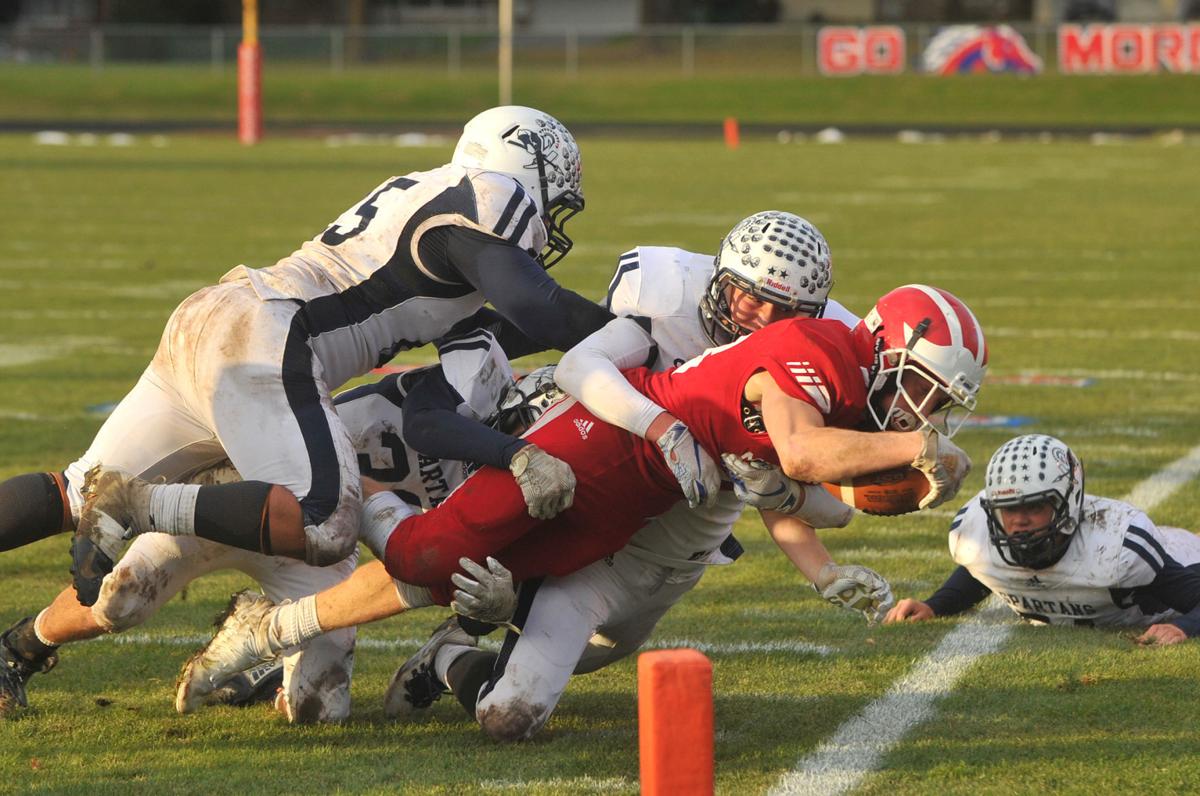 Today: It is a matchup of undefeated area powers as No. 1 Annawan-Wethersfield (11-0) welcomes fourth-seeded Morrison (11-0) to Wethersfield Memorial Stadium in Kewanee for a Class 1A football quarterfinal matchup. Kickoff is at 1 p.m.
Up to now: While Morrison stayed at home for the first two rounds and rolled to a 56-8 first-round win over Ridgewood before topping Kirkland Hiawatha 44-12 last Saturday, A-W followed up a 52-0 first-round home win over Lewistown by going on the road to unseat defending 1A state champion Forreston 30-26 last weekend.
Feels like the first time: This is the first time Morrison has played either A-W or its component schools, Annawan and Wethersfield, in the postseason.
Titans to watch: A-W junior quarterback Coltin Quagliano has enjoyed a breakout campaign, completing 62.7 percent of his passes (128 of 204) for 2,649 yards and 32 touchdowns; he is also the Titans' leading rusher with 618 yards on 92 carries and five TDs.
On the ground, Quagliano's classmate Reece Gripp has compiled 591 yards on 106 carries with 12 TDs; he also has 14 receptions for 298 yards and a pair of scores.
Through the air, the senior wideout pair of Julian Samuels (40 receptions, 941 yards, 11 TDs) and Isaac Shaw (28 receptions, 730 yards, 10 TDs) are Quagliano's top targets, followed by junior tight end Kale Nelson with 24 catches for 405 yards and five TDs.
Defensively, senior linebacker Drake VanHyfte has been a one-man wrecking crew with 138 total tackles (72 solos, 68 assists, 4 sacks), including 33 tackles-for-loss; he has nearly twice as many stops as junior LB Mitch Lambert (71 total tackles). In the secondary, Shaw leads the way with five interceptions.
Mustangs to watch: Morrison enjoys a balanced ground attack led by sophomore halfback Hunter Newman (98 carries, 833 yards, five TDs) and including the senior duo of fullback Riley Wilkens (128 carries, 703 yards, 16 TDs) and HB Keegan Anderson (70 carries, 659 yards, seven TDs).
Anderson is also the Mustangs' top pass catcher with 12 receptions for 567 yards and four TDs; junior quarterback Nathan Helms has completed 42 of 72 passes for 918 yards and 10 TDs.
Defensively, senior linebackers Isaak Shetler (159 total tackles) and Nathan Mickley (121 tackles) lead a group that has given up just 59 points in 11 games. Senior safety Nick Allen has five interceptions and three fumble recoveries to go with his 82 tackles.
A-W coach Logan Willits: "From what we've seen, both Forreston and Morrison have a similar game plan, which is to attack with the run game, try and draw us up to the line and then hit a pass over our heads. But while Forreston used size and physicality to punch us in the middle, Morrison does a great job of attacking the edges."
Morrison coach Ryan Oetting: "Looking at A-W, they've got some nice speed and talent, and (Quagliano) has a good arm along with some physical kids like (VanHyfte). It's going to be a big test, and we'll have to play our best game, no doubt about it. You get to the quarters, there are no teams that don't deserve to be there."
Up next: Either Morrison or Annawan-Wethersfield will take on the winner of Saturday's 1 p.m. quarterfinal at Lena between No. 3 Freeport Aquin (11-0) and No. 2 Lena-Winslow (11-0) in next weekend's 1A semifinals. A-W should be at home regardless of its opponent, while Morrison would be on the road.
Get in the game with our Prep Sports Newsletter
Sent weekly directly to your inbox!