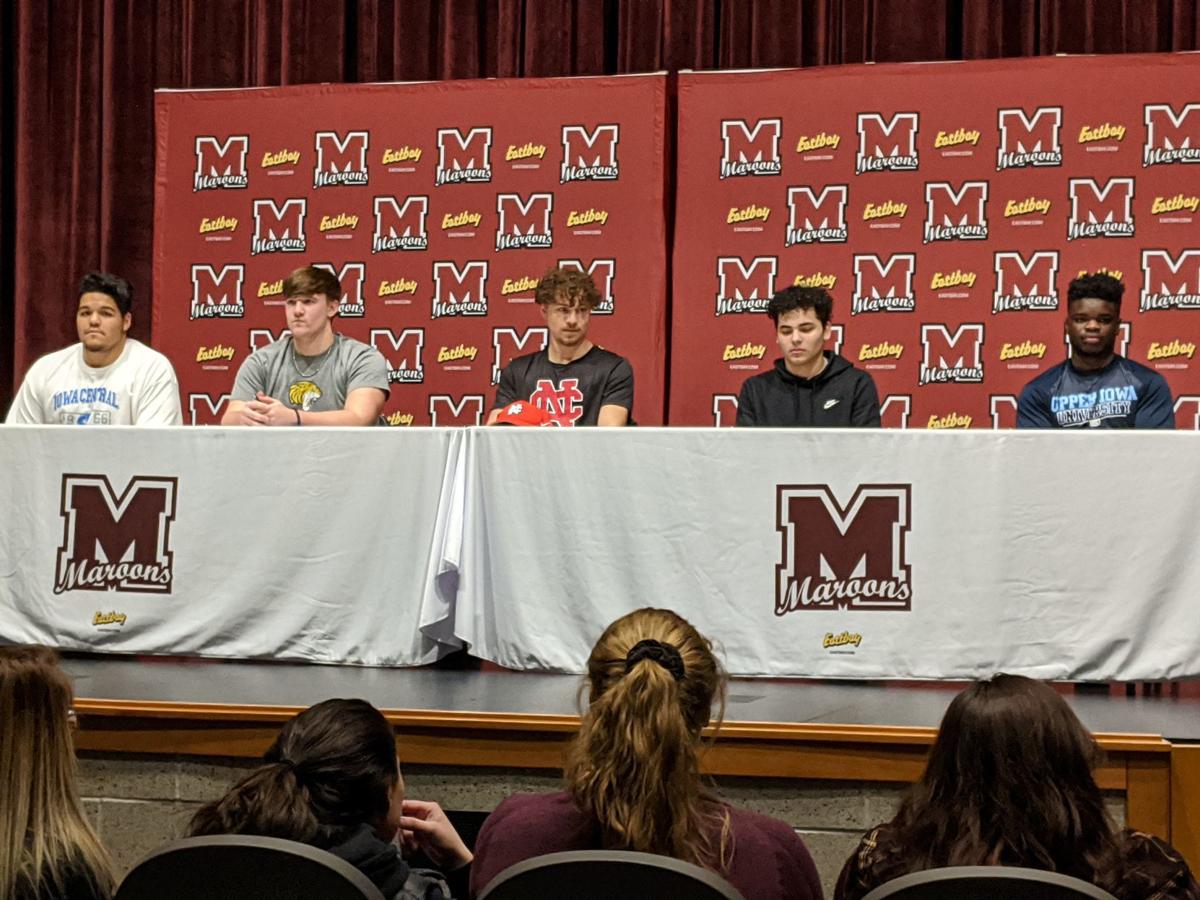 When you are being recruited to play football in college it can be easy to look at the well-known "name" schools who make an offer. Moline senior Aboubacar Barry took a different approach, a smarter one.
Barry signed his letter of intent on Wednesday evening to continue his football career at NCAA Division II Upper Iowa, where he will receive a full-ride scholarship to play running back for the Peacocks.
He was joined in signing by teammates linebacker/safety Zion Rodriguez (D2 McKendree), Adam Worley (NAIA Olivet Nazarene), Nate Johnson (D3 North Central) and Nate St. Dennis (Iowa Central Community College).
"It is most important to go to a place where you belong and where you have the best opportunity," Barry said. "I wanted to be at a place where I could help a team and maybe get to play quickly. It was all about my future, and this was the place to be."
Barry, a three-year starter at Moline who ran for 3,000 yards and 30 touchdowns in his career, likes the idea that he can he a part of a rebuilding program under first-year head coach Jason Hoskins.
"Everyone was praising him when I talked to the team on my visit," Barry said. "The coaches told, me I had a chance to play right away and the offense includes a lot of running.
"I have to get bigger and stronger but I'm excited and ready to go."
Rodriguez was another player looking for the right place to play football, and McKendree was the perfect fit.
"I love that it is like 20 miles outside of St. Louis and that will be nice," Rodriguez said. "I looked at other schools, but it always kept coming back to McKendree."
Rodriguez will be joined in Lebanon by Rock Island defensive lineman Donovan Rogers. Rodriguez is excited to have another Western Big 6 Conference player on the squad.
"I know him but not real well," Rodriguez said. "I didn't even know he was going to McKendree until right around when I committed and I found out Donovan committed the week before. We are going to talk more and get to know each other."
Rodriguez is not certain whether he will play linebacker or safety in college. He's fine with either.
"Either way I will have to put some weight on," he said. "The only difference is they will probably want to feed me a little more if they want me at linebacker."
Moline coach Mike Morrissey is thrilled to have had five players signing and expects more to come.
"What is great is we have 'Boobie' and St. Dennis going for absolutely free," Morrissey said. "Actually, the way it all works for Nate, he will actually get $500 back for himself. Nate Johnson is in a perfect spot getting to play for the defending D3 champions and a team that likes to throw the ball.
"I'm so excited for Adam after that horrible (broken leg). Anything he does in football is a major bonus. Zion is going to play in somewhere on the field."
Rogers signed on Tuesday along with Rocky football manager Marice Dodd as an athletic trainer at St. Ambrose.
"McKendree is just a family-based school all the way around," Rogers said. "They we so welcoming and it felt like I was at home. I had no idea about Zion until I saw someone added him to our group chat of recruits. I immediately texted him and said 'Oh, we got a Moline guy, too.' Actually, I'm excited to have someone from close to home to be there with me."
Rogers is not sure where he stands with the team. He is still coming back from an injury he suffered late in this past season.
"I'm getting close to being ready to start lifting," he said. "I want to be ready to go when summer camp starts. Other than them saying I will be a defensive lineman, all I know is I need to get bigger. How much? That I don't know yet."
Another WB6 football player making his announcement was Alleman's Nate Sheets, who committed to Augustana.
Get in the game with our Prep Sports Newsletter
Sent weekly directly to your inbox!