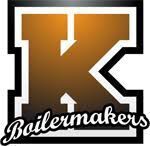 KEWANEE — Going into its final two regular-season games, the Kewanee football team is finding itself chasing history.
It has been 75 years since the Boilermakers finished unbeaten, with Helmut Brockman's 1946 club going 8-0-1.
It has been even longer since Kewanee was undefeated and untied in a season, going all the way back to 1934's 9-0 finish.
Hosting Rockridge in a Saturday afternoon Three Rivers Conference crossover at KHS Stadium, the Boilermakers had to rally to keep their season perfect as they topped the Rockets 26-14.
"It was a fun game, but a tough one," said Kewanee coach Brad Swanson, whose 8-0 club closes the regular season next Friday at Sterling Newman. "Give Rockridge credit. They had a great game plan; they tried to stack the box and stop our run game.
"They wanted to slow down (senior running back) Keyontiss Patterson, and they did a good job of that."
Trailing by a point and with Rockridge in possession of the football, Kewanee caught a big break when Jaiden Little pounced on a fumble and returned it 30 yards for a touchdown, putting the hosts up 19-14 with 2:11 remaining.
"We got a big play there when Brady Clark forced the fumble and Jaiden scooped it up and took it to the house," said Swanson, whose defense had to weather a 16-of-36, 255-yard passing assault from Rockridge senior quarterback Brayden Deem.
Earlier in the fourth period, it was Deem using his legs to give the Rockets (4-4) their first lead of the day, scoring on a 24-yard run with 7:47 left. Austin VanDeGeest's PAT kick had Rockridge on top and Kewanee on the ropes.
"When Rockridge scored late, we never looked away," said Kewanee senior quarterback Will Bruno. "I was standing next to Coach Swanson on the sidelines, and he told all of us to keep our eyes and our chests up."
In the first half, a pair of long touchdown passes by the senior duo of Bruno and wide receiver Jordan Johnson (five receptions, 139 yards), the second of which came with 6:06 left in the second quarter, staked the Boilers to a 13-7 halftime lead.
After Bruno and Johnson hooked up on a 69-yard scoring play in the first quarter, the Rockets tied the game on the period's final play when Deem's pass was tipped into the hands of Kameron Bohnsack, who turned it into a 97-yard touchdown.
"Our kids played hard and left a lot out there," said Rockridge coach Jeff Henry, "but we had opportunities in the first half to get a couple more scores."
Following Kewanee's go-ahead score, a Niko Powe interception late in the game led to Bruno's game-clinching 42-yard touchdown run with 45 seconds left to play.
"This shows us what the postseason is going to be like every week," said Bruno. "We learned from this game; it showed how much heart we have. Now, we want to get ready to go up against a good Newman team."
Meantime, the Rockets close the regular season at Orion in a matchup of 4-4 clubs fighting for their playoff lives.
"I feel bad for our kids; they played really hard against a very good team today," said Henry. "We're hoping to use how we played as a positive for next week when we go to Orion."