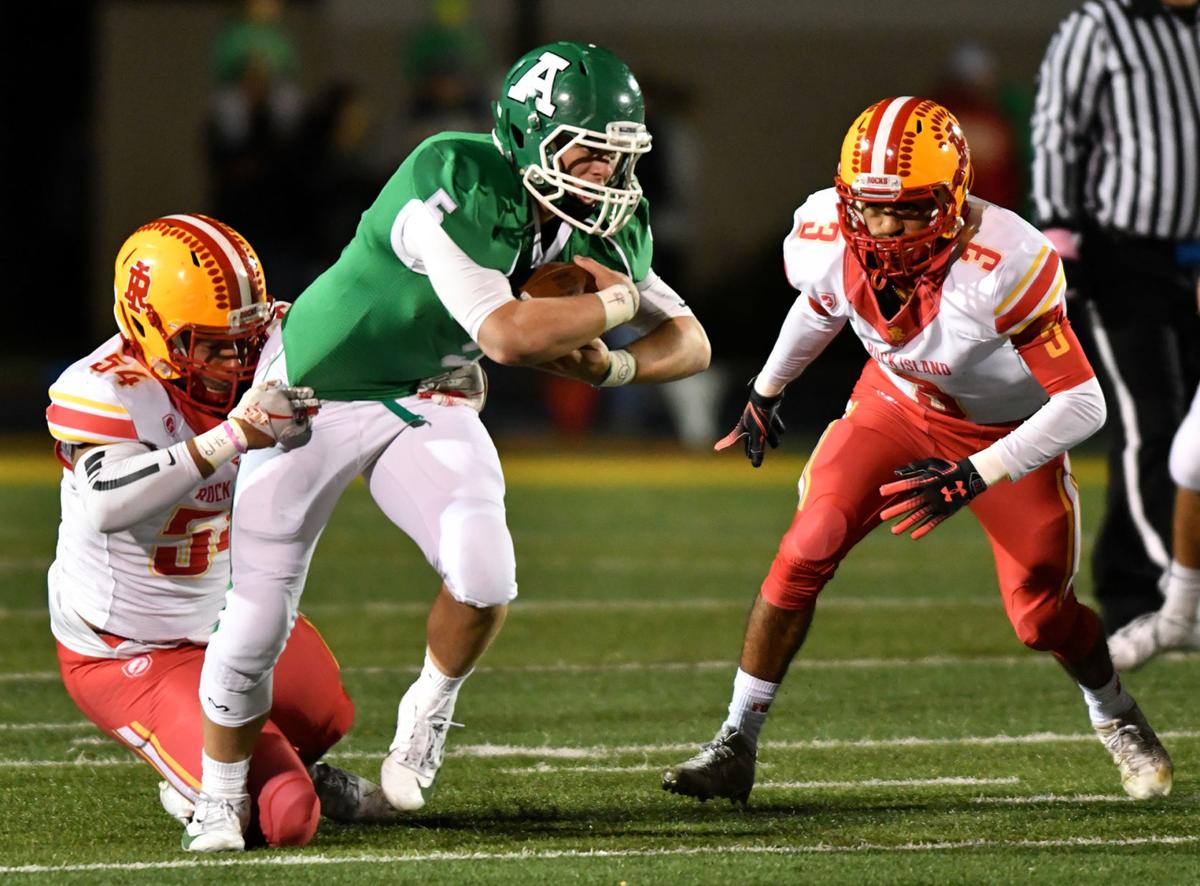 Excitement might not be a strong enough word to express the feeling Moline football coach Mike Morrissey had Tuesday morning.
The Moline coach got a pre-Christmas gift when the Illinois High School Association announced the vote on Proposal 15, which eliminates the planned move to district football, had passed 374-241-87.
Officially, the proposal removes the by-law directing the IHSA to implement a football scheduling system for regular-season varsity games, impacting the current ability for schools to schedule games and qualify for the playoffs as it is currently administered.
In layman's terms, the previously implemented district plan, which would have started in 2021 was voted down and football will remain as it has since the start of playoff football.
"I'm overly excited," Morrissey said. "This is big time for Moline High School  and I believe it is huge for the Western Big 6 Conference and the tradition that league brings to this area."
Morrissey and Geneseo coach Larry Johnsen have been two of the biggest proponents in the Big 6 for the end of the district schedule. Both would have been going from playing most of their games within 50 miles to having to travel all over the state.
"We are a revenue-based athletic department, and if we went to the districts, whether it was in the St. Louis area or Rockford, we were going lose a ton of money because of cost of travel and poor home crowds.
"I think between football and boys' basketball, we take care of about 80 percent of the athletic revenue. With that being the case, we would get hurt on our revenue, and that would trickle down to potentially costing us some of our low-revenue sports.
"I think it would have hurt a Rock Island or United Township as well. Take a gate for a Rocky-Moline game and switch that to a Rocky-Richwoods game, that would be a huge loss."
Johnsen agrees with the lost revenue being a killer but also thinks having the stability of playing in a conference and rivalries are key.
One Big 6 school who had hopes for the district plan was Alleman where the school enrollment has been dropping recently while the rest of the league is growing, but Pioneers' coach Todd Depoorter isn't making a big deal of it.
"It makes for some tough matchups," Depoorter said, "but we are one of the founding fathers of the Big 6, and we are proud to be here for 50 years. We do have contracts with Quincy Notre Dame and Assumption for the next few years, so that is two teams at our level.
"Simply, what we have to do is prepare for who we will play and be proud of our history playing in a tough league. We have played this schedule and made the playoffs the last three years."
While he likes what happened Tuesday, Johnsen hopes there is more coming.
One proposal would change the regular season to eight games and open up more spots in the postseason so teams with 3-5 records could possibly reach the playoffs.
"I think this is a just the first step," Johnsen said. "As long as we continue the way we are where everyone is chasing five wins, the scheduling problem will continue. I hope we can continue to work on getting more teams in the playoffs and no more being scared to play good teams.
"I look at wrestling right now. Washington is 1-3 in duals and No. 1 in Class 2A because they have gone against bigger and tough teams to be ready for the postseason. I want to see that happen in football.
"Look at the football playoffs now, we are not getting the top 256 teams in the playoffs, and we're not always getting the best team in the title games. I am willing to talk to anyone about this and if they can sway me the other way then maybe I'll change my mind."
While Orion coach Chip Filler loves keeping conferences, he disagrees with Johnsen on the playoff change.
"This is the best solution," he said of Proposal 15. "I am all for change but the district thing was just change to make a change, even though it would have helped us.
"In terms of the playoffs, I like the idea that you have to win six games to get in the playoffs, but I would change the playoffs to straight 1 to 32 in the seeds in every class. The way they do it regionally, if you have a great region you have everyone knocking each other off in the first two or three rounds."
Get in the game with our Prep Sports Newsletter
Sent weekly directly to your inbox!