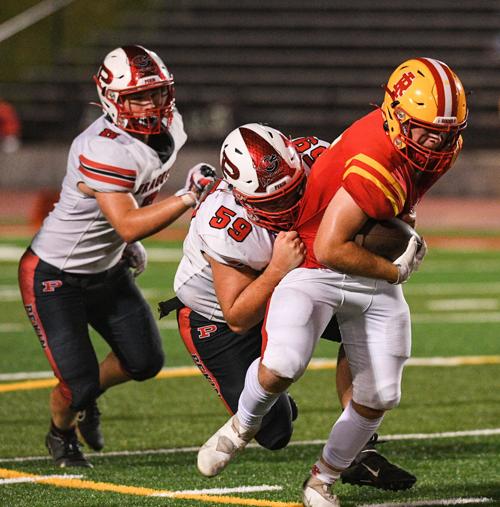 Davenport West (1-0) at Davenport North (0-1)
Basics: Approx. 7:15 p.m., Brady Street Stadium
Last week: West stymied Clinton 14-0 at Brady Street. North dropped a 41-7 contest at North Scott.
Last meeting: North 21, West 0 (2020)
Overview: North has won the last five meetings in the city series, including back-to-back shutouts. The Wildcats lost the turnover battle 5-0 last week against North Scott. West, meanwhile, won the turnover game 4-1 versus Clinton last Thursday. The Falcons are eyeing their third 2-0 start since 2015, most recently in 2019. West linebacker Hunter Jones had four tackles for loss in last week's game against the River Kings.
Davenport Central (0-1) at Clinton (0-1)
Basics: Approx. 7:30 p.m., Coan Field
Last week: Central fell in the closing seconds to Central DeWitt, 30-24. Clinton was stymied by Davenport West 14-0.
Last meeting: Central 44, Clinton 12 (2017)
Overview: Clinton will induct seven individuals into its athletics Hall of Fame this weekend, including David Johnson, who starred for them in the 2009 season. The River Kings, trying to snap a 22-game losing streak, produced only 166 total yards in last week's opener. Central uses a two-quarterback system with Corbin Simatovich (threw for 177 yards last week) and Nate Hummel (77 rushing yards). Central had five receivers catch passes in Week 1.
Dubuque Hempstead (0-1) at Pleasant Valley (0-1)
Basics: Approx. 7:15 p.m., Spartan Stadium
Last week: Hempstead dropped a 19-6 tilt to city-rival Dubuque Senior. PV lost at state-ranked Cedar Rapids Prairie, 27-21.
Last meeting: PV 49, Hempstead 14 (2017)
Overview: The Spartans have had considerable success against the Mustangs, racking up 30-plus point wins in each of their last four meetings. PV rushed for 259 yards in last week's opener, but was 2 of 8 passing for 18 yards. This is the first of three home games in the next four weeks for the Spartans. Hempstead, coming off a 7-2 season, threw the ball 38 times last Friday in the loss to Senior. The Mustangs mustered only 69 rushing yards on 23 tries.
Bettendorf (0-1) at Cedar Rapids Kennedy (1-0)
Basics: Approx. 7:15 p.m., Kingston Stadium
Last week: Bettendorf suffered a 13-3 home loss to Urbandale. Kennedy pulled out a 27-20 triumph on the road against Iowa City West.
Last meeting: Kennedy 28, Bettendorf 18 (2019)
Overview: How much improvement can Bettendorf make on the offensive side of the ball in a week? The Bulldogs had just 46 total yards (21 passing and 25 rushing) in the setback to Urbandale. Coach Aaron Wiley's team averaged about a yard per rush. Kennedy junior Jazan Williams ran for 184 yards and two scores in the season opener. Jeron Senters, a Linn-Mar transfer, is a two-way threat for the Cougars. The teams have alternated wins and losses the last five meetings.
Camanche (0-1) at Central DeWitt (1-0)
Basics: Approx. 7:15 p.m., Birney Field
Last week: Camanche stumbled at home to Dyersville Beckman 28-14. Central DeWitt scored in the last 20 seconds to beat Davenport Central 30-24.
Last meeting: Camanche 40, Central DeWitt 37 (2019)
Overview: Central DeWitt quarterback Paul Kuehn had 221 yards of offense and three scores in his first varsity start last week. The Sabers compiled nearly 400 yards in that game while Sam Bloom had 3.5 tackles for loss and Lucas Burmeister collected two interceptions. Camanche's Mike Delzell threw for 201 yards last week and has two talented senior receivers in Tucker Dickherber and Zach Erwin. Eric Kinkaid had 15 tackles (10 solo) in last week's opener.
North Scott (1-0) at Western Dubuque (0-1)
Basics: Approx. 7:30 p.m., Epworth
Last week: North Scott rolled up five first-half touchdowns in a 41-7 rout of Davenport North. Western Dubuque was doubled-up by Cedar Rapids Xavier 28-14.
Last meeting: Western Dubuque 29, North Scott 7 (2019 playoffs)
Overview: These programs are the last two state champions in Class 3A — North Scott in 2020 and Western Dubuque 2019. The Bobcats have won the last three meetings against the Lancers, all by three scores or more. North Scott passed for almost 300 yards and five touchdowns last week. Western Dubuque was tied at 14 with Xavier going into the fourth quarter last week. Receiver Andrew Oltmanns had six catches for 127 yards and two touchdowns.
Iowa City West (0-1) at Muscatine (0-1)
Basics: Approx. 7:30 p.m., Muscatine Community Stadium
Last week: Iowa City West was dealt a 27-20 home loss to Cedar Rapids Kennedy. Muscatine was clobbered on the road by Linn-Mar 63-14.
Last meeting: Iowa City West 31, Muscatine 16 (2019)
Overview: Muscatine plays its first game in its renovated stadium, which features field turf, new bleachers on the home side and a press box. The Muskies, with only two starters back from last year, gave up 42 first-half points and registered only 79 total yards last week. West starts a freshman at quarterback in Jack Wallace, who was 10 of 20 for 108 yards last week.
Rock Island (0-1) at Dunlap (1-0)
Basics: 7:30 p.m., Dunlap High School
Last week: Rock Island lost at home to Pekin, 21-0. Dunlap squeaked past Galesburg 7-6.
Last meeting: Rock Island 28, Dunlap 18 (2019 playoffs)
Overview: The Rocks are coming off of a disappointing opener where they were blanked for the first time since a playoff game against Richards in 2018. Pekin rushed for 386 yards and held the Rocks to just 196 total yards. Dunlap held on at Galesburg after denying the Silver Streaks' potential game-winning two-point conversion attempt with just 29 seconds remaining. Dunlap ran for over 200 yards in its first game, which means Rock Island will need to make adjustments on its defensive front if it doesn't want a repeat of its opening game.
United Township (1-0) at East Peoria (0-1)
Basics: 7:30 p.m., EastSide Centre in East Peoria
Last week: UTHS blasted Chicago Lindblom 46-0 on Saturday. East Peoria dropped a 14-12 decision to Streator.
Last meeting: UTHS 40, East Peoria 14 (2019)
Overview: UTHS began its 2021 fall season much like its spring — winning. The Panthers came into their season opener with the challenge of replacing 11 offensive starters, but that issue was quickly solved with a 70-yard touchdown run on the second play of the game. UTHS completed only two passes in its opening game (or more accurately, half), but both were 40-plus yard touchdowns. East Peoria and Streator played a scoreless second half last week.
Benet Academy (0-1) at Moline (1-0)
Basics: 7:30 p.m., Browning Field
Last week: Moline went on the road and beat St. Laurence Burbank 28-7. Benet Academy stumbled to Naperville North 35-13.
Last meeting: Benet Academy 28, Moline 19 (2019)
Twitter: @Jackson_Stoneee
Overview: Moline is coming off a big victory on the road against St. Laurence led by senior Matthew Bailey. The two-way senior made a leaping touchdown grab over a defender that gave the Maroons a lead they would never relinquish. Next up is a Benet Academy team that was generally regarded as a top-25 team in Illinois to begin the year. However, the Redwings lost their opening game against Naperville North. Benet never led but kept it to a one-possession game heading into the fourth quarter.
Alleman (0-1) at Quincy Notre Dame (1-0)
Basics: 7 p.m., Quincy Notre Dame High School
Last week: Alleman lost to Assumption at home, 62-0. Quincy Notre Dame doubled-up city rival Quincy, 40-20.
Last meeting: Quincy Notre Dame 21, Alleman 17
Overview: First-year head coach Fritz Dieudonne will lead his 32-man roster against QND on Friday in an attempt to get things turned around after a difficult opener. The Pioneers were held without a first down and were down 55-0 at half before a running clock took over the second half. QND comes into the contest on high spirits after defeating rival Quincy for the first time since 1984. The Raiders were ahead by as much as 40-13 in the fourth quarter.
Sandwich (0-1) at Geneseo (1-0)
Basics: 7 p.m., Bob Reade Field, Geneseo
Last week: Geneseo cruised past Chicago Noble/Comer 49-0. Sandwich was dealt a 42-14 loss to Ottawa.
Last meeting: Geneseo 17, Sandwich 0 (2012)
Overview: Geneseo rushed for 298 yards in its season-opening victory over Comer in which six different Maple Leafs scored touchdowns. Next will be a matchup against Sandwich, which lost by four touchdowns to an Ottawa squad which snapped a 14-game losing streak. Sandwich went 1-4 in the shortened 2021 spring season. Geneseo has won both all-time meetings against Sandwich, but the teams haven't played in nine years.
Montini Catholic (0-1) at Sterling (1-0)
Basics: 7 p.m., Sterling High School
Last week: Sterling downed Lakes, 31-9. Montini Catholic suffered a 17-5 loss to IC Catholic Prep.
Overview: Last week's win pushed Sterling to No. 5 in the latest IHSA AP rankings for Class 5A. Sterling has lost only one game against a Western Big 6 foe since joining the league in 2019. Montini Catholic lost a close contest to begin the year, but recent seasons have proven the Broncos to be a formidable opponent. Montini Catholic went 12-2 in 2018 and 8-3 in 2019 before stumbling to a 1-3 record in a COVID-plagued season.
Galesburg (0-1) at Morton (0-1)
Basics: 7:30 p.m., Carper Field
Last week: Galesburg fell to Dunlap 7-6. Morton dropped a 28-21 contest to LaSalle-Peru.
Overview: Galesburg lost its season opener and was unable to move the ball on offense. The Streaks had just 75 rushing yards and junior quarterback Tristan Legate completed 4 of 8 passes for 26 yards. The offense will have to improve if Galesburg looks to compete with Morton. The Potters turned the ball over four times against LaSalle-Peru, but outscored the Cavaliers 15-0 in the final eight minutes. Morton senior quarterback Layne Kaufman finished the game 10-for-17 with 101 yards and a touchdown.
Quincy (0-1) at Alton (0-1)
Basics: 7 p.m., Public School Stadium
Last week: Quincy stumbled to Quincy Notre Dame, 40-20. Alton lost 22-13 to Althoff Catholic.
Overview: Quincy began its season by losing to Quincy Notre Dame for the first time since 1984. The Blue Devils allowed a touchdown on the opening kickoff and were down 24-0 before scoring their first points of the year. Quincy will look to get things fixed up on defense when it squares off against an Alton team that had trouble moving the ball in its loss to Althoff Catholic last week. The Redbirds scored just seven points on offense and let up a safety on the final drive of the game.