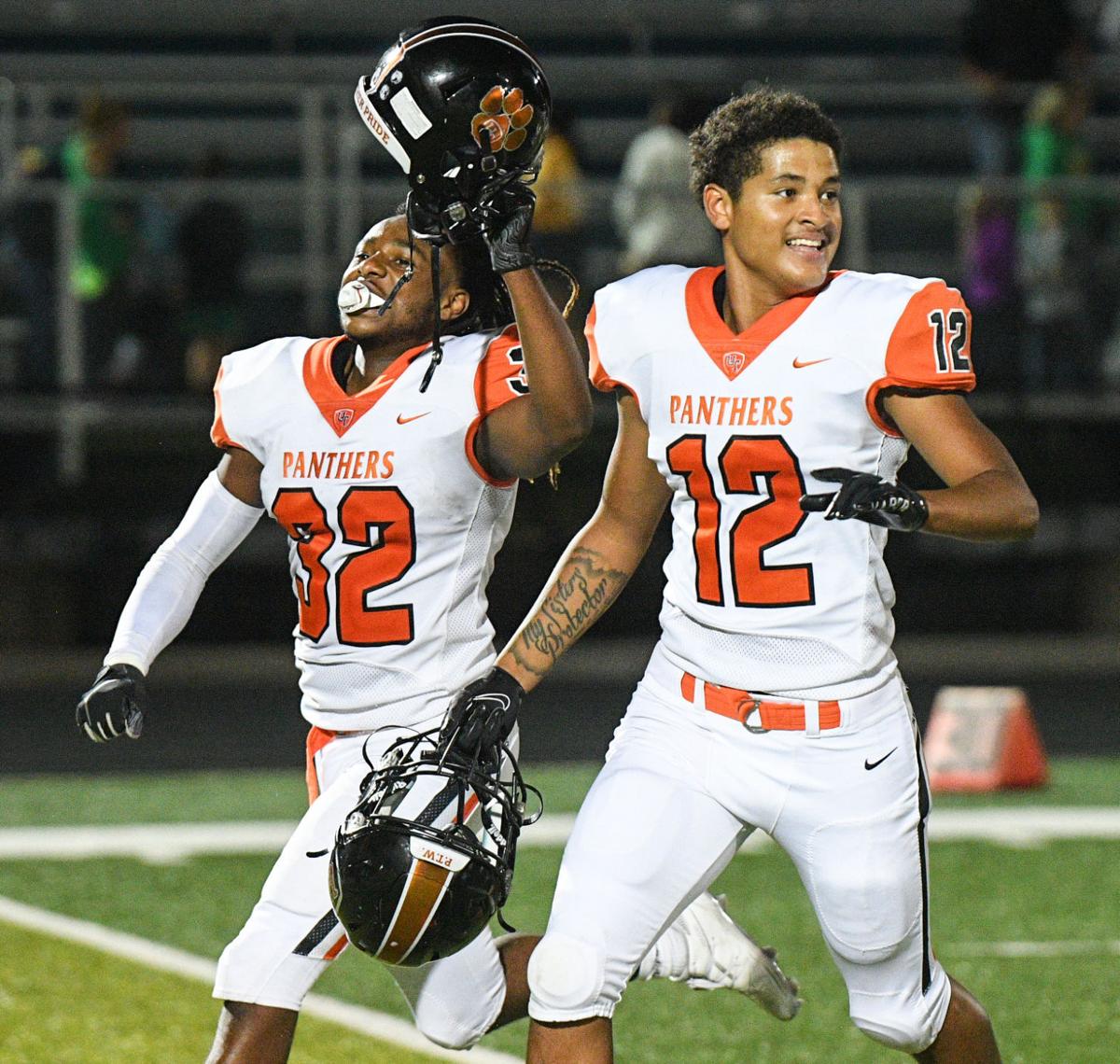 Davenport Central (2-1) at Davenport West (1-2)
Basics: Approx. 7:15 p.m., Brady Street Stadium
Last week: Central waltzed past Cedar Rapids Jefferson 49-7. West stubbed its toe at Waterloo West 45-7.
Last meeting: Central 35, West 10 (2020 playoffs)
Overview: Central has been productive on offense, averaging 40.3 points and 385 total yards per game. Nate Hummel has rushed for 338 yards and seven TDs in the past two weeks. Central's defense has generated eight takeaways and it returned two kickoffs for touchdowns in three games. West QB Brady Hansen threw for 179 yards in last week's game, but the Falcons have yet to score in the second half of a game this season. West, seeking its first win over Central since 2015, has rushed for only 25 total yards in the last two contests.
North Scott (3-0) at C.R. Xavier (3-0)
Basics: Approx. 7:30 p.m., Saints Field, Cedar Rapids
Last week: North Scott rolled up more than 30 points for the third straight game in a 38-14 win over Assumption. Xavier thwarted Dubuque Wahlert 28-9.
Last meeting: North Scott 17, Xavier 10 (2020 playoffs)
Overview: This is a rematch of last year's state semifinal in the UNI-Dome that went to overtime. North Scott is ranked second and Xavier third in this week's Class 4A Associated Press poll. Lancer QB Grayson Juel has completed 78% of his throws for 741 yards and 12 scores. Jakob Nelson is among the state's top receivers with 25 grabs for 331 yards and seven TDs. Both teams have wins over Western Dubuque this season — North Scott by 20 and Xavier by 14. Thomas Sundell anchors the Saints' defense with 8.5 tackles for loss.
Pleasant Valley (1-2) at Muscatine (0-3)
Basics: Approx. 7:30 p.m., Muscatine Community Stadium
Last week: PV dropped an 18-7 decision at home to Linn-Mar. Muscatine fell on the road to Bettendorf 27-6.
Last meeting: PV 21, Muscatine 14 (2020)
Overview: Held to its lowest point total in two years last week, PV tries to regroup on the road. The Spartans have won four straight and eight of the last nine against the Muskies. Caden McDermott is expected to be under center as QB Barrett Lindmark is out with injury. The Spartans rushed for 177 yards last week but turned the ball over four times. Muscatine is in the midst of a brutal stretch, with Cedar Falls coming to town next week and then back-to-back trips to Dubuque. Sophomore Ty Cozad had 77 yards on the ground last week.
Bettendorf (1-2) at C.R. Prairie (2-1)
Basics: Approx. 7:15 p.m., John Wall Field
Last week: Bettendorf collected its first win with a 27-6 triumph over Muscatine. Prairie lost in the final seconds to Cedar Falls, 24-21.
Last meeting: Bettendorf 28, Prairie 3 (2008)
Overview: Isaiah Martinez gave the Bulldogs a boost last week, coming in for injured back Terry Dunn and rushing for 142 yards and three scores. Coach Aaron Wiley's team has yet to score in the first quarter this season. Prairie lost in heartbreaking fashion last week after Cedar Falls used a hook-and-lateral play in the final minute to go 80 yards for the go-ahead score. The Hawks are expected to get several players back who missed the first three games for a violation of school policy. Caeden Striegel leads 5A with three interceptions.
Davenport North (1-2) at Iowa City West (1-2)
Basics: Approx. 7:15 p.m., Iowa City West
Last week: North suffered a 27-23 loss at home to Dubuque Senior. West lost to Dubuque Hempstead 39-31.
Last meeting: West 21, North 14 (2019)
Overview: North had one of its better offensive showings under coach Adam Hite last week. The Wildcats threw for 317 yards and scored their most points since Week 1 in 2020 against Burlington. North has been vulnerable against the pass in the first few weeks, allowing nine touchdowns through the air and two quarterbacks to throw for more than 265 yards. West starts a freshman at QB in Jack Wallace, who has thrown for 383 yards. The Trojans average six yards a carry on the ground as Mason Applegate is fifth in 5A with 382 rushing yards.
Central DeWitt (3-0) at Marion (0-3)
Basics: Approx. 7:15 p.m., Thomas Park Field, Marion
Last week: Central DeWitt used a big second half to outlast Clinton 44-28. Marion was dealt a 28-6 defeat by Benton Community.
Last meeting: Central DeWitt 27, Marion 24 (2020)
Overview: The Sabers aren't blowing opponents away, but they are 3-0 for the first time in 13 years. They've won games by 6, 7 and 16 points. Coach Ryan Streets' squad is averaging more than 20 yards per pass completion. This is the final non-district game for DeWitt before it faces Assumption and Maquoketa the next two weeks. Marion, which features an athletic junior quarterback in Alex Mota, has scored 15 collective points the past two weeks. These teams have split the last six meetings, with five of them decided by 10 points or fewer.
Maquoketa (0-3) at Clinton (0-3)
Basics: Approx. 7:30 p.m., Coan Field
Last week: Maquoketa lost at home to Camanche 30-15. Clinton scored a season high in points, but fell 44-28 to Central DeWitt.
Last meeting: None recently
Overview: Can the River Kings end their 24-game slide? This would appear to be one of Clinton's better chances against a Maquoketa squad which has lost all three games by 15 points or more. Clinton's Jai Jensen threw for 204 yards and three scores in last week's game. The River Kings rushed for 126 yards last week, the most in a game under second-year head coach Nate Herrig. The Cardinals have used two quarterbacks each of the past two games — senior Hunter Manning and junior Kasey Coakley. They have thrown nine interceptions.
Rock Island (2-1) at Moline (2-1)
Basics: 7:30 p.m., Browning Field
Last week: Rock Island dominated Alleman 56-0. Moline defeated Quincy 48-35 on the road.
Last meeting: Rock Island 41, Moline 29 (2021 spring)
Twitter: @Jackson_Stoneee
Overview: One of the bigger matchups in the Western Big 6 this week, Moline and Rock Island have been playing since 1899 and will meet for the second time in six months after the Rocks defeated the Maroons in March. Moline is led by senior Matthew Bailey who has over 350 receiving yards and six touchdowns in three games. Rock Island QB Eli Reese threw for four touchdowns and rushed for another in the Rocks' win over the Pioneers last week. This matchup likely will be decided by which team's defense can stop the other team's playmakers.
Quincy (1-2) at United Township (3-0)
Basics: 7 p.m., Soule Bowl, East Moline
Last week: United Township traveled to Geneseo and defeated the Maple Leafs 22-17. Quincy hosted Moline and lost 48-35.
Last meeting: Quincy 35, UTHS 22 (2021 spring)
Overview: After a dramatic fourth-quarter comeback led by Matthew Kelley,  UTHS secured its first 3-0 start since 2001. Kelley was forced out of the game with an ankle injury but came back in time to lead two touchdowns drives. The defense made a stop on its own 5-yard line as time ran out to win the game. The Blue Devils have lost two of their first three games but have lost to good teams in Moline and Quincy Notre Dame. Quincy scored 35 points against Moline and will need a similar amount against a UTHS team that can put points up on the board quickly. The Panther offensive line will be a story to watch in this tilt.
Geneseo (2-1) at Galesburg (0-3)
Basics: 7:30 p.m., VanDyke Field, Galesburg
Last week: Geneseo fell 22-17 at home to United Township. Galesburg lost a 15-point second half lead on the road to Sterling in a 24-21 defeat.
Last meeting: Galesburg 21, Geneseo 14 (2021 spring)
Overview: Geneseo looked on its way to a 3-0 start, but a failed red zone drive led to a collapse in all facets of the game. The Maple Leafs suddenly were unable to move the ball, or stop UTHS, and lost on the final play. Geneseo will look to rebound against a Galesburg team that has been unable to win a game. The Silver Streaks had a 21-6 lead over Sterling in the fourth quarter, but 18-unanswered points -- including a late field goal from the Golden Warriors -- gave Sterling the victory. Geneseo's Jaden Weinzierl is third in Big 6 receiving yards with 264. The last two meetings have been decided by a touchdown.
Alleman (0-3) at Sterling (2-1)
Basics: 7 p.m., Roscoe Eades Stadium, Sterling
Last week: Alleman was stifled by Rock Island, 56-0. Sterling forged a second-half comeback to defeat Galesburg 24-21.
Last meeting: Sterling 21, Alleman 6 (2021 spring)
Overview: Alleman heads into its game against Sterling without having scored this season. The Pioneers are having to overcome a lot of change that happened in the offseason. Coach Fritz Dieudonne, who was hired in June, had little time to prepare his team with a revamped offensive scheme. Alleman will continue to try and build week-to-week and improve as the season progresses. Sterling comes into the game after defeating Galesburg with a late fourth quarter comeback. The Golden Warriors have more depth and have played together longer as a team than Alleman, which should work in their favor.
— Compiled by Matt Coss and Jackson Stone