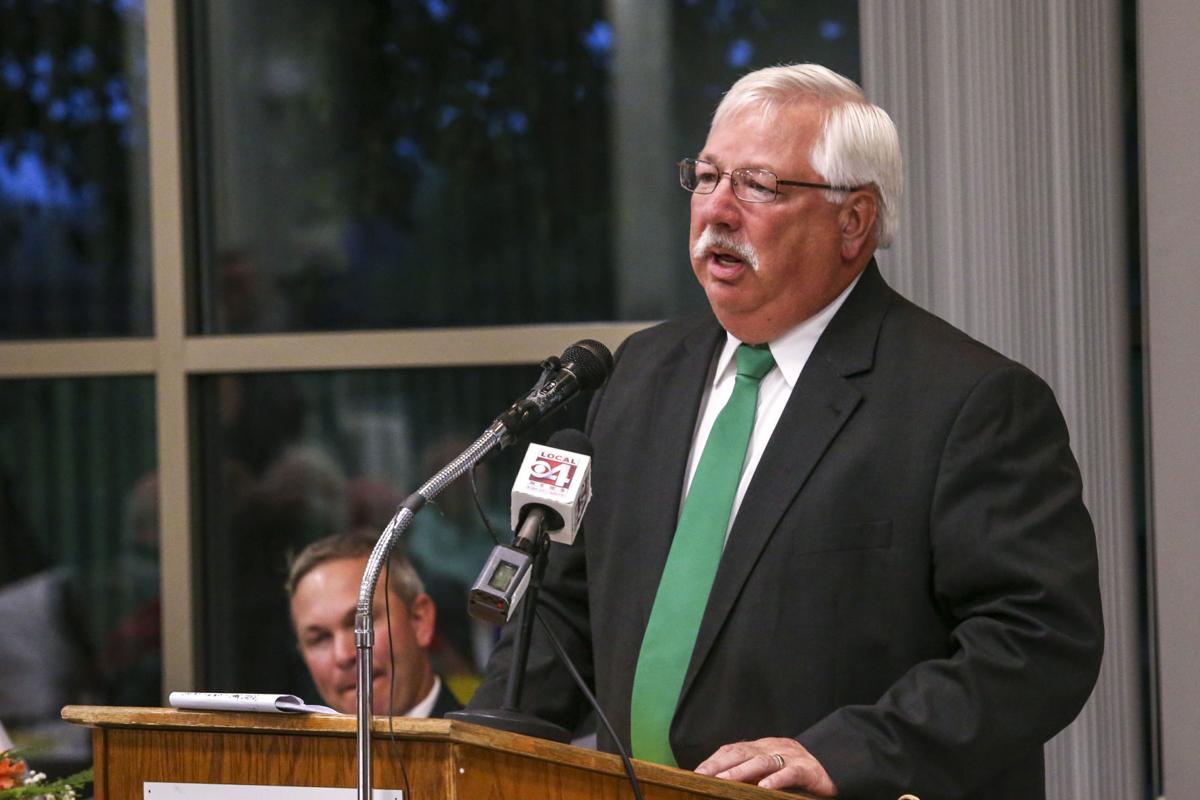 Todd Depoorter joked about passing up an opportunity to coach football at a school other than Alleman High School.
"When I was starting out, somebody asked me to come to another school and coach there," Depoorter said. "I said no and told them 'I guess I bleed green.' That person told me I need to get over that.
"I guessed I refused to."
And even as he steps away from the football program he has been a part of for the last 32 years, Depoorter insists "I am still 100% green and white. I've been at the only place I wanted to coach."
A fixture in the Alleman football program since 1988, the 63-year-old has decided to hang up his whistle.
The veteran coach announced his retirement from coaching this week, just two weeks after completing his sixth year as the program's head coach.
"My idea is that I devoted most of my adult life to coaching," he said. "Now, it's time to step back and I probably won't do it anymore. … It's been a true blessing."
Depoorter said that fellow veteran coaches Mike Tracey and Steve Ebner are also planning on stepping aside, leaving a number of holes to fill on the staff.
Depoorter was part of 11 Western Big 6 championship teams and multiple state championship games as an assistant coach — a role he said he cherished before taking the leadership of the program.
His head coaching stint finished with a 23-31 record after the Pioneers finished 3-3 overall and in Big 6 play in a COVID-19 altered 2021 spring campaign. His Pioneers closed the season with a 23-20 road victory over Galesburg.
"Coach Depoorter will be remembered most by his strong leadership and the lasting relationships he has built with all of his athletes," Alleman athletic director Grant Iles said in a release. "I witnessed first-hand the ability he has in developing the athlete but also the student and the person."
Depoorter said it is those relationships with the student-athletes and getting to watch them grow will be something he misses.
As much as the wins and losses, he said he reveled in watching them succeed in all of their endeavors — both athletically and academically. That was an approach he said was fostered by former head coach Dave DeJaegher, who was on staff with Depoorter.
"Each year you build those relationships with guys and each team is unique," said Depoorter, noting it was important to foster success in the classroom and in other sports at the school. "We had our awards night the other night and 12 of our 14 seniors are on the Principals list and all-conference academic."
Depoorter, who will continue his bailiff duties at the Rock Island County Courthouse, said he felt it was just time to step aside from coaching.
"Being 32 years there and not being a young man anymore," he began. "I have to thank my wife and family for allowing me to coach for 32 years. It's just time for me to say thanks. …"
"Todd Depoorter's 32 year career is to be celebrated," Iles said. "Alleman High School is very grateful for all that he has done for our community and wish him the very best moving forward."
Iles said the process of filling the head football coaching vacancy is underway and that at least one current staff member has shown interest in the position.
Depoorter noted that he knew of one current staff member, sophomore head coach Nate Gilbraith, who was interested in the opening.
"Alleman is a place that sells itself," Iles said. "We've got a very proud, rich tradition, especially on the football side and we're doing some fantastic things here academically and spiritually as well. Not only have I reached out to a few people I would like to have apply for it, I am hoping the opportunity of being a part of Alleman is something that will be enticing for all of our quality applicants that want to be a part of this."
Iles noted no official timetable is set for hiring Depoorter's replacement, but he would like it done as soon as possible.
"The whole thing is only about 24 hours old," he said of starting the hiring process. "Knowing that summer camp is a critical time for the football programs and the strength and conditioning programs and getting the contact days in place, my goal would be to have someone offered and accepted by June 1."
The IHSA normally allows 25 contact days between June 1 and August 1, but that has been reduced to 20 days this year because of the pandemic-altered sports calendar.