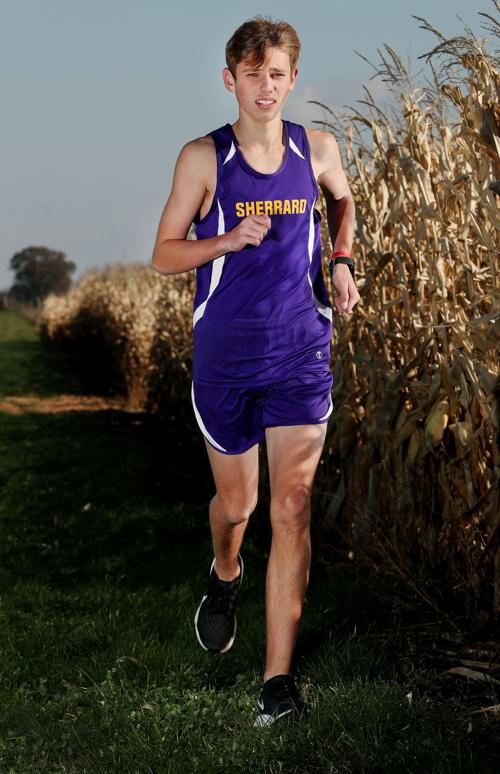 SHERRARD — The road to a strong junior cross country season for Sherrard junior Jacob Belha actually began on the all-weather track surface last spring.
Coming up mere seconds short of qualifying for the Class 1A state track and field meet in both the 3200 and 1600 meter races, Belha channeled that disappointment in a positive direction, and the results on the three-mile courses this fall have been plain to see.
A second-place finisher to Rockridge senior standout Tyler Kibling at the Three Rivers Conference meet, this week's Dispatch-Argus-QCOnline Area Pacesetter has hit his peak in the postseason, turning in a career-best time of 15:56 just over two weeks ago at the 1A Rock Falls Regional and landing in the top 10 at last Saturday's Oregon Sectional.
Just as important, Belha's eighth-place, 17:23.59 clocking last weekend at Oregon Park West helped Sherrard to a fifth-place finish in the team standings and its first trip to state as a full squad since 2011.
"(Head) Coach (Ryan Buchanan) wanted me to at least get a top 10 finish, to help the team more," he said. "Every place counted, so I wanted to try to stay in front of as many people as I could. I knew I had a pretty good shot."
Even running on a muddy track in Oregon did not deter Belha in the slightest.
"There were some mud puddles, but everyone had to deal with the same conditions, so there was no advantage or disadvantage," he said. "I wasn't really looking at time too much. I felt like I gave it my all, so I can't be too upset with it."
Coming off a P.R. the week before at Rock Falls' Centennial Park, the main goal for Belha and his teammates was to extend their season to a 10 a.m. Saturday date at Detweiller Park in Peoria.
Having failed to advance out of regionals last season after qualifying for sectionals two years ago, the Tigers were not lacking in motivation.
"We were really young last year, and I knew all of us were disappointed about how the year ended, not making it to sectionals," said Belha. "This year, everyone came back and looked strong at practice, so we were all excited to see how it would play out.
"Getting to state, this means a lot to me. I love this team so much, and I'm happy everyone gets to come down, so that we can run together as a family. We're going to give it everything we've got."
On a personal level, Belha drew his motivation from his sectional performances on the track last May.
"I remember that, finishing two seconds off (of a state berth) in the 1600 and four seconds off in the 3200," he stated. "That really hurt. I really thought about that every single day in the summer, and I gave what I had and put in the work so that hopefully come cross country time, I'd be fully prepared."
As well as his top time at regionals, competing with Kibling — who also advanced out of Oregon for his second straight state appearance — at the TRAC meet last month has given Belha's confidence a tremendous boost.
"Tyler and I push each other a bunch," Belha said. "We've raced against each other for a long time now, and I enjoy competing with him. I always know he'll take me to where I need to be."
Setting the goal of another P.R. — "and hopefully maybe top 10" — Saturday at Detweiller, Belha also has his mind set further on down the road, to his junior track season.
There, he plans to take care of some unfinished business, using his cross country success as the perfect starting point.
"I've been looking forward to track since the end of last year," said Belha. "I want to go out there, run really good, and I want to make it to state."
Get in the game with our Prep Sports Newsletter
Sent weekly directly to your inbox!