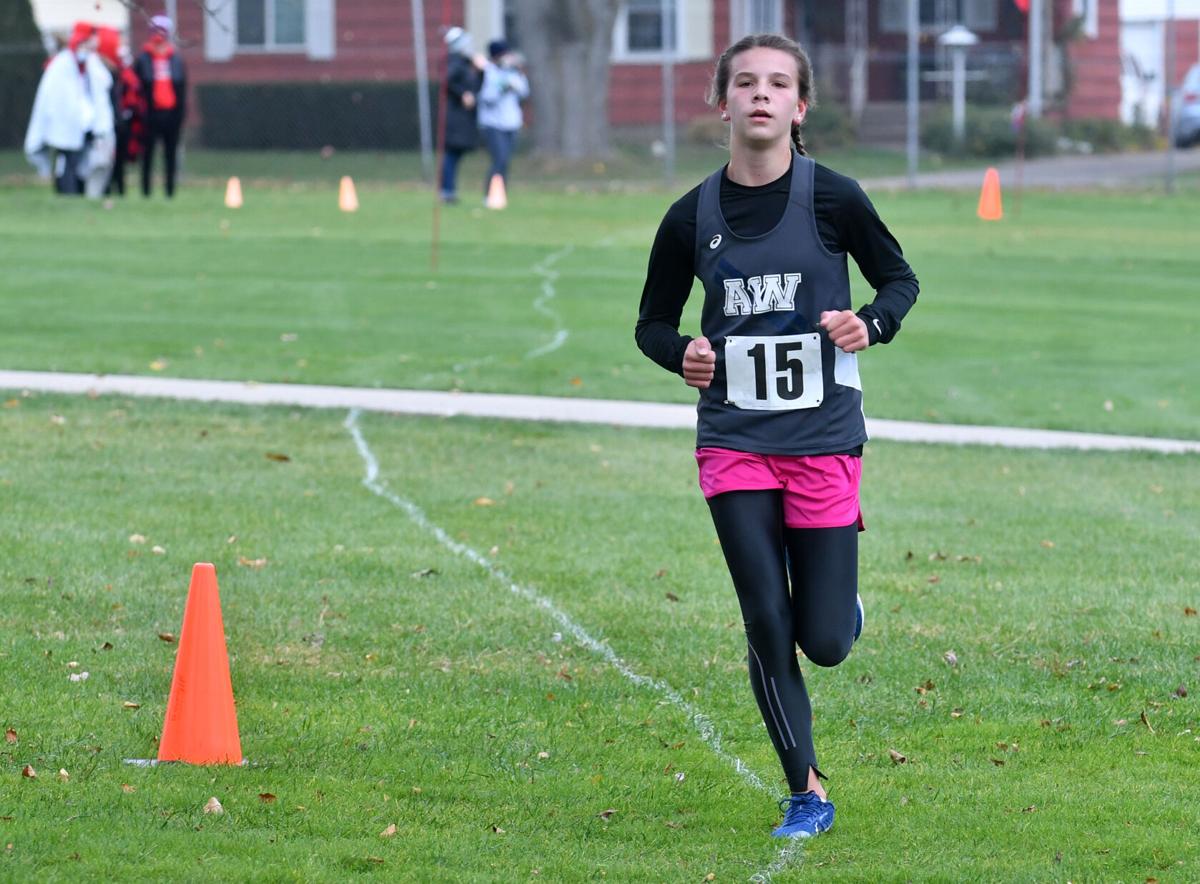 Normally in the autumn, Kennady Anderson can be found on the volleyball court.
But with the bulk of fall sports being pushed to spring because of the COVID-19 pandemic, the Wethersfield freshman decided to fall back on her track and field experience and give cross country a try.
As it turned out, both Anderson and the Annawan-Wethersfield co-op program were better for that decision, as she turned in one of the best rookie seasons in Titan history.
Capping the regular season by winning the Lincoln Trail Conference individual championship, Anderson went on to place second at the Class 1A Alleman Regional, with her time of 18:37.6 ranking the sixth-fastest in A-W history. Last Saturday, she finished her inaugural cross country season by placing seventh at the Seneca Sectional with a time of 20:21.8 on a difficult and tricky course.
"I'm definitely happy with seventh," Anderson said. "I knew it was a tough course, and I didn't expect to get that good of a time."
She and Alleman freshman Tess Hendrickson (ninth place) were the area's only top 10 finishers.
In junior high track, Anderson competed in the 1,600, 800 and 4x400 relay, but taking on a three-mile run was a totally different experience for her.
"I'm used to running one mile but not three miles or more," she said. "... (Cross country) got easier as I kept going."
After an impressive start to her cross country career, Anderson is unsure if she will stick with the sport once volleyball is restored to the autumn months.
"I don't know yet," she said.
Other youngsters to watch: This season saw the emergence and continued development of several younger runners for both area girls and boys teams, keeping the talent pool deep for several years to come.
In addition to the Titans' Anderson and her sophomore teammate Danielle Johnson, as well as the Pioneers' Hendrickson and her fellow freshman Emma Shrake, LTC girls' team champion Ridgewood features a solid nucleus of youngsters led by sophomore Kendra Downing, the regional bronze-medalist, and freshman teammate Miranda Reed.
Fellow girls' sectional qualifier Orion was bolstered by a solid season from freshman Olivia Thomsen, and Mercer County has a strong young group led by sophomore Eden Mueller and freshmen Maddie Hofmann and Sophia Santiago.
On the boys' side, regional runner-up Riverdale is built for the long haul behind the sophomore duo of Tommy Murray and Landis Musser, with Murray scoring bronze medals at the regional and sectional meets. The Rams will return their top seven runners for the 2021 prep season.
Two other boys' sectional qualifiers, Erie-Prophetstown and Mercer County, are led by top-flight young talent. E-P Panther freshman Jacob Gibson just missed a top 15 regional finish by a little more than a second and Golden Eagle sophomore Derek Coulter was a top 10 finisher at regionals and landed in the top 20 at the sectional meet.