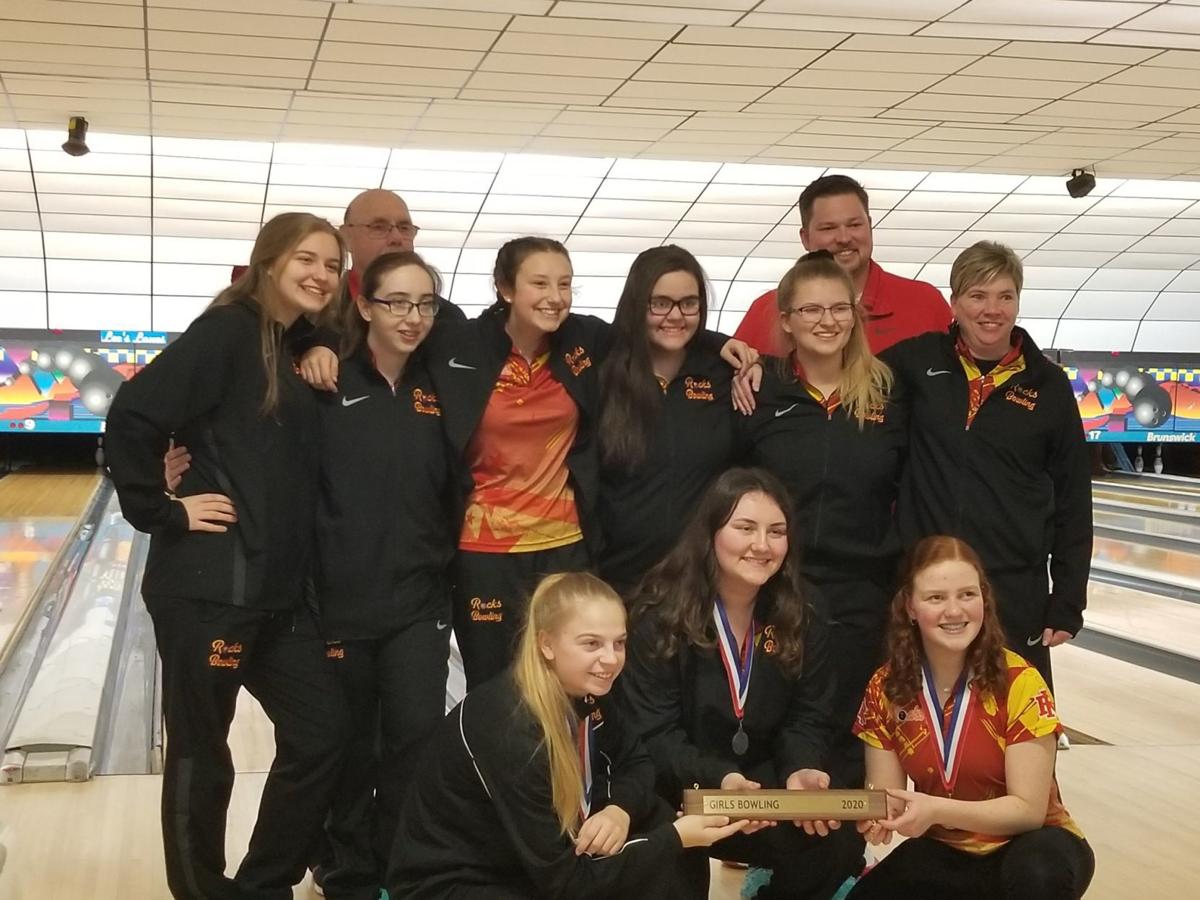 GENESEO — A year after falling short by 168 pins, the Rock Island girls won their first Western Big 6 Conference bowling title since 1987 in convincing fashion.
The Rocks placed four girls in the top 10 and totaled 5,602 to top runner-up United Township (5,249).
Big 6 newcomers and meet hosts Geneseo (5,028) placed third at Lee's Lanes, followed by Moline (4,836), Sterling (4,828), and defending Big 6 champions Galesburg (4,607).
Rock Island senior Kelsey Freeman led the Rocks with a personal best of 1,233, 20 pins behind Big 6 individual champion Regina Harmening of United Township. Freeman bowled the high three-game series of 670 in Monday's morning session.
"It feels good to come out on top after so long," said Freeman, a St. Ambrose bowling commit. "It's amazing, because it gives us hope for state. That's what we're aiming for as a team."
Fellow Rocky senior and SAU bowling commit Heather Motley was third individually with a 1,165.
"It feels amazing, especially because everybody expected us to do it last year and we struggled," said Motley. "This year, it feels great to finally get it."
Harmening said it felt "weird" to be the Big 6 individual champion after bowling a personal best 1,253. It was the first time the sophomore surpassed 1,200.
"Consistency, definitely," she said of the key to the big day. "Just hitting the same mark."
You have free articles remaining.
UT seniors Ashlyn Burkeybile (1,059) and Nan Li (1,055) placed 12th and 13th, respectively.
A third Rocky senior, Bailey Tripilas, also earned all-conference in the Top 6 by placing fifth with a 1,113. Tripilas also plans to bowl at SAU. Defending individual Big 6 champion Chloe Day (1,136) of Galesburg placed fourth. Zoey Paone (1,102) led Sterling with a sixth-place finish to be the first All-Big 6 bowler for the Golden Warriors in their conference debut.
Freeman, who had the high game of 248, noted the importance of having solid bowlers throughout the team's lineup, that included sophomore Carli Gordon placing 10th with a 1,062. Sarah Stevanovic (852) and Macy O'Mary (177) finished the RI scoring.
"That's what we're all about, is teamwork," said Freeman. "We're all very close together. It's just awesome."
Motley, whose average game of around 200 leads the team, said any one of her teammates can lead at any given tournament.
"It's just amazing the experience we have and we are so close as a bunch," Motley said. "It's just fantastic."
Rocky coach Jim Braet, in his 40th year coaching the team, was happy to add a third Big 6 title after 32. The Rocks won the first two conference meets in 1986 and '87 before there weren't enough teams for an official Big 6 meet from 1988-2011. He said the team has been consistent throughout the season, and Monday's strong start of 2,914 after three games was also key.
"I was happy with how we held it together," said Braet. "Three all-conference (bowlers), so that's great."
Geneseo was led by Jenah Hart (1,068) and Madison Holevoet (1,065), who placed eighth and ninth, respectively.
Regyn Buffington led Moline with a 1,069 in seventh place.