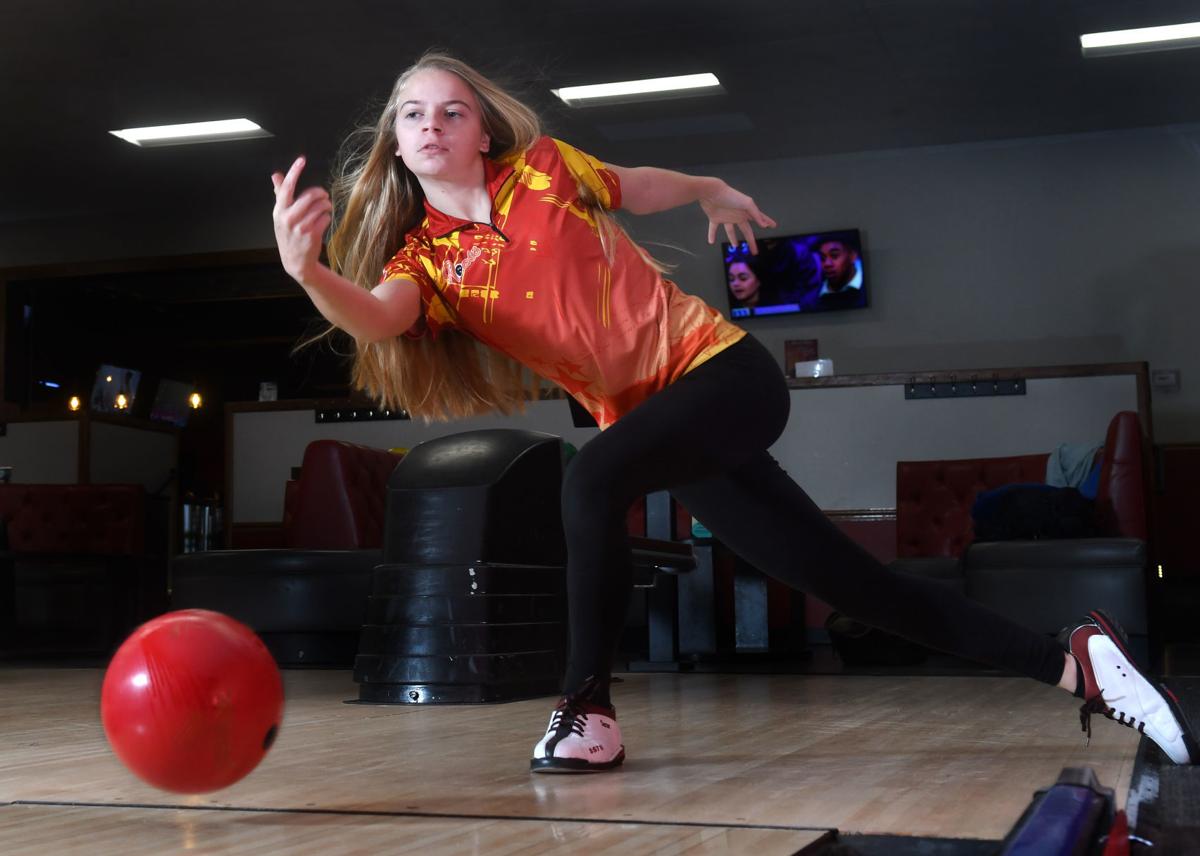 ROCK ISLAND — For most of her bowling career, Rock Island senior Heather Motley was all about power.
That worked well enough to be one of the top bowlers in the Western Big 6 and win the regional title individually last season. Things, however, have taken a change. As hurtful as it has been, it might wind up making Motley a better bowler.
So far, this season, Motley has been — shall we say — on a roll.
With a whole new style, Motley has been red hot. She won the Geneseo Invitational, set a Rock Island three-game record of 764 in a dual against Moline, helped the Rocks finish seventh in the powerful Plainfield South Invite and took 11th in the Peoria Invite.
Those efforts earned Motley this week's Argus-Dispatch-QCOnline Metro Pacesetter.
"My back started hurting me in the middle of the softball season in the spring," Motley said. "I had two stress reactions in my lower back and the pain continued in my lower left side and hip. I played one softball tournament in the fall with my travel team and that's it since the last Rocky game.
"I dropped from a 15-pound ball to 14 and it has definitely slowed me down with my swing. I have definitely become more consistent because of my back and slowing down."
Her coach sees the difference and thinks it could be a key down the line when postseason comes around.
"She's 100 pounds, if she is that much, and you would be amazed how hard she threw the ball," Rock Island coach Jim Braet said. "She was all about throwing it hard and powering the pins down. Throwing the lighter ball has really changed her and she is so much more under control."
While she has personal goals — an All-State finish at state and a 300 game — the biggest thing Motley wants to see is her teammates joining her at the state finals.
You have free articles remaining.
Motley is all about bowling.
Her sisters, Ashley Parrish and Lynzee Quade, were stars at Rocky, her uncle, Leroy Suhr, is one of the top bowlers around and her dad, Mike Motley, "has had a few 300s." Her hard work on the lanes seem to be infectious and these days she is surrounded by other standouts.
"She's one of our three captains and the others do watch her and learn," Braet said.
Said Motley, "I've been doing it so long, that's what I love. I think when I was 13, I knew I was going to be pretty good at it. I know a lot of kids don't grow up that way and many times the girls come out for bowling just for something fun to do.
"I see the girls improve and now they are really good. It would be awesome if we could get to state together. We have some really talented bowlers but you never know. If it's your day in the sectionals, we can get there for sure."
Motley admits that the lanes make a big difference and that is something she is able to help her teammates with the way the ball will roll in each venue.
"It's hard to roll the ball the same way because the alleys might be extra oily or they can have no oil and it's dry," she said.
As for those individual goals?
"I really haven't thought about state for just me, I want my teammates to be there," she said. "I guess when I get there, I want to get to the finals and that 300 is still something I want as well.
"I had nine straight strikes last week at Sterling and as soon as I let the ball go to start the 10th frame I knew it was over. I hope it happens at some point. Everyone tells me once you get the first one, the next ones come easier. I just want that first one."