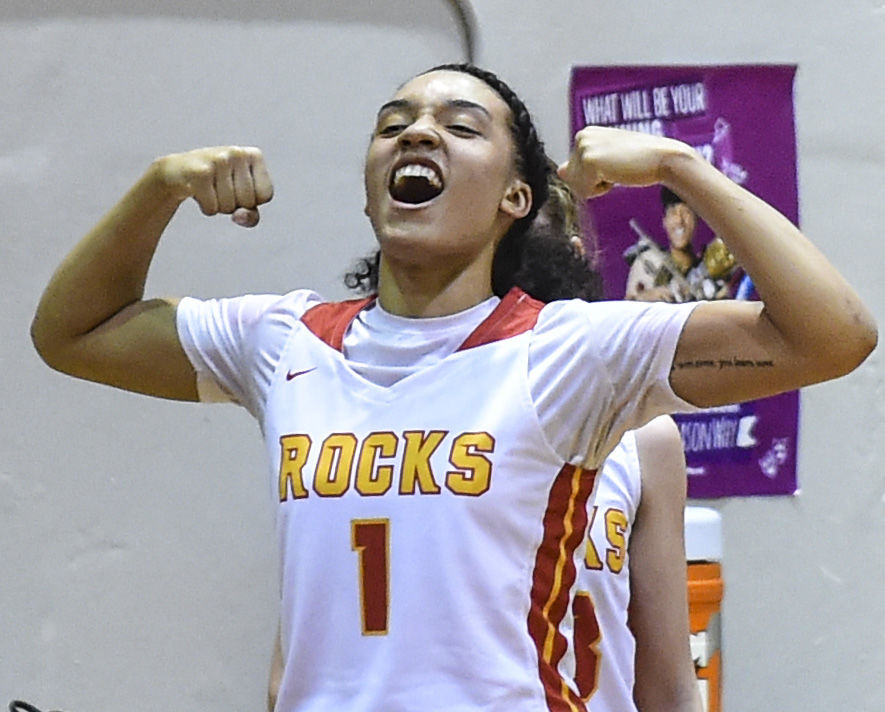 ROCK ISLAND — Old hat? Not a chance.
Rock Island senior girls' basketball star Brea Beal feels even better than ever after picking up her third Gatorade Illinois Player of the Year honor Friday morning.
The award was created in 1985. Beal is the second player to win the Illinois state honor three times, joining WNBA all-star and Olympic hero Candace Parker, who won it in 2002, 2003 and 2004.
The national POY for Gatorade will be announced later this month.
"I think it is even better each year," said Beal, who is in line to join Parker as a three-time winner later this month when the Ms. Basketball in Illinois title is announced.
"The first year, as a sophomore, I didn't know exactly what the award was, and I was a little confused. I really was never thinking something like this would happen to me.
"Then, last year I felt like I somewhat expected it because I knew how hard it was to get the first one, and I worked even harder. Then, this year was kind of the best because it was my last season."
Beal capped off her high school career with easily her best season. Leading the Rocks to the Class 4A Elite Eight and a 30-2 record, Beal averaged 24.8 points, 13.2 rebounds, 4.5 assists, 3.4 steals and 3.3 blocks. She demolished several school and Western Big 6 records during the season.
"I thought it was for sure her best season, not just statistically but for everything she did," Rocky coach Henry Hall said. "She came in with a supporting cast that we just didn't know about. We knew Hannah (Simmer) could play; we knew Carlee (Camlin) was a hard worker; and we knew Bre Williams had some experience.
You have free articles remaining.
"After that, we had some real question marks. Brea took those young kids under her wing and taught them how to play the game and how to act. She really had fun, and you could see it in her demeanor and her play. All the while, we asked her without asking to score more, rebound more and be a facilitator."
Beal said her senior year was easily her best. That was not just because the Rocks went further than any Rocky team had ever gone before, but also because she had a blast in what she called a "new beginning."
"This year was the most fun because we were getting a new start," Beal said. "The team was so much fun, especially the young ones. We chilled so much more than we have in the past. It was also a blast to make fun of coach Hall.
"I just think we were in a much more positive situation. I definitely feel like I grew as a person and a player."
Hall noticed from the time he took over as the head coach last summer that Beal was excited about being the team leader.
"For the first time, she was a vocal leader," he said. "She was moving girls into positions and praising her teammates when needed. The entire team respected what she and Carlee were doing as our seniors. From the first day, you could see the girls loved Brea, and she loved them.
"That isn't always the case when you have a star player who is counted on to do so much."
After each award she has earned or record she has broken over the past four years, Beal has always said she will enjoy and celebrate those honors after her senior season ends.
She is in that spot now, but she knows that won't last long. She will be heading to South Carolina in the fall to join a loaded incoming freshman class for the Gamecocks.
"I think having grown up and matured to a point where I am much better at taking a bad situation and turning it into a good one, it has helped me and my team a lot," Beal said. "I know next year it is not going to be all positive, and I have to cope with that.
"I have so much to be proud of and thankful for. Now that my high school career is over and I know those times are never going to happen again for us, it is hitting me. I will take the next few weeks to enjoy it, and then keep the memories as I change my mindset toward the next road in my life."
Get in the game with our Prep Sports Newsletter
Sent weekly directly to your inbox!